Karen Waldrup is an acclaimed country singer from Nashville, Tennessee. Jim "Pee Wee" Martin is a World War II veteran who dropped into occupied France with the 101st Airborne, 506th Parachute Infantry Regiment -- the famous "Band of Brothers" -- on D-Day, June 6, 1944.
Being born some 66 years apart and growing up in different eras, they might seem like an unlikely duo, but they teamed up to write a new song about the experience of jumping into Europe on D-Day, called "Normandy."
Martin joined the U.S. Army in 1942. The United States had already entered World War II. He was sent to Camp Toccoa, Georgia, to join the 506th Parachute Infantry Regiment, where he trained for months to become a new kind of soldier: a paratrooper. His next assignment was England, where he and the 101st were preparing for Operation Overlord.
In the early morning hours of D-Day, "Pee Wee" -- nicknamed for his smaller stature -- dropped into France and helped secure two bridges, a move that cut off the Germans' ability to move reinforcements to the Normandy beachheads.
Martin was just 19 years old, a teenager, jumping into World War II.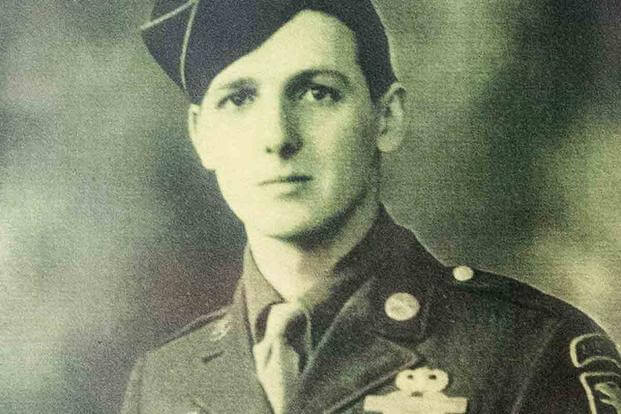 From there, he jumped into occupied Holland during Operation Market Garden, where paratroopers attempted to cut off the Netherlands from German forces by securing every bridge into the country as the rest of the Allies moved in from the south.
Market Garden did not go as planned, but Martin survived and was with the 506th in Belgium during the last major German offensive of World War II, the Battle of the Bulge. Like the rest of the 101st, he found himself surrounded, cut off and under siege at Bastogne. As a "Toccoa Original" and one of the "Battered Bastards of Bastogne," Martin has a story to tell.
Waldrup recognized it immediately. The Nashville-based "country soul" singer is a Louisiana native who was playing a set at a 2021 birthday party in Ohio when she learned from her manager that a WWII veteran would be attending.
"At first, it was a gig like any other gig," Waldrup tells Military.com. "But then I learned from my manager that it was his birthday party. When we got all the details, we learned it was a charity event for veterans. I got excited, that was it for me, so we loaded up our stuff and went."
Waldrup played the birthday party, which featured people from around the United States and the world (including Martin's granddaughter) jumping from planes to raise money for veterans' causes. Waldrup made good friends with Martin and his granddaughter and promised to stay in touch. Her next stop was Key West, Florida, for a songwriting festival.
"I ran into a friend of mine who is with a veteran songwriting association," Waldrup recalls. "Their whole mission is to ask veterans to write with us, so that we can use our God-given skills to craft and create music to sing their story."
It wasn't long before Waldrup had the idea of collaborating with Martin. She reached out to his granddaughter and pitched the idea. Waldrup was soon back in Ohio, at Martin's country home, writing a song with him about his experiences during World War II. The songwriter figured she would have a few minutes with the 100-year-old to reminisce about the war. The duo talked for four hours.
"He remembered so many details about 1944, it was completely unbelievable," says Waldrup. "I sat there with my computer, and I just typed everything he said. My goal was to make the song in his words. So if you listen to 'Normandy,' they're not my words at all. They're all his words."
After the day's session with Martin, Waldrup left and began to write the song. She presented the finished song to him as a birthday gift. On and off for 12 months, Waldrup and company composed the music that would accompany Martin's personal story. Everyone from Waldrup and her band to the sound engineers volunteered on the project for free.
"I could not have done it without all the people who love Jim Martin," she says. "It was a big project, and it wasn't just me."
On Martin's 101st birthday in April 2022, Waldrup presented him with "Normandy" on a green battery-operated jukebox, one on which he could just hit "play" and hear his words from her voice.
"There were thousands of people there," she recalls. "I can't even explain the moment. I've never experienced anything quite like that."
Soon after, people began requesting to hear "Normandy," be it on an album, a streaming service or anywhere else. Since it was supposed to be Martin's birthday gift, Waldrup had never considered distributing the song. She decided it will be released on June 3, 2022, just in time for the 78th anniversary of the D-Day landings.
"I asked Jim what he wanted people to remember," Waldrup recalls. "He said he wanted people to remember that they [paratroopers] didn't want to go in there, but we were the ones who were attacked. So teenage kids put on their gear to go in for freedom around the world."
To listen to "Normandy" by Jim "Pee Wee" Martin and Karen Waldrup, you can go to Amazon Music, Apple Music, Spotify and more through this website starting June 3, 2022.
-- Blake Stilwell can be reached at blake.stilwell@military.com. He can also be found on Twitter @blakestilwell or on Facebook.
Want to Learn More About Military Life?
Whether you're thinking of joining the military, looking for post-military careers or keeping up with military life and benefits, Military.com has you covered. Subscribe to Military.com to have military news, updates and resources delivered directly to your inbox.