Matt Urban was a decorated World War II soldier with more lives than any cat. He was wounded seven times in combat, then returned to lead his men six times -- and has the Purple Hearts to prove it.
Urban served in the Army throughout the duration of WWII, somehow surviving numerous wounds that might have killed anyone else. His official list of feats is so long, he was one Distinguished Service Cross short of surpassing Audie Murphy as the war's most decorated American soldier.
But he didn't receive his Medal of Honor until 1980 because the required paperwork somehow got lost in the shuffle. It was the men he served with in 2nd Battalion, 60th Infantry Regiment, 9th Infantry Division who ultimately ensured that President Jimmy Carter awarded him America's highest award for conspicuous gallantry.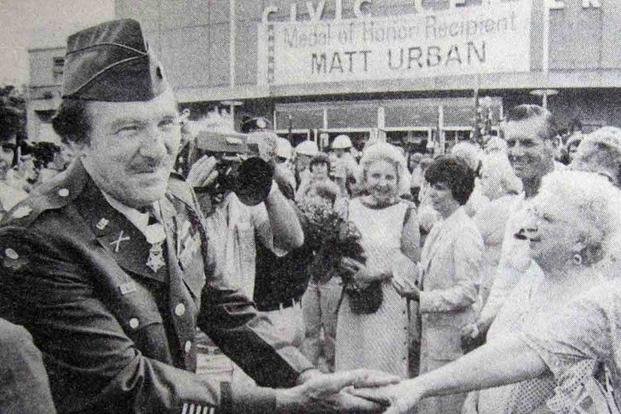 Born Matthew Urbanowicz, Urban began college at Cornell University in Upstate New York, where he joined the Army Reserve Officers' Training Corps. Upon graduating in 1941, Matt Urban (who formally changed his name after the war) was commissioned a second lieutenant and joined the infantry at Fort Bragg, North Carolina.
When the United States entered World War II, Urban was on the ground from the first day of the invasion of North Africa until the last day of the war in Europe, leaving Germany with the rest of his troops. In between, he fought in Sicily, landed at Utah Beach on D-Day and advanced into Belgium.
Along the way, the Germans dubbed him "The Ghost," because no matter how many times they thought they had finally killed him, Urban seemed to respawn. His ability to recover and rejoin his men surprised the U.S. Army just as much. Urban snuck away from medical tents, transport ships and hospitals, just to return to the fight alongside his men in the 60th Infantry.
His Medal of Honor action came on June 14, 1944, outside of Renouf, France, fighting in the countryside's now-famous hedgerows. His unit was pinned down and in danger of being annihilated by a force of German infantry and two heavy tanks. Realizing the threat, Urban grabbed a bazooka and exposed himself to danger to take out both tanks.
With the tanks neutralized, his men broke out of the hedgerows and turned the tide of the fighting. As they advanced to Orglandes, a commune in Normandy, Urban was shot in the leg by a Pak 36 37mm anti-tank gun. He fought on and directed his unit's defense until he was wounded once more. This time, he was evacuated to England.
He recovered there until July, when he learned his unit was being pummeled in the hedgerows once more. He left the hospital and somehow made his way to France, hitchhiking to the front where his unit was positioned near Saint-Lo. Still moving with a noticeable limp, he took command of his company.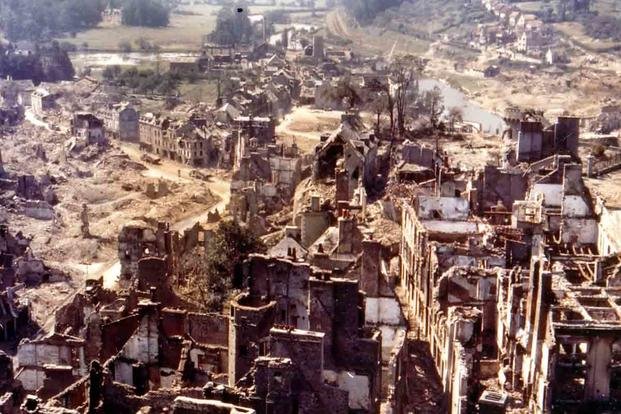 He found them pinned down, with two burning support tanks nearby. A third tank was present but not moving. A driver was inside, but the rest of the crew had been killed. He formed an attack plan to eliminate the enemy with the help of the remaining tank. But when soldiers tried to mount it, they were killed by enemy fire. Urban rushed through the hail of bullets to mount the tank and take command.
He ordered the driver forward and took over the mounted .50-caliber machine gun. In full view of the enemy, Urban and the tank driver routed an enemy machine-gun nest and a German anti-tank team with the entire U.S. 2nd Battalion close behind. The Americans pushed forward and overran the enemy position in hand-to-hand combat. Many Germans surrendered.
Battalion commander Maj. Max Wolf watched all the events unfold from his nearby command post. He immediately promoted Urban to executive officer and recommended him for the Medal of Honor. It was written up by Staff. Sgt. Earl Evans.
Wolf was killed in action in August 1944; in October, Urban took over as battalion commander. He continued to lead the battalion into Belgium, where he was shot in the neck while assaulting a machine-gun position near Philippeville. Both the battalion surgeon and a priest believed he would die from his wounds.
During this engagement, Evans was captured by the Germans, and there was no one left to ensure Urban's Medal of Honor paperwork from Saint-Lo ended up in the right hands. The last time Evans saw Urban before his capture, Urban was bleeding profusely from the neck and was left for dead.
When Evans was finally liberated in 1945, he ran into Urban, amazingly still alive. Evans wrote a letter to the War Department, detailing the July 1944 events at Saint-Lo. It was "misplaced" for 34 years, suddenly being rediscovered in 1978. The Army investigated the events Evans described in the letter. Not only did it find the events were all true, it also found Wolf's initial Medal of Honor recommendation paperwork.
On July 19, 1980, Carter presented Urban with the Medal of Honor in a White House ceremony. Present at the ceremony were a number of Urban's fellow veterans, with whom he had served or led in combat.
Urban lived until age 75, when complications from his war wounds caused a collapsed lung in 1995. He was buried in Arlington National Cemetery.
-- Blake Stilwell can be reached at blake.stilwell@military.com. He can also be found on Twitter @blakestilwell or on Facebook.
Want to Learn More About Military Life?
Whether you're thinking of joining the military, looking for post-military careers or keeping up with military life and benefits, Military.com has you covered. Subscribe to Military.com to have military news, updates and resources delivered directly to your inbox.