In the wake of the initial Normandy landings on D-Day, a strange vehicle hit the beaches: converted London buses driven by three female volunteers from the Red Cross. Their mission was to bring a taste of home to the soldiers fighting World War II. Their weapon of choice was the doughnut.
While their early food truck might have been a new contraption -- 100 GMC trucks dubbed "Clubmobiles" were created for the D-Day invasion -- the baked goods they were bringing to Hitler's Fortress Europe were not. This was their second world war, too.
During World War I, some 250 female volunteers from the Salvation Army spent their days along the front lines near No Man's Land to give Americans in France the same fresh-baked support they would give U.S. troops in later years. The "Doughnut Lassies" risked their lives to fry doughnuts for the Doughboys, because life in the trenches could be pretty miserable.
"Doughnut Lassies" had considerably less to work with than the Clubmobile volunteers of World War II. They rolled dough out with spent artillery shell casings and cut the doughnuts out with their baking powder cans.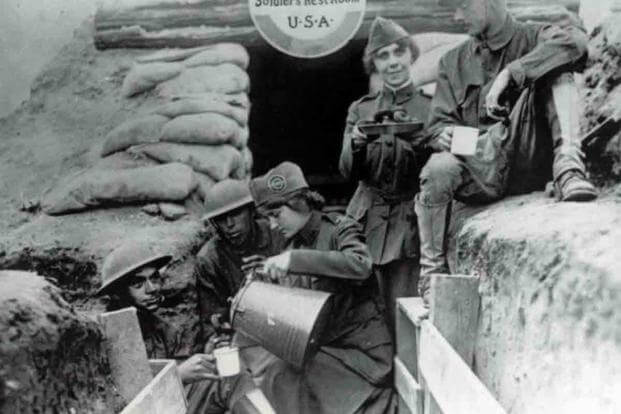 In 1938, Congress established the first Friday in June as National Doughnut Day as a way to honor the Doughnut Lassies and the way they risked their lives for American soldiers. It's a good thing they did, because these brave women were far from finished. They returned to join U.S. troops in every major war for nearly 40 years.
By World War II, life for the invading female volunteers got a little better. The Clubmobiles had everything they needed for their D-Day deployment, including the doughnut and coffee-making gear that would take down Nazi Germany. The "Doughnut Dollies" (as they now were called) had sleeping bunks in the truck, a mini-kitchen and a lounge area with a record player for the GIs.
The U.S. Army landed 10 groups of eight Clubmobiles and three Doughnut Dollies each at Normandy that June. They fanned out throughout Europe in the days and weeks after D-Day, either working in the rear echelons or driving from military post to military post, serving doughnuts and coffee to the soldiers there.
They followed the Army deeper into France, then Belgium and into Germany, every step of the way. Even after Nazi Germany fell to the Allies on May 8,1945, the women and their Clubmobiles were there. They stayed with the Allied occupation army until 1946.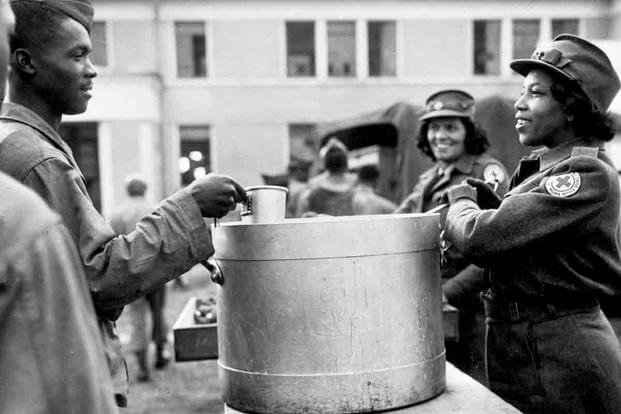 When the Korean War broke out in 1950, the Doughnut Dollies again went to the front. This time, they ran clubs, canteens and mobile vehicles to deliver the baked (or fried) goods to the GIs in Korea. They weren't exactly the Clubmobiles of Normandy, but they had everything needed to keep spirits high, not only for the U.S. military, but all the United Nations forces fighting on the peninsula -- even while they were in combat.
The Doughnut Dollies soon got an official name from the Defense Department, the Supplemental Recreational Activities Overseas. Once officially supported by the United States and the Red Cross, they were capable of making up to 20,000 doughnuts a day for troops arriving in Korea.
By the time the United States entered the Vietnam War in force, the female volunteers of the Supplemental Recreational Activities Overseas were there, too, and their old nickname came with them. GIs in Vietnam also knew them as the "Doughnut Dollies."
They weren't limited to clubs, mess halls or hospitals. The Doughnut Dollies of Vietnam could be found on Hueys or alongside tanks headed into the bush. They were also there when some units came back with fewer men than had left.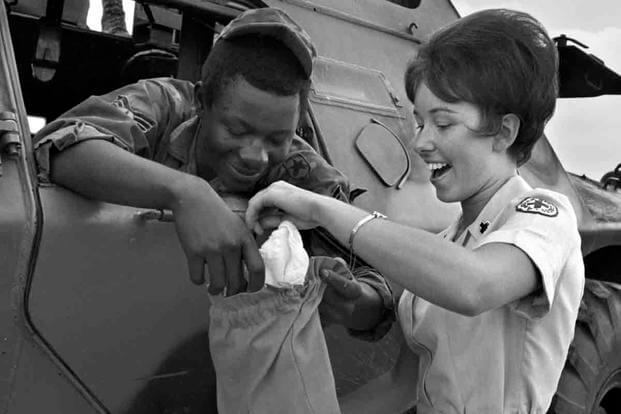 This June 4, take a moment to think of the Doughnut Dollies who were willing to risk their lives on D-Day or at Da Nang just to do their part for the United States. Or take a few hours and make the original recipe, as published by the National World War I Museum and Memorial.
Ingredients for four dozen doughnuts
5 cups flour
2 cups sugar
5 tsp. baking powder
1 tbsp. salt
2 eggs
1¾ cup milk
1 tub of lard
Powdered sugar
 Combine all ingredients (except for lard) to make dough.
Thoroughly knead dough, roll smooth and cut into rings less than a quarter-inch thick
Heat the lard, drop rings into hot lard, turning occasionally
When browned, removed doughnuts and allow excess fat to drip off
Dash with powdered sugar, let cool and enjoy.
-- Blake Stilwell can be reached at blake.stilwell@military.com. He can also be found on Twitter @blakestilwell or on Facebook.
Want to Learn More About Military Life?
Whether you're thinking of joining the military, looking for post-military careers or keeping up with military life and benefits, Military.com has you covered. Subscribe to Military.com to have military news, updates and resources delivered directly to your inbox.