Military.com has teamed with PeopleMaven, a startup that creates lists of amazing people, to answer the question: Who are the deadliest fighter pilots in U.S. military history?
Since many activities of current U.S. military pilots are classified, we only considered those with unclassified activities. We started from our list of 30 amazing pilots in U.S. military history, then factored in pilots with confirmed air-to-air kills. Finally, we ranked the fighter pilots from most confirmed kills to least.
Here, then, is our take on the five deadliest fighter pilots in U.S. military history:
Major Richard Bong, Army Air Forces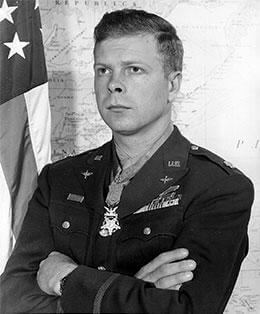 Hometown: Superior, Wisconsin
Aka: Bing-Bang
Years of Service: 1941 to 1945
War: World War II
Confirmed Kills: 40
Richard Bong was one of the most decorated American fighter pilots of all time. Achieving five confirmed kills was a feat that earned a fighter pilot the title of ace. However, at the end of World War II, Bong had achieved 40 confirmed kills, earning him the title "Ace of Aces." Bong admitted that his gunnery skills were poor, but he compensated by getting as close to his targets as possible, sometimes so close that he would fly through the debris of the enemy aircraft. During WWII, he was the recipient of various congratulatory gifts from military elite, including a case of Scotch from WWI ace Eddie Rickenbacker, when he beat Rickenbacker's record of 26 kills.
Bong received the Medal of Honor, the Distinguished Service Cross, two Silver Stars, seven Distinguished Flying Crosses and 15 Air Medals. Tragically, on Aug. 6, 1945, Bong's P-80 malfunctioned right after takeoff during a routine exercise, and while he managed to eject, he died in the accident.
Capt. David McCampbell, Navy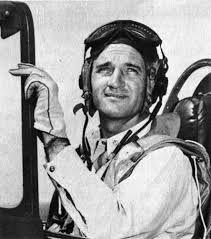 Hometown: Bessemer, Alabama
Aka: Commander of the "Fabled Fifteen"
Years of Service: 1933 to 1964
War: World War II
Confirmed Kills: 34
David McCampbell attended the U.S. Naval Academy and began his 31 years of service in 1934. He received his "Wings of Gold" in 1938. After that, he joined Fighting Squadron 4 (VF-4), followed by a three-year tour as a landing service officer (LSO) aboard the USS Wasp. In the spring of 1944, McCampbell commanded Carrier Air Group 15, also known as the "Fabled Fifteen." While in command of the "Fabled Fifteen," McCampbell personally accrued 34 victories. The group as a whole earned 318 victories in total.
McCampbell's 34 aerial victories during his WWII missions made him the Navy's Ace of Aces. He was the only American airman to achieve "ace in a day" twice, one time shooting down seven Japanese bombers in a single afternoon. To add to his accomplishments, he shot down nine enemy aircraft in another mission, which was a new world record. He was an unstoppable force to be reckoned with, and was the highest-scoring American ace to survive the war. In recognition of his contributions and service, he was presented the Medal of Honor by President Franklin D. Roosevelt.
Col. Gregory Boyington, Marine Corps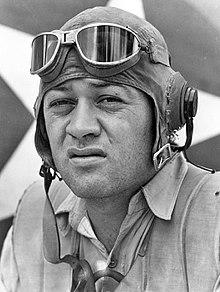 Hometown: Columbus, Ohio
Aka: Pappy, Gramps
Years of Service: 1934 to 1947
Wars: Second Sino-Japanese War, World War II
Confirmed Kills: 26
Gregory "Pappy" Boyington began his career as a Marine Corps officer, but he later resigned from the Marine Corps to serve with the legendary Flying Tigers, an American volunteer squadron that supported China in the Sino-Japanese War. He claimed six victories as a Flying Tiger before rejoining the Marines in September 1942. He served as the commanding officer of VMF-214, nicknamed the "Black Sheep." At that point, he was 31, a decade older than most Marines, resulting in Boyington acquiring the monikers "Pappy" and "Gramps."
Pappy shot down 26 enemy fighter planes, tying Eddie Rickenbacker's WWI record of 26 victories. (His self-claimed victory count is 28.) He achieved his final kill in 1944, the same day that his aircraft was shot down in the Pacific. He was captured by a Japanese submarine team and held as a Japanese prisoner-of-war for more than a year before being released in 1945, days after Japan's surrender.
Pappy received the Medal of Honor, the Navy Cross and a Purple Heart for his heroism during the war. In the 1970s, the TV show "Black Sheep Squadron" was based on Boyington and his Black Sheep squadron.
Capt. Eddie Rickenbacker, Army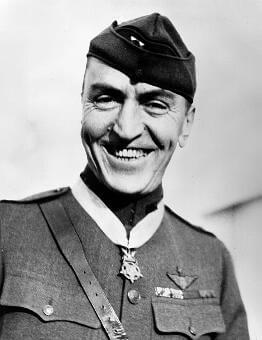 Hometown: Columbus, Ohio
Aka: Fast Eddie, Rick
Years of Service: 1917 to 1919
War: World War I
Confirmed Kills: 26
Capt. Eddie Rickenbacker was an American fighter ace during WWI.  He is considered one of the most accomplished American pilots for his valor during the war, achieving an impressive 26 kills during WWI.  
Rickenbacker was a race-car driver before his military career. Due to his experience and abilities as a mechanic, he started off as an engineering officer at the U.S. Air Service's pursuit training facility. He eventually demonstrated his aeronautical aptitude to his superiors, which eventually earned him a placement the 94th Aero Squadron. Five months later, he was promoted to captain. By the end of WWI, Rickenbacker held the record for the most aerial victories (26). He accumulated a total of 300 combat hours and received the Medal of Honor for his exceptional contributions during the war.
Brig. Gen. Joseph J. Foss, Marine Corps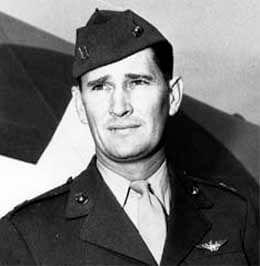 Hometown: Sioux Falls, South Dakota
Aka: Smokey Joe, Old Joe, Old Foss
Years of Service: 1939 to 1955
War: World War II
Confirmed Kills: 26
Joseph Foss dreamed of being a fighter pilot, but at the age of 26, he was considered too old, so the Navy sent him to the School of Photography to become an aerial photographer. Foss continued to make numerous requests to join a fighter pilot qualification program before finally being assigned to a training squadron to learn to fly the F-4F Wildcat. There he logged more than 150 hours in two months. He then joined Marine Fighter Squadron 121 (VMF-121), a U.S. Marine Corps F-4F squadron.
Foss eventually became famous for his close-up gunnery skills. In the battle of Guadalcanal, he shot down 26 enemy aircraft with his team of eight Wildcats. His team, which was dubbed "Foss' Flying Circus," shot down 72 Japanese aircraft during that battle. His 26 victories made him the first American pilot to match Ace Eddie Rickenbacker's record from WWI.
Upon returning from war, Foss was awarded the Medal of Honor and dubbed America's first WWII "Ace of Aces." He later became the youngest governor of South Dakota at the age of 39, the first commissioner of the American Football League (which eventually merged with the NFL) and a president for the National Rifle Association.
Want to Know More About the Military?
Be sure to get the latest news about the U.S. military, as well as critical info about how to join and all the benefits of service. Subscribe to Military.com and receive customized updates delivered straight to your inbox.