When Donald Duck debuted in Walt Disney's 1934 cartoon "The Wise Little Hen," he was a sailor skating from the job of helping the hen plant and harvest her corn. Judging from this early cartoon, we might never have guessed that by his 50th birthday, he would be celebrating his official discharge from the U.S. Army.
It wasn't long before Donald Duck began appearing in his own solo cartoon. By 1936, Disney gave him a love interest and three adopted nephews (Huey, Dewey and Louie), he began to look more like the duck we know today and, most importantly, he was more popular than even Mickey Mouse.
That same year, the world was in upheaval. Adolf Hitler was in power in Nazi Germany, Benito Mussolini ruled fascist Italy, and the Imperial Japanese Army and Navy occupied much of Northern China. The world was on a path to the Second World War.
Donald Duck's Military Records
According to the Department of Defense, Donald Duck was officially drafted into the U.S. Army in 1941, before the U.S. entered the war. On May 1, 1942, he made his first military appearance in the cartoon "Donald Gets Drafted," where his draft card lists his actual middle name, Fauntleroy.
At the same time, Walt Disney and his animation studio, like many in America, knew that war was coming and prepared to support it. Facing financial setbacks at the end of the 1930s, the coming war was a boon for the business. Disney began taking government contracts to produce animated instructional cartoons for war production employees.
It wasn't long before the studio began producing patriotic animations on everything from food production to using camouflage. Donald Duck even had his own cartoon where Donald patriotically paid his taxes. In most of these cartoons, he's seen wearing his usual sailor's outfit. In 1943's Academy Award-winning "Der Fuehrer's Face," he has a dream that he's a Nazi, but in his U.S. military cartoons, however, he was officially in the Army.
Disney and Donald Duck's Military History
After Donald first dons the Army uniform in "Donald Gets Drafted," he followed it up with "The Vanishing Private" (1942), "Sky Trooper" (1942), "Fall Out Fall In" (1943) and "The Old Army Game" (1943). These show his adventures in training and in garrison before he finally goes to war against the Japanese in "Commando Duck" (1944).
While Donald was making patriotic cartoons and training to fight the enemy, Disney itself was all-in on the war effort. Walt Disney had been making insignia for U.S. and Allied military units since 1933, and continued to do so throughout the war. Almost every Disney character (with the exception of Bambi) appeared on unit patches for every branch of the military, including the Coast Guard and its auxiliary.
Since Donald Duck was a movie star on par with Clark Gable and Jimmy Stewart (who were also serving in the war), it makes sense that Donald was one of the most popular characters for World War II insignia. Some 1,200 patches were designed by Disney for the war, and 216 of those logos featured Donald Duck.
He was on almost every kind of aircraft used in the war, including the B-25 Mitchell Bomber "Ruptured Duck" that took off from the USS Hornet and bombed Tokyo during the 1942 Doolittle Raid.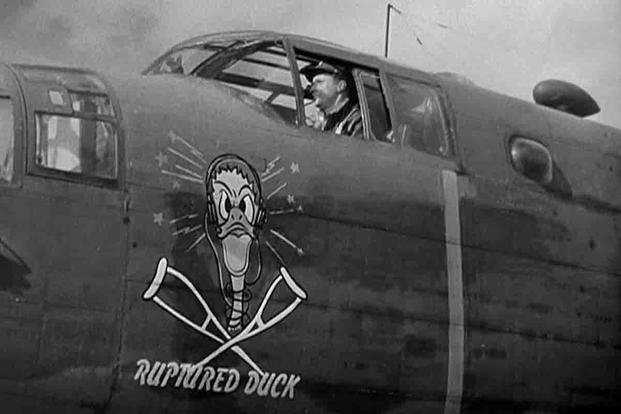 Donald Duck was popular among service members because there was a lot about his character that was relatable to those who joined at the time, when the future was uncertain, according to author Richard Shale in his book, "Donald Duck Joins Up."
He signed up to do his part at war and at home, but he could have been anyone signing up for the same, says Shale. He wasn't fearless and he was far from the perfect soldier. When his frustration level boiled over, he could even be prone to unintelligible fits of rage. He encompassed the spirit of the times, the war and those who served.
On May 19, 1984, 50-year-old Donald Duck was officially served his discharge papers from the Department of Defense. During the Armed Forces Day parade in Torrance, California, Donald appeared in his World War II uniform, accompanied by Daisy Duck. He was promoted to sergeant (E-5) for his retirement ceremony by then-Lt. Gen. Arthur E. Brown, Jr.
That would be the end of Donald Duck's official U.S. Army story. In September 1987, however, the children's television show "DuckTales" premiered. Its first episode, titled "Don't Give Up the Ship," shows Donald leaving his nephews with their uncle Scrooge McDuck so that Donald can join the Navy aboard an aircraft carrier. It's not known whether Donald has official Navy enlistment papers, but he is wearing the Navy's modern "dixie cup" hat with his uniform, as opposed to his usual turn-of-the-20th century sailor's hat.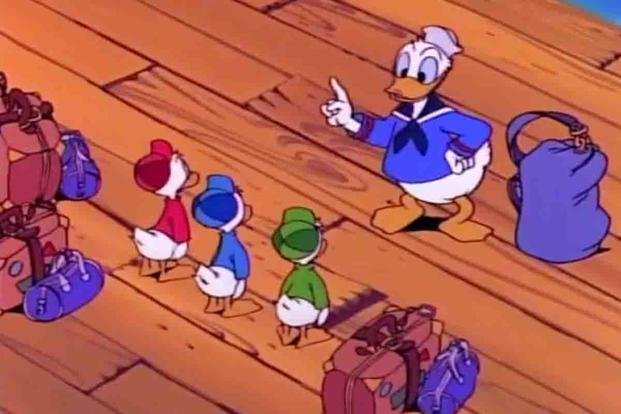 -- Blake Stilwell can be reached at blake.stilwell@military.com. He can also be found on Twitter @blakestilwell or on Facebook.
Want to Learn More About Military Life?
Whether you're thinking of joining the military, looking for post-military careers or keeping up with military life and benefits, Military.com has you covered. Subscribe to Military.com to have military news, updates and resources delivered directly to your inbox.