Only the best of the best of the Army's shooters get to wear the U.S. Army Marksmanship Unit's (USAMU) coveted black hat. It signifies the wearer's extreme discipline, expertise and high professional standards. In March 2009, the unit bestowed one upon 84-year-old Ted Gundy, a World War II veteran who saw action in the Battle of the Bulge, Cologne Plains and Remagen Bridge with the 99th Infantry Division
There have only been eight recipients of the black hat who weren't members of the Marksmanship Unit. During a visit to Columbus, Georgia's National Infantry Museum, Gundy appeared wearing the Army uniform he wears to perform burial services for fellow WWII veterans. It was there that he received his black hat, one he earned by making a shot he thought was impossible.
Gundy wrote to the shooting enthusiast website Shooting USA after reading about how modern military snipers are making shots at more than 1,000 yards. He wrote that he couldn't imagine doing that with the weapons he used at the Battle of the Bulge in 1944. The editors at Shooting USA decided to try and give him the chance.
Then a 19-year-old replacement, Gundy was made his unit's sniper after scoring the highest in his basic training rifle qualification. He arrived in Belgium in 1944, just before the German Army launched its last major offensive of the war.
Shooting USA's Jim Scoutten approached the USAMU to see whether it was possible to bring Gundy to the range at Fort Benning to attempt the shot. The unit's sniper team was excited to coach the old soldier and set up VIP services to bring the World War II veteran to Georgia.
Gundy's warm-up target was at 300 yards, using a replica Springfield Model 1903 A-4, like the kind he used to fight the Nazis. He hadn't fired a shot from one since leaving the war, but hit the target three consecutive times. The replica manufacturer, Navy Arms, gifted him the Springfield replica on the range that day.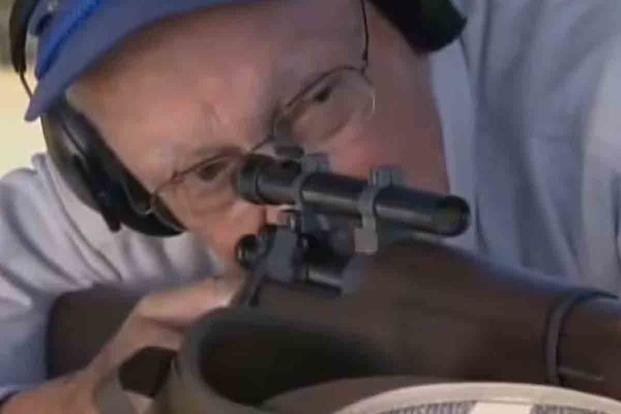 Next came the attempt at an impossible shot, or at least one that seemed impossible to Gundy. It was a target at 1,000 yards, using the USAMU's custom Remington Model 700.
"I couldn't dream in a thousand years how you would do this," Gundy told Shooting USA in a 2009 video. "How you'd even see it, a human that far away ... I hope that I can hit the target, but if I was betting money, I'd bet nine to one that I don't."
The Army Marksmanship Unit's sniper team gave Gundy instruction on how "environmentals" like wind can affect the shot, and how to adjust for those factors. Gundy watched as two of the snipers took test shots during this instruction.
When it was time for Gundy to take his seemingly impossible shot, it was a good thing he hadn't bet against himself: He scored a head shot. He did the same on his second attempt. And his third. Watch the entire video below:
Harvey Edmund "Ted" Gundy died at age 90 on Oct. 12, 2015, in his hometown of Memphis, Missouri.
-- Blake Stilwell can be reached at blake.stilwell@military.com. He can also be found on Twitter @blakestilwell or on Facebook.
Want to Learn More About Military Life?
Whether you're thinking of joining the military, looking for post-military careers or keeping up with military life and benefits, Military.com has you covered. Subscribe to Military.com to have military news, updates and resources delivered directly to your inbox.