Women have been fighting and sacrificing for this country much longer than you may think -- one even going as far as disguising herself as a man to serve.
In September 2017, a Marine officer passed the rigorous requirements to become the very first female infantry officer. In addition, two officers made history by becoming the first women to graduate from the traditionally all-male U.S. Army Ranger School.
Women have blazed a trail of innovation and made military history. Here are some pioneering women who forever changed the modern military landscape:
Private Cathay Williams, aka William Cathay
Post-Civil War
Born a slave near Jefferson City, Missouri, Cathay Williams was the first known Black woman to serve in the United States Army -- enlisting under the name "William Cathay" to hide the fact she was a woman. "The regiment I joined wore the Zouave uniform and only two persons, a cousin and a particular friend, members of the regiment, knew that I was a woman," Williams said, according to Army archives. "They were partly the cause of my joining the Army. Another reason was, I wanted to make my own living and not be dependent on relations or friends." Documents show Williams served alongside the men in her unit -- without being recognized as a woman -- until she contracted smallpox and became ill. The disease caused her to be in and out of military hospitals until it was discovered she was female and immediately discharged.
Private Opha May Johnson
World War I
Opha May Johnson was the first woman to enlist in the United States Marine Corps. She joined the Marine Corps Reserve in 1918 during World War I, officially becoming the first female Marine.
Johnson, due to the good fortune of being first in line that day, was the first of over 300 women to enlist in the United States Marine Corps Women's Reserve during World War I. According to 1918 newspaper articles, as well as the published history of female Marines in World War I, Johnson's first duties were as a clerk at Marine Corps headquarters, managing the records of other female reservists who joined after she did.
On July 11, 1919, the American Legion granted a charter to the first post of women's Marine Corps reservists. Known as Belleau Wood Post No. 1, its membership consisted of 90 women who had worked at Headquarters Marine Corps. Johnson was a charter member of this post. At the end of World War I, the Marine Corps, like all services, began the steady disenrollment of women, including Johnson, from active service. After her brief military career, she became a clerk in the War Department.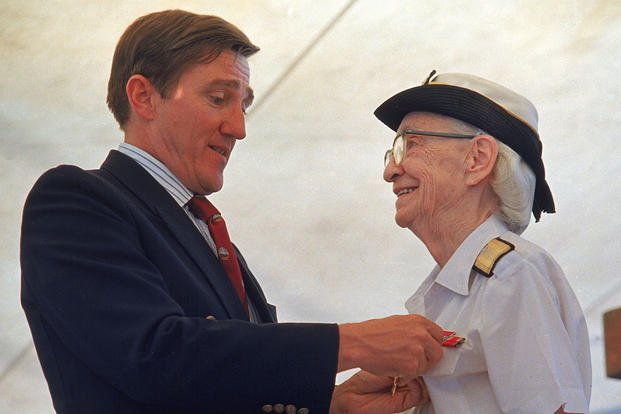 Rear Adm. Grace Brewster Murray Hopper
World War II, Korean War, Vietnam
Known as "Amazing Grace," Commodore Hopper's importance in U.S. naval history is apparent everywhere you turn: a destroyer was named after her (USS Hopper, DDG-70), as was the Cray XE6 "Hopper" supercomputer. As founder of the COBOL programming language, a precursor to many of the software code approaches of today, her work is legendary among computer scientists and mathematicians. In 1943, during World War II, she joined the United States Naval Reserves. She was assigned to the Bureau of Ordinance Computation Project. There, she became the third programmer of the world's first large-scale computer, called the Mark I.
When she saw it, all she could think about was taking it apart and figuring it out. "That was an impressive beast. She was 51 feet long, eight feet high and five feet deep," Hopper said. She would subsequently master the Mark I, Mark II and Mark III computers. While trying to repair the Mark I, she discovered a moth caught in a relay. She taped the moth in the log book and, from that, coined the phrase "a bug in the computer."
During her career, she also mastered the UNIVAC I, the first large-scale electronic computer, and created a program that translated symbolic math codes into machine language. This breakthrough allowed programmers to store codes on magnetic tape and recall them when they were needed -- essentially the first compiler. In 1966, Hopper retired from the Naval Reserves as a commander, but was called back to active duty one year later at the Navy's request, to help standardize its computer programs and their languages.
In 1983, a bill was introduced by Rep. Philip Crane (D-Ill.) who said, "It is time the Navy recognized the outstanding contributions made by this officer recalled from retirement over a decade and a half ago and promote her to the rank of Commodore."
The bill was approved by the House, and at the age of 76, she was promoted to commodore by special presidential appointment. Her rank was elevated to rear admiral in November 1985, making her one of few female admirals in the history of the United States Navy. By the time of her death in 1992, Hopper was renowned as a mentor and a giant in her field, with honoree doctorates from more than 30 universities. She was laid to rest with full military honors in Arlington National Cemetery.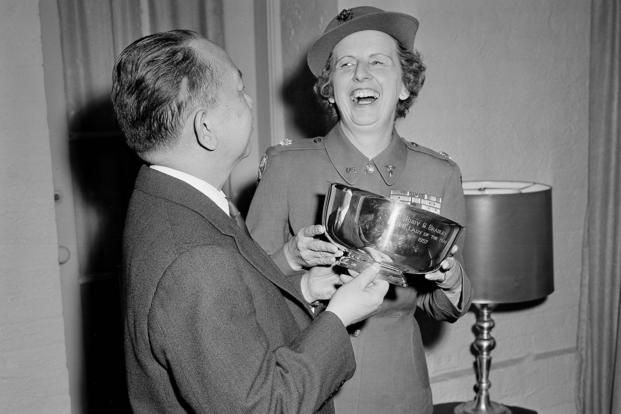 Col. Ruby Bradley
World War II and Korean War
A survivor of two wars, a prison camp and near starvation, Col. Ruby Bradley is one of the most decorated women in U.S. military history. Her military record included 34 medals and citations of bravery, including two Legion of Merit medals, two Bronze Stars, two Presidential Emblems, the World War II Victory Medal and the U.N. Service Medal. She was also the recipient of the Florence Nightingale Medal, the Red Cross' highest international honor. A West Virginia native, Bradley joined the U.S. Army Nurse Corps as a surgical nurse in 1934. In 1941, she was taken captive by Japanese forces while serving in the Philippines. She and fellow imprisoned nurses continued to care for their fellow prisoners, earning them the nickname "angels in fatigues." During her 37 months in captivity, Bradley assisted in 230 major operations and the delivery of 13 babies. "A lot of people died in the last few months," she told the Washington Post in 1983. "There were several deaths a day, mostly the older ones, who just couldn't take it." At the Santo Tomas camp, the military and civilian captives dubbed Bradley and the other imprisoned nurses who provided them with medical treatment "Angels in Fatigues." The POWs subsisted mainly on rice -- half a cup in the morning and half a cup at night -- but Bradley shared her limited rations with the children. "I'd save part of my food for the children later in the day, when they started crying and being hungry," she said. Bradley also learned to be "a pretty good thief. I would take food and put it in my pockets for the children," she said. By the time the camp was liberated by the Americans on Feb. 3, 1945, the formerly 110-pound Bradley had shrunk to 84 pounds. In February 1945, U.S. troops stormed the gates of the Japanese camp and liberated Bradley and her fellow prisoners, where she had been held captive for three years. Bradley continued serving in the Army Nurse Corps after her release and then in the Korean War. She dedicated 30 years to the military, becoming only the third woman in U.S. history to be promoted to the rank of colonel.
Commander Darlene Iskra
Gulf War
Iskra served in the Navy 21 years and was the first female to command a U.S. Navy ship. Iskra retired from the Navy in 2000 and earned her Ph.D. in sociology from the University of Maryland.
She is the author of "Breaking Through the Brass Ceiling: Elite Military Women's Strategies for Success" and "Women in the United States Armed Forces: A Guide to the Issues." The story of her first command is below:
"I hadn't realized what a big deal being the first woman to command a ship would be until I arrived in Naples, and on my desk was a stack of congratulatory cards and letters from people I didn't even know!" she said. "I also got a few cards from people I hadn't heard from in literally decades! "Soon afterwards, the public affairs officer from Naples asked to do an interview. That was the one that was published soon after I took command, to news outlets all over the world, even in Saudi Arabia, which freaked my husband out, as even back then, we were worried about terrorism. "About three weeks after I took command, Desert Storm started in the Gulf and we were ordered underway towards the Suez Canal to intervene in case the Canal was mined or otherwise blocked. We picked up an [Explosive Ordnance Disposal] team in La Maddalena, Sardinia, and headed to an area on the Mediterranean side of the canal, where we stayed for the entire duration of the war. No mines were laid, though we did have several interesting incidents, but those are stories for another day."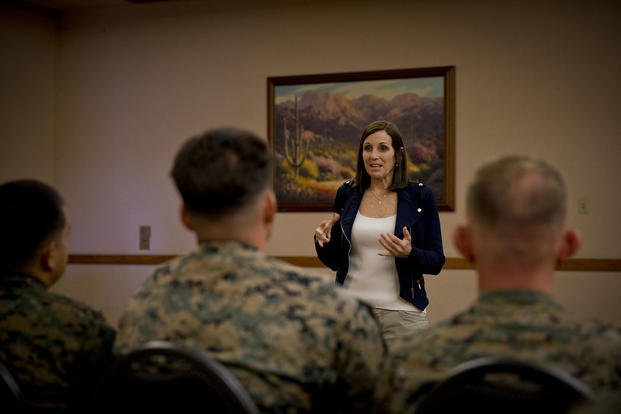 Lt. Col. Martha McSally
Iraq War
McSally was the first American woman to fly in combat after the 1991 lifting of the prohibition of women in combat. She flew the Fairchild Republic A-10 Thunderbolt II 'Warthog' close air support aircraft over Iraq and Kuwait during Operation Southern Watch. She is also the first woman to command a USAF fighter squadron, the 354th Fighter Squadron (354 FS) based at Davis-Monthan Air Force Base, Arizona.
In 2002, during her tenure as a pilot, she also was embroiled in a controversial lawsuit requiring all female military personnel to wear the Muslim abaya, a black head-to-toe robe worn in certain Muslim cultures and perceived as a sign of subordination to men.
She won the case against Secretary of Defense Donald Rumsfeld and the U.S. Department of Defense, on the grounds that the military's dress policy violates McSally's constitutional rights to equal protection and the freedoms of religion and speech.
McSally, now a Republican congresswoman, quickly points out that the oath for a military officer -- to support and defend the Constitution against all enemies, foreign and domestic -- is the same for a member of Congress. "I served my country in uniform for 26 years," the 46-year-old said in an interview. "I personally consider this just a continuation of my service to my country."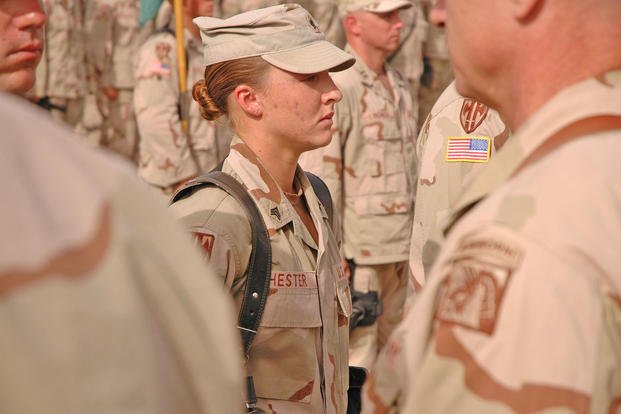 Sgt. Leigh Ann Hester
Iraq War
Hester, of the 617th Military Police Company, a National Guard unit out of Richmond, Kentucky, is the first woman to receive the Silver Star since World War II for exceptional valor. Hester's squad was shadowing a supply convoy on March 20, 2005, when anti-Iraqi fighters ambushed the convoy. The squad moved to the side of the road, flanking the insurgents and cutting off their escape route.
Hester led her team through the "kill zone" and into a flanking position, where she assaulted a trench line with grenades and M203 grenade-launcher rounds. She and Staff Sgt. Timothy Nein, her squad leader, then cleared two trenches, at which time she killed three insurgents with her rifle. When the fight was over, 27 insurgents were dead, six were wounded, and one was captured. Hester, 23, who was born in Bowling Green, Kentucky, and later moved to Nashville, Tennessee, said she was surprised when she heard she was being considered for the Silver Star. "I'm honored to even be considered, much less awarded, the medal," she said in an interview with the Army Times. Being the first female soldier since World War II to receive the medal is significant to Hester, but she doesn't dwell on the fact. "It really doesn't have anything to do with being a female," she said. "It's about the duties I performed that day as a soldier." Hester, who has been in the National Guard since April 2001, said she didn't have time to be scared when the fight started, and she didn't realize the impact of what had happened until much later. "Your training kicks in and the soldier kicks in," she said. "It's your life or theirs. ... You've got a job to do -- protecting yourself and your fellow comrades."
Want to Know More About the Military?
Be sure to get the latest news about the U.S. military, as well as critical info about how to join and all the benefits of service. Subscribe to Military.com and receive customized updates delivered straight to your inbox.