Retired Army Col. Paris Davis, 83, stood in the East Room of the White House on Friday as President Joe Biden draped the Medal of Honor around his neck, nearly six decades after he saved the lives of three fellow troops during the Vietnam War.
The retired Green Beret, who was a trailblazer as one of the first Black officers to join the Special Forces, told Military.com on Thursday that he wouldn't have done anything differently even if he had to do it over again.
He would tell his 26-year-old self -- a captain then serving in Vietnam on June 18, 1965 -- to "make sure you're wearing your boots, and you have some food, and you do what you did."
Read Next: Veterans and Others Who Helped in Afghanistan Evacuation Honored at White House
He would have also invited that colonel down to the battlefield, the one hovering overhead in a helicopter who ordered him to abandon his Special Forces troops wounded in the rice paddies of Binh Dinh province. Davis, who disobeyed the order, said he would have "kicked [the colonel's] ass if he'd come down there."
During a 19-hour battle, Davis saved three Americans under his command and killed more than a dozen enemy fighters using a pistol, M16, machine gun, grenade and a 60mm mortar -- all while suffering wounds to his legs and losing half a finger while under fire from hundreds of Viet Cong fighters.
Biden told the story Friday of one of Davis' rescuees, his unit's medic, who had just learned the day before that his wife had given birth to his first child.
"He pinpointed the medic's position and began crawling toward them with gunfire and grenades still exploding around him," Biden said during the White House ceremony. "When he got there, the medic's still alive and asked him, 'Am I gonna die? Am I gonna die?' Capt. Davis said, 'Not before me.'"
The president's words and the White House ceremony were not just recognition of Davis' heroism in Vietnam but also the hard-fought battle to get the former Green Beret the medal. In the decades that followed, there were two lost Medal of Honor recommendations, a grass-roots campaign headed by dozens of supporters, and several false starts to the path that finally ended with the nation's highest military honor.
Davis was also a trailblazer as one of the first Black Special Forces officers, and he committed himself to civil rights issues in his post-military civilian life as the founder of a suburban newspaper in Virginia.
"The Green Berets, like our country then, weren't free from discrimination either," Biden said. "People pulled Paris aside to warn him. 'Are you sure you want to join? There aren't a lot of people who look like you in this outfit.'"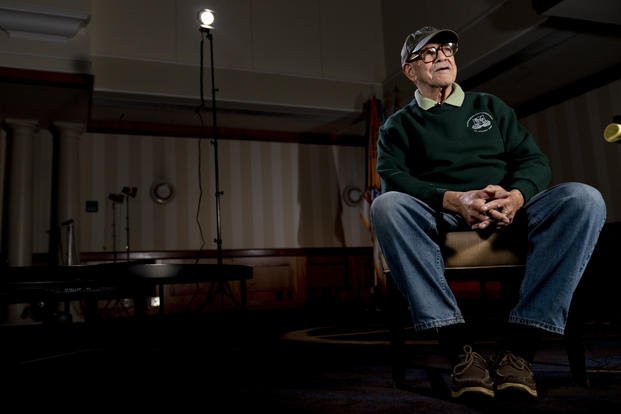 The Confident, Brave Commander
In 1965, Davis was looking at his second deployment to Vietnam, this time as a commander with the 5th Special Forces Group, 1st Special Forces.
Ron Deis, the youngest surviving member of Davis' team, who said he joined the relatively new elite unit because of a recruiting poster he saw showing a Green Beret eating a snake, first met then-Capt. Davis in Okinawa, Japan, as they were preparing to deploy.
"When we started going on operations and got into firefights ... he never flustered, [he was] extremely confident and brave," Deis said. "He was an example for all of us."
The raid that eventually led to Davis' Medal of Honor began shortly after midnight in June 1965, according to his after-action report. That day, he, his Special Forces troops and a company of inexperienced South Vietnamese completed a successful raid on a Viet Cong stronghold.
After the raid, one of the South Vietnamese platoons broke off from the group. Davis chased them down before leading them back toward the rest of the troops holding in a rice paddy in Binh Dinh province.
As dawn broke, the troops started taking machine-gun fire in what appeared to be a coordinated attack by hundreds of Viet Cong. Davis quickly organized the South Vietnamese platoon and regrouped with the larger element, plunging into intense combat.
"I ran down to where the firing was and found five Viet Cong coming over the trench line. I killed all five, and then I heard firing from the left flank," Davis wrote in his report. "I ran down there and saw about six Viet Cong moving toward our position. I threw a grenade and killed four of them. My M16 jammed, so I shot one with my pistol and hit the other with my M16 again and again until he was dead."
Part of Davis' trigger finger had been blown off by an enemy grenade, so he continued to fire an M16 with his pinky. As he regrouped with his team, he discovered Staff Sgt. David Morgan had been knocked unconscious by enemy mortar fire, and Master Sgt. Billy Waugh was shot in the foot -- both were pinned down by heavy fire.
And though Davis did not know it at the time, Spc. Robert Brown was lying face up in the rice paddy with a head injury.
After three painstaking attempts, Davis pulled Waugh from the muck of the rice paddy and fireman-carried him back to a nearby knoll.
Morgan, who was in a daze, started yelling. He had fallen into a "human cesspool" as Davis later described on a "Phil Donahue Show" special recounting the battle. The rice field that Morgan was wading through, wounded, had been fertilized with sewage. Davis ran into fire and pulled Morgan out too.
Davis shifted between medical treatment for his men and killing enemy fighters, a total of more than a dozen whom he dispatched with machine guns, grenades and a 60mm mortar. He also called in two 155mm Howitzers back at the team's base camp to target the Viet Cong peppering the rice paddy, according to Davis in the 1969 interview with Donahue.
As noon approached, Davis knew that Brown had been lying in the rice paddy for seven hours, but was unsure whether the specialist was alive or dead.
"A colonel came by and, since we had two of the Americans and I wasn't really sure of the disposition of the third, he gave me a direct order to ... move out of the area, right now," Davis told Donahue.
Davis refused the order. Twice.
"I just disobeyed the order," Davis said. "I said some words over the telephone I don't really care to repeat right here, I did do a little swearing."
A South Vietnamese soldier told Davis that Brown was indeed alive, but unconscious. Davis ordered Morgan to provide suppressive fire with a machine gun over the rice paddy, and the captain started crawling out to find Brown.
He located him. The specialist's eyes were fluttering, he was covered in mud and aspirating raggedly. He had been in the muck for nearly 14 hours. Davis pulled the American out -- his third rescue in the rice paddy that day -- and loaded the specialist onto a helicopter.
The fight lasted nearly 19 hours, and Davis himself had at least eight wounds, including being shot in the back of his legs.
He was the last American to step off the battlefield that day.
Deis, the junior member of the team, recounted speaking to Morgan later about the battle, not initially understanding the gravity of what Davis, a junior Black officer, had done in refusing an order in combat.
"That evening, when he got back in camp, [Morgan] had leeches all over his body from being pinned down in the rice paddy," Deis said Thursday, remembering how he took the lit end of a cigarette and burned 17 suckers off the staff sergeant's back that night.
"But Sergeant Morgan said to me, when he was telling me about what went on that day out in the field. He said, 'I think Capt. Davis deserves a Medal of Honor for what he did today.' And that really resonated with me; I never forgot it in all these years."
The Lost Award
Davis earned a Silver Star for his actions. His commanding officer immediately put him up for the Medal of Honor. The paperwork was subsequently lost. When it was submitted a second time, it was lost again.
"One of the great things about being Paris Davis, [is] there are times when other people speak for you," the retired colonel told Military.com on Thursday.
He had just recounted a phone call he received the day prior. A general -- Davis did not catch his name -- had called him. He asked Davis why it had taken so long for him to receive the Medal of Honor.
"And I said, 'You're probably in a better place to know than me," Davis said. The general told him that he believed the award was not processed due to racism.
"This is a general talking," Davis said. "And that's probably my answer too."
Amid the heraldry, celebration and reverence, the underlying question of what took so long for Davis to get the Medal of Honor lay beneath the festivities Thursday at the Sheraton Hotel Pentagon City, where current and former Special Forces members, family and friends talked to the media.
For many of Davis' supporters, the answer to that question was also racism. At the height of the civil rights movement of the 1960s, Davis was a Black Special Forces officer who had refused an order from a superior. Davis said he was reprimanded for the refusal, and believes it likely prevented him from reaching the rank of general officer. He retired from the military in 1985.
Medal of Honor paperwork, the documents that are tied to the national highest military honor, doesn't simply disappear -- not twice.
"I just imagined what would happen if paperwork for the Medal of Honor ended up on my desk. It would be almost an honor to process that," Deis said. "The only conclusion I can come to is that he was Black."
Regan Hopper, Davis' daughter, seemed unsure of whether to point the blame at the Army as whole -- an organization that she and her father love.
"A few cowards that did this horrible, cruel deed that kept the world from knowing who my dad is -- the American hero that he is, in the truest sense of the word," she told Military.com on Thursday, adding that discrimination did indeed play a role. Just how is unclear.
"Dad is a strong, empathetic, humble leader. That's who I see him as. And we could have used another hero; the African American community could have used another hero to look up to -- to help inspire us to look for those opportunities, and to look for that purpose," she said, referring to her dad not getting the honor sooner, especially at a time when civil rights for Black Americans were so critical.
It wasn't until 2019 that Hopper learned about what happened on June 18, 1965.
"I didn't even really want to know that side of Dad," Hopper said. "To really understand what your father's eyes have seen is scary and terrifying."
She said that the battle in Vietnam was never discussed while she was growing up. But recently, as the push for Davis to receive the Medal of Honor reached a fever pitch, she began to see a reverent pain behind the "strong, empathetic, humble leader" she'd grown up with.
Davis is not the only Black service member who has seemingly been blocked from military honors. In 1997, the Army commissioned a study with Shaw University titled "The Exclusion of Black Soldiers from the Medal of Honor in World War II."
But on Thursday, Army officials said there wasn't any evidence that race played a part in Davis losing out on receiving the award earlier, despite what the retired colonel and his supporters believe.
"I don't exactly know. I don't think the Army knows exactly why it took so long," Maj. Gen. Patrick Roberson, deputy commanding general of U.S. Army Special Operations Command, told Military.com. "I'm just glad that in the end he got what he deserved, for sure."
Roberson added that Gen. William Westmoreland, commander of U.S. Forces in Vietnam, placed special trust in Davis and his unit to "put the best team in this place, because this is where the enemy is at."
Command Sgt. Maj. Michael R. Weimer, the senior enlisted leader for U.S. Special Operations Command and incoming Sergeant Major of the Army, said that the award was "well deserved."
"How did we get here? I don't have that for you," he said. "We do know there were other African American service members from the '60s that received the honor also, so I just don't know."
Weimer acknowledged the role discrimination has played in American institutions -- including the military -- over the years.
"You have to know it existed. It was there. It's part of American history. I'm proud of the Army, though," he said. "And we have our own history over time. You can literally walk the redemptive timeline on when we changed, when we evolved, when we integrated."
When asked whether the Army had any plans to investigate why Davis' award was delayed, Roberson and Weimer said they did not know.
"I think the Army is very focused on the fact that, 'Hey, he's getting this and he deserves this, and let's celebrate it,'" Roberson said.
Hopper said that the push that got Davis to the White House on Friday really started nearly a decade ago. Supporters like volunteer researcher and Army veteran Neil Thorne and Jim Moriarty, a father to a Special Forces soldier -- Jimmy -- who died in Afghanistan during the Global War on Terror, were instrumental in pushing for her dad's honor.
She refers to the group of dozens of supporters as "the team."
"When we talk about it, he doesn't really like to be called a hero. He wants to be called a soldier," Hopper said.
-- Drew F. Lawrence can be reached at drew.lawrence@military.com. Follow him on Twitter @df_lawrence.
-- Travis Tritten can be reached at travis.tritten@military.com. Follow him on Twitter @Travis_Tritten.
Related: Black Vietnam Vet at Last Getting His Due: the Medal of Honor