Veterans and other volunteers who helped evacuate Afghans after Kabul fell to the Taliban in 2021, as well as a group of Afghan refugees, were honored at a private White House event Thursday evening.
"It was incredible, absolutely incredible," Shawn VanDiver, president of the #AfghanEvac coalition, an umbrella organization for hundreds of nongovernmental groups that helped with the evacuation, said in an interview Friday with Military.com.
"The coalition's really happy," continued VanDiver, a Navy veteran. "They feel seen. They feel like this really matters. And they were told about the impact that they made, that their actions made. It was really easy to feel forgotten, feel like nobody saw them. But, like, the f---ing president wrote them a letter."
Read Next: Many Vets Get Lost in Criminal Justice System, Group Led by 2 Former Defense Chiefs Says
While President Joe Biden was not there, he wrote letters to the attendees that were delivered as they left, VanDiver said. Attendees were also given artwork drawn by Afghan children while they temporarily lived on U.S. military bases during the resettlement process.
"In the coming years, through [Operation] Enduring Welcome, we will continue to stand with our Afghan partners, just as they stood with us," Biden wrote in the letter to VanDiver, according to a copy shared with Military.com. "I am deeply grateful to you and so many other volunteers -- including our veterans and veterans' family members -- who have led the way and inspired us all with dedication and selflessness."
Thursday's event came about a year and a half after the messy end of America's longest war, an outcome many veterans say scarred them with a "moral injury" as they grapple with the fact that thousands of Afghans who helped the U.S. military were left behind following the withdrawal.
After the Taliban overran Kabul in August 2021, the Biden administration scrambled to evacuate vulnerable Afghans before the U.S. military withdrawal was complete at the end of the month. Hundreds of veterans also stepped up to help get their Afghan interpreters and other allies out.
While 76,000 Afghans were airlifted out, the evacuation was marred by chaotic scenes of desperate Afghans gathering at the Hamid Karzai International Airport in Kabul, and tens of thousands of Afghans who helped the U.S. military were not able to make it onto an evacuation flight.
About 50 to 60 volunteers who helped with the evacuation were at Thursday's event, roughly one-third of whom were veterans, VanDiver estimated. About 30 Afghan refugees were also in attendance.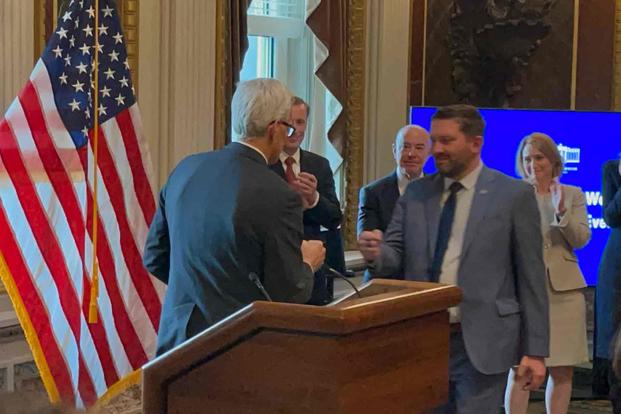 Representing the Biden administration at the event were National Security Adviser Jake Sullivan, Homeland Security Secretary Alejandro Mayorkas, Veterans Affairs Secretary Denis McDonough and Deputy Defense Secretary Kathleen Hicks, among others, the White House said.
"Mr. Sullivan thanked all of those who have volunteered for their tireless support for newcomers and reaffirmed the Biden-Harris Administration's commitment to continuing to resettle our Afghan allies over the coming years, which is an ongoing effort through a program called Enduring Welcome," the White House said in a statement Friday. "Secretary McDonough reflected on the strength of U.S. veterans and service members -- and their families -- who are now welcoming the partners who stood shoulder to shoulder with them in Afghanistan."
Mayorkas also spoke about "the critical role of partnerships in supporting our allies as they rebuild their lives in their new communities," the White House said.
VanDiver also spoke at the event, saying that "today is about recommitment, a renewed commitment, a commitment to keep going and finish the job," according to video of his speech.
Held in the Indian Treaty Room in the Eisenhower Executive Office Building -- the same room the George W. Bush administration used to coordinate efforts in the early days of the Afghanistan War -- the ceremony has been discussed for months, but the plans were finalized a couple weeks ago, VanDiver said.
While the coalition was a bit concerned the event would be used to "put a bow" on evacuation efforts, administration officials made clear they will continue to work on getting vulnerable Afghans out, VanDiver said.
The event also comes as veterans continue to urge Congress to pass a bill known as the Afghan Adjustment Act and as scrutiny of the withdrawal builds.
The Afghan Adjustment Act would let Afghan refugees brought to the United States under a temporary status known as humanitarian parole apply for green cards, as well as streamline the process for Afghans who were left behind to apply for Special Immigrant Visas.
Veterans made a big push late last year for the bill, but it was not included in any year-end legislative packages amid GOP concerns about security screenings for the refugees, and prospects of reviving the legislation this year are dim with Republicans controlling the House.
An inspector general also recently released a scathing investigation into why the U.S.-trained Afghan forces collapsed so quickly.
Meanwhile, House Republicans are preparing to ramp up their investigation of the withdrawal. The House Foreign Affairs Committee is scheduled to hold the first hearing of its investigation on Wednesday with testimony from two veterans involved in evacuation efforts.
-- Rebecca Kheel can be reached at rebecca.kheel@military.com. Follow her on Twitter @reporterkheel.
Related: One Year Later, Troops and Veterans Involved in Afghanistan Exit Grapple with Mental Scars