The Department of the Air Force's 2023 budget proposal includes a request to build a $1.8 million home at Joint Base Andrews in Maryland to house the Space Force's top enlisted leader.
The request for a brand-new, 3,500-square-foot home for the chief master sergeant of the Space Force is tucked away in the more than $230 million requested to fix and improve privatized base housing for families.
"A home meeting or exceeding the housing standards for the referenced grade/position is not available, and it's not a viable option to renovate an existing home in the base inventory to house the chief," budget documents justifying the project that were filed last week, said.
Read Next: Air Force Wants Big Increase for 2023 Budget to Improve On-Base Housing for Military Families
Roger Towberman currently holds the position for which the house would be built; he assumed the office in April 2020. As the top enlisted leader for the new military branch, he is tasked with rallying the ranks, growing morale, and helping implement and shape policies among the more than 8,000 Space Force Guardians.
Towberman would be the first resident of the new home at Andrews, but there is no projected completion date for the project. For now, he lives in existing military housing at Andrews, according to Capt. Annabel G. Monroe, an Air Force spokeswoman.
"This home will be the designated home of Chief Master Sergeant of Space Force, current and future," Monroe said in an email.
It's common for the services' top military leaders to have homes on military bases.
Chief of Space Operations Gen. John Raymond's home is at Joint Base Anacostia-Bolling in Washington, D.C., and is named "Space House," according to Pentagon photos of the residence.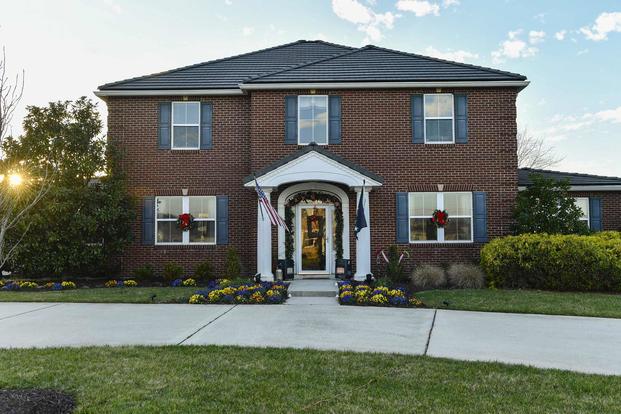 The proposed $1.8 million residence at Andrews is just one of numerous projects mentioned in the Department of the Air Force's $230 million construction improvement budget that is also meant to improve some of the Air Force's more than 50,000 homes at 63 military installations run by privatized housing companies.
Military housing has come under intense scrutiny since 2018, when Reuters revealed examples of lead-based paint, widespread mold and shoddy workmanship in base homes managed by private companies.
Under the 2023 proposal, privatized military housing would be improved at Dover Air Force Base, Delaware; Scott Air Force Base, Illinois; Altus Air Force Base, Oklahoma; Luke Air Force Base, Arizona; Sheppard Air Force Base, Texas; and Tyndall Air Force Base, Florida.
While the department made no request for construction funds for brand-new housing at Air Force bases, it did ask for $68 million to build a new three-story dormitory to house 84 Guardians at Clear Space Force Station in Denali, Alaska -- which the department considers "one of the most strategically important installations in the United States," according to budget documents.
For airmen and Guardians who choose to live off base, the 2023 budget offers a 4.3% increase in the Basic Allowance for Housing, a 3.4% jump in the Basic Allowance for Subsistence designed to offset the cost of groceries, and a 4.6% pay raise in response to a wounded economy and rising inflation caused by the pandemic and Russia's war in Ukraine.
-- Thomas Novelly can be reached at thomas.novelly@military.com. Follow him on Twitter @TomNovelly.
Related: Space Force Offering Bonuses Up to $20,000 for New Guardians with Tech Backgrounds