"It was a controlled emergency. This was the largest purchase of exercise equipment ever."
That's how Bert Sorin, president of the high-end exercise equipment company Sorinex, described the $63.7 million deal to supply gear for the Army's new fitness test.
Once Sorinex secured the deal with the service, it was a mad dash to supply nearly half a million pieces of workout gear for soldiers to take the Army Combat Fitness Test, or ACFT. The test consists of deadlifts, a medicine ball throw, hand-release push-ups, a sprint-drag-carry, leg tucks or planks, and a two-mile run.
Read Next: Gadsden Flag Patch on Airman's Uniform Wasn't Authorized, Officials Say
The Army was a big customer, and there simply wasn't enough raw material to fulfill the order. Sorin said the U.S. did not have the facilities to make enough bumper plates for deadlifts, so his company had to build a new factory from the ground up in Florida in six months.
It wasn't just weights for deadlifts that needed a dramatic production expansion. Manufacturing the bars was a daunting task since Sorin said an adequate supply of steel simply didn't exist for the company to buy.
"No one ever bought that many diamond [hex] bars," he said in an interview with Military.com.
"There was not enough square tubular steel already made on the planet at the time of the order. The supply simply did not exist. We gambled on ourselves and pre-ordered steel, hoping we would need it," Sorin added. "It took months just to build up the quantity of steel required to make the bars, and there was miles of steel spring material that had to be produced to create the steel spring clips."
So far, Sorinex has delivered 18,304 sleds, bars and medicine balls; 329,472 bumper plates; and 36,608 kettlebells across the Army's active-duty and reserve components.
A massive purchase of equipment would be a monumental task for any company. Sorinex sells gear for people to build home gyms, and that market exploded during the pandemic. But the company focuses on selling top-tier equipment to professionals where physical fitness is part of the job.
Sorin said he had worked with the military before the ACFT contract, building gyms for a number of outfits such as 10th Special Forces Group and 1st Ranger Battalion. The company also builds gyms for athletic teams and the Ultimate Fighting Championship. A key point in the company's marketing is setting up gyms for celebrities such as podcaster and comedian Joe Rogan and hunter Cameron Hanes.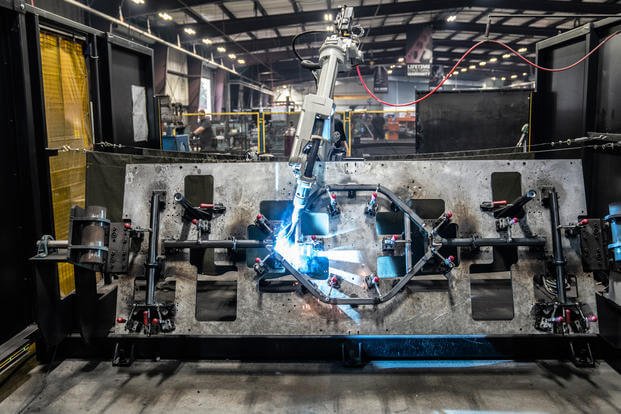 "Our goal has always been to innovate training solutions for those who must win, whether it's a sports team or the U.S. military that protects our freedoms," Sorin said.
The ACFT is set to become the force's test of record next March. Officials are still tweaking the test and are asking every soldier to submit their scores into the Army's massive data collection effort. However, nearly half of women are struggling to pass the test, and only a minority can score well, something that can severely damage a career.
-- Steve Beynon can be reached at Steve.Beynon@military.com. Follow him on Twitter @StevenBeynon.
Related: Army Mulls Returning to Gendered Fitness Standards over Complaints of 'Lopsided' ACFT