When I was first approached three weeks ago to take the Army Combat Fitness Test, my answer was no. Not just no, but hell no.
I hadn't taken an Army fitness test in 32 years and had no plans to start now.
It took about a day, and another appeal by an Army officer I know, to convince me I was fool enough to attempt this madness at age 53.
Over the next 23 days, I slogged through a journey that pulled my body from a lifestyle of daily walks and gin martinis into a strict regimen of core strength and aerobic workouts, culminating Friday with my first attempt at the ACFT.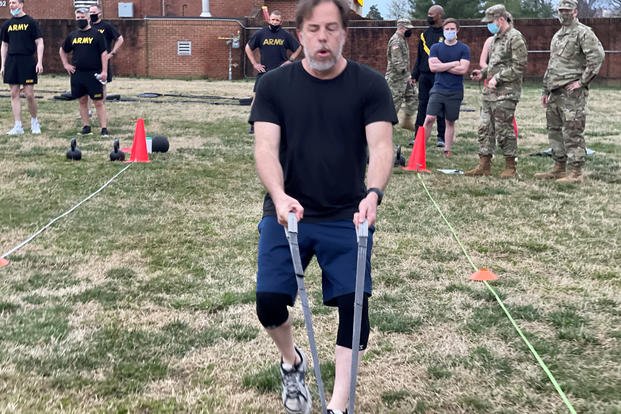 Preparing for the test in just three weeks made me question if I had the physical endurance and mental resolve to see this through to the end. I knew younger reporters from Army Times and Task & Purpose also had agreed to take the ACFT, adding to my fear of being humiliated on test day. My boss offered me the option of letting a younger reporter at Military.com take the test.
But as a former Army infantryman, there was no way I could look at myself in the mirror if I took the easy way out and passed on this challenge.
ACFT 3.0
On Monday, the Army announced that, beginning April 1, all soldiers will take the ACFT 3.0, the latest version of the embattled assessment. Army leaders unveiled the more challenging ACFT as the replacement for the Army Physical Fitness Test in 2018, and have since been making updates based on soldier feedback and findings.
The test still features the original six events: the maximum deadlift; standing power throw; hand-release push-ups; sprint, drag and carry; leg tuck; and two-mile run. ACFT 3.0, however, includes an alternative plank event for soldiers who cannot perform one leg tuck.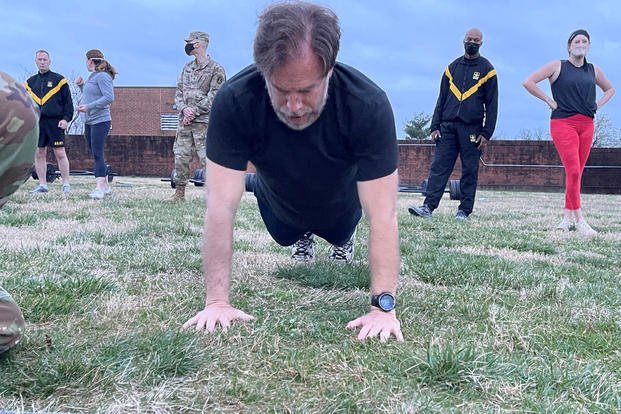 The new assessment has fallen under a good deal of scrutiny. Army leaders were forced to conduct an independent review of the ACFT after lawmakers and advocacy groups questioned whether it was fair to specific groups in the service.
Army leaders say the new ACFT 3.0 will include specific evaluation categories for men and women, to be used in gender-blind promotion boards in recognition of the physiological differences between male and female soldiers. Early testing showed that women scored an average of 100 points lower than men.
But ACFT 3.0 does require all soldiers, regardless of age or gender, to achieve a minimum score of 60 points for each of the six events, or 360 points. That minimum will be required to remain in the Army once the scores become official starting April 1, 2022.
My Strategy to Reach My Final Goal
At first, I just wanted to complete the test without embarrassing myself. But with the help of my older brother Mike, a high-school rowing coach, I soon decided I wanted a passing score or better.
In evaluating the events, I was not too concerned about the standing power throw with a 10-pound medicine ball, the deadlift with 140 pounds or the hand-release push-ups -- although they are more difficult than standard push-ups.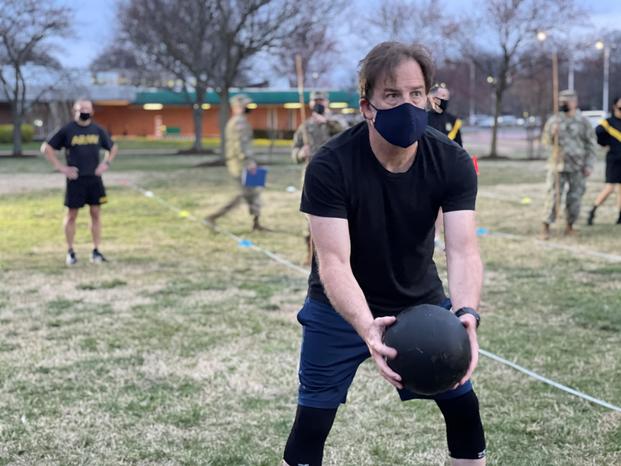 But the sprint, drag and carry, the leg tuck and, yes, even the two-mile run worried me.
For the sprint, drag and carry event, you have to sprint 50 meters; drag a 90-pound sled 50 meters; laterally sprint 50 meters; carry two 40-pound kettlebells for 50 meters; and run one last 50-meter sprint, all in under three minutes.
Dragging my kids' snow sled with 90 pounds of bagged dirt three or four times a session exhausted me. The first 25 meters was OK, but the last 20 meters forced me to struggle to keep walking every time.
I was able to run through the entire sprint, drag and carry on March 20 during an ACFT practice session at a friend's house on Fort Belvoir, Virginia. It was awful. The drag event alone winded me. By the time I got through the last half of the kettlebell carry, I felt like someone had stuck an ice pick through my brain. My head was throbbing so bad I had to sit down before the last sprint.
If I had done it without stopping, my time would have been 17 seconds over the three-minute time limit.
I'm glad I got the chance to do it before test day. Going into the ACFT cold isn't a good idea for anyone. I'm not sure if I'll ever forgive my friend for convincing me that his 52-pound kettlebells wouldn't be much different from 40-pounders.
When I started training, I admit, I couldn't even do one leg tuck. I could get my legs about halfway up, but could not touch them to my elbows. The leg tuck has proven to be the "No. 1 failed event for both men and women" across all three components, according to Maj. Gen. Lonnie Hibbard, commander of the Army's Center for Initial Military Training, the command overseeing the ACFT.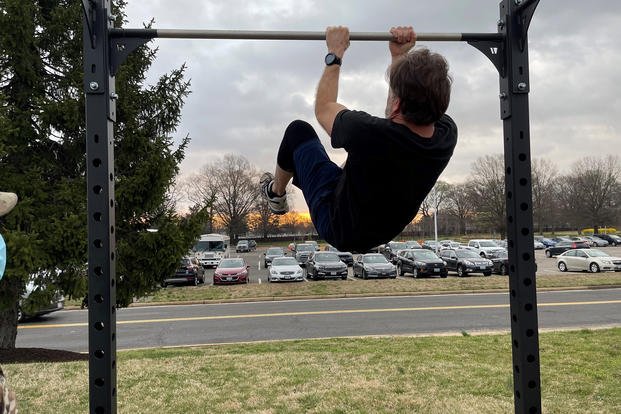 With the ACFT 3.0, soldiers can perform a plank for 2 minutes, 9 seconds to receive a passing score for the core-strength event.
Either way, I knew my core strength needed some work. Fortunately, there are lots of miserable exercises on the internet designed to prepare soldiers for the ACFT leg tuck, including a few on Army.mil.
Almost daily, I did leg tuck-and-twists, an exercise that has you sit on the floor and twist as you bring your knees up to your chest, alternating from side to side on each repetition. I also did a lot of knee tucks that involve lying on your back, jerking your knees to your chest and straightening them out again. Doing a couple of sets of 10-15 reps a day definitely strengthens the core.
But out of all the events of the ACFT, I dreaded the two-mile run the most. I ran just fine when I was younger. Now my knees and hips just ache when I run for any distance.
I found out that Army Vice Chief of Staff Gen. Joseph Martin was doing the alternative rowing event instead of the two-mile run on test day and decided to take that route.
The rowing event, however, is not exactly easy. You have to row 5,000 meters, or three miles, on a rowing machine in under 25 minutes.
When I was in my 30s, I rowed for a couple of seasons at Prince William Rowing Club. I learned that proper form on the rowing machine, and on the boat, has a lot to do with results -- but it takes practice.
It also takes awhile to build endurance on a rowing machine, and getting access to one can be difficult. Even used, they can cost $500 to $1,000, and you always can't find a gym that has one. Luckily, my brother, the rowing coach, had connections and got me one on loan.
I rowed a practice 5,000-meter piece on March 19 and finished in 24 minutes, 9 seconds, so I felt pretty confident that I could finish before the 25-minute time limit on test day.
Aside from exercising, cutting back my alcohol intake to an occasional beer and consuming a lot more protein, bananas, oranges and water also gave me more energy.
In the beginning, it took a lot of effort to avoid becoming discouraged. Sometimes a bad workout day is all it takes to lower confidence. Remembering past challenges helped -- like all the times I thought my knees would buckle under the weight of about 60 pounds of equipment and a 23-pound M60 machine gun as a young private first class at Fort Bragg, North Carolina. Infantrymen today carry heavier loads, but it seemed like a lot of weight to me at the time.
Taking rest days proved to be a challenge mentally; I worried I was wasting my limited workout time. But my brother convinced me that muscles need rest to repair themselves before they can become stronger.
Test Day
When test day arrived, I was nervous but excited. I was ready to finish this.
I arrived at Joint Base Myer-Henderson Hall in Arlington, Virginia, around 5:40 a.m. to take the ACFT, which was scheduled for 6:30 a.m. Hurry up and wait, in true Army fashion.
Soldiers in Army fitness uniforms milled about as others unloaded the equipment from a shipping container and marked off 25-meter lanes needed for the events.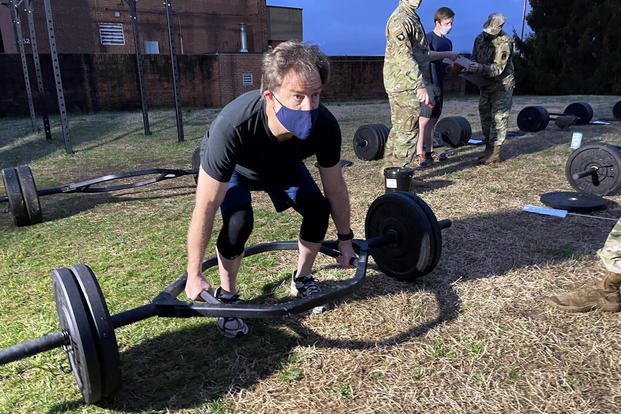 First up was the deadlift event. Soldiers could choose to do the minimum of 140 pounds for 60 points or go all the way up to 340 pounds for the max of 100 points.
I did the 140-pound deadlift three times without much difficulty, but I chose not to go up in weight to save gas in my tank for the rest of the test.
The standing power throw, which is supposed to measure explosive energy, isn't that difficult if you have the form down. You have to start with bent knees to get your legs into it and release your backward, overhead throw at the right time.
You have to throw at least 4.5 meters, or about 14.8 feet, to get 60 points on one of your two attempts. My best throw was 6.2 meters (20.3 feet), which got me an extra four points.
The hand-release push-up event is not easy. As a young man, I could do 62 regular push-ups on a good day. With the hand-release push-ups, you have to go all the way down to the ground, put your hands out to the sides and bring them back again for one repetition.
My limit was 31 for a 71-point score.
Then it was time for the sprint, drag and carry. I really had no expectations on my performance, except I knew I wasn't going to stop until the event was complete.
The 90-pound sled drag was just as difficult as the last time I did it. I still got a headache during the kettlebell carry, but I finished in 2 minutes, 51 seconds. I shaved 26 seconds off my time and beat the three-minute limit.
The event surprises a lot of soldiers the first time they attempt it, said Sgt. Maj. of the Army Michael Grinston, who also took the ACFT Friday.
"It surprised me; every time it surprises me," Grinston said. "You think it's only a couple of hundred meters. What's so hard about that? Until you grab the drag [sled] and you think, 'Hey, wait a minute. This is pretty tough.'"
Grinston is also 53, but he completed the event in 1 minute, 45 seconds. His soldiers can only benefit from it, he said, because it mimics tasks you might have to do in combat.
"If you go to combat some time, you are going to have to sprint somewhere -- a rocket comes in, something goes off … you need to have that mobility and strength,'' Grinston said. "And then if you had somebody that was injured … you want to be able to drag somebody."
For the leg tuck, I was able to get my legs up to my elbows but only once. I passed the event with one leg tuck. I would have liked to have done better.
Everyone got a 10-minute break before starting the two-mile run, or in my case, the row.
The rowing machine allows you to track your performance on a small monitor. It shows how many meters rowed, the number of strokes per minute and your total time. It also shows the split, which gives the minutes and seconds it takes to row 500 meters. So, to finish 5,000 meters in under 25 minutes, you have to maintain a split, or pace, of below 2 minutes, 30 seconds during the row. It looks like this: 2:30/500.
I had practiced maintaining below a 2:25/500 split at about 24 strokes per minute.
This did not happen. I realized I had emptied most of my tank on the sprint, drag and carry event, so I just tried to grit through it. Just before the 2,500-meter mark, my split started to creep up – 2:32/500, 2:36/500 and higher.
When I passed 4,000 meters, I jacked up my stroke rate and pulled harder to make up lost time. The last 100 meters was a blur.
I finished the 5,000 meters in 25 minutes, 4 seconds, failing the last event. I got off the machine, took a few steps and vomited in the grass.
The tears have dried, but the disgust with my body is still there.
Looking back, I don't regret a minute of the experience. It was a grand challenge, one I won't forget.
-- Matthew Cox can be reached at matthew.cox@military.com.
Related: Army Leaders Say ACFT 3.0 Remains Gender-Neutral, Despite Gender-Specific Evaluation Categories