The U.S. Air Force's top general says it's time for airmen to study up on their competition. Understanding what motivates their adversaries is a skill they'll need, especially in coming years as the service shrinks its footprint for more quick-reaction missions at the same time it expands its reach.
As the Defense Department postures itself to counter China and Russia, Air Force Chief of Staff Gen. Charles "CQ" Brown is stressing to airmen that large amounts of equipment is not necessarily the measure of operational success and there may be other ways to throw off an enemy.
"When we think about our competitors, it may not require exquisite or expensive platforms or long-range missiles -- it may be us just being able to outthink our adversaries. And you can't outthink them if you don't understand them," he said in a recent interview with Military.com when asked how he defines "great power competition."
Read Next: 'We Don't Have a Choice:' Military Exercises in 2021 Will Focus on This Big Problem
The term, part of the military's lexicon since the 2018 National Defense Strategy came out, may still be new to the hundreds of thousands of service members who have spent the last two decades fighting insurgent groups.
Brown outlined his approach to applying more inventive methods to military missions in his "Accelerate Change or Lose" strategy paper, published in August.
"The more we understand and look through the lens of how [the enemy operates], how they think, how they make their decisions ... it may provide opportunities for us to look at how we look at deception, how we change behavior, how we change perception," he said. "It may drive how we do things differently. Just because we hammer, hammer, hammer -- well, not every problem is a nail."
Brown previously led Pacific Air Forces, where he oversaw more than 46,000 airmen operating out of Japan, South Korea, Hawaii, Alaska and Guam. The job afforded him a front row seat to observe China's military buildup on contested islands in the South China Sea. While in the role, Brown said the Air Force should pursue different avenues, such as evasive or deceptive measures to stifle near-peer rivals.
"For the Air Force, it's really, 'How do you influence behavior? How do you think about ... rules-based international order?'" he said. "And the example I've used for the Air Force … is our ability to fly in international airspace. And the aspect when you look at the South China Sea, and having met with the People's Liberation Army senior officer in my last job, and being talked to, he said to stop flying in 'their' airspace. Well, it's international airspace. So us flying in that airspace shows that we're respecting international norms."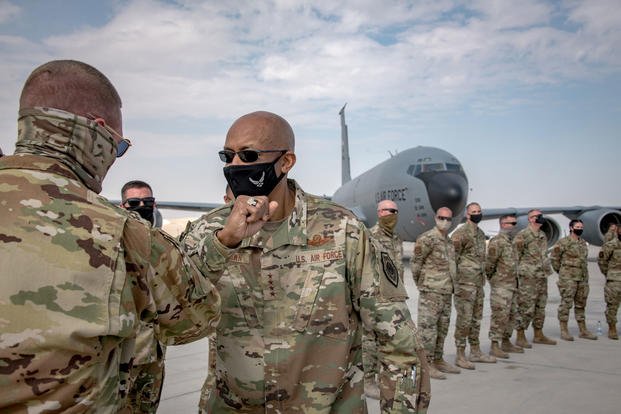 Brown spoke at length about a number of other topics, from what his top priorities are, ditching the PT tape test and more. His comments have been edited for clarity and brevity.
Military.com: The Air Force has stated that its goal is to get to 386 squadrons. You've previously said you want to put the service on a path to add units across the force, but it still may total fewer than 386 units overall. Is the 386-squadron idea dead?
Brown: This was more than an idea. It was the answer to a question that was asked by Congress on how big an Air Force is required to execute [worldwide missions]. That being said, to get to 386, a combination of things have to occur, [including] additional funding. The way I see it, I want to get myself capability-wise as close to 386 I can get. If I can, I'd like to exceed it. But I'm also looking at the capability that requires maybe, in some cases, a little bit more innovation.
Military.com: The Air Force has multiple next-generation technology projects in the works, such as hypersonic weapons, a new bomber and a fighter flanked by a smart drone, among others. Where's the service's focus for the coming year?
Brown: One of the areas I'm really focused on is [the Advanced Battle Management System]. How do we get down the first steps to connect the right pieces? As we do these on-ramps, we want to validate and explore some other technologies and experiments a little further out on the edge [that] haven't quite matured yet. I'm really focused on delivering capability to airmen ... looking at the laying out of milestones or where you want to be. My goal here is to define those a bit better [in 2021]. There may be some things that materialize five to seven years from now, but I got to get on a path that we can all see us getting there.
Military.com: The Air Force just announced it won't bring back the controversial tape test to calculate an airman's weight as part of the physical fitness test, but also that other changes are in store. What is the service analyzing in terms of how it measures fitness?
Brown: There's a DoD requirement that requires a physical fitness assessment, but also requires a kind of body composition program. [Since October 2013, airmen who fail the abdominal circumference portion of the PT test have the option of undergoing a body mass index (BMI) screen, which measures the ratio of body mass to height; if they fail that, they are administered a body fat assessment, or BFA.] So what we're looking to do is, how do we separate the body composition program from the PT test, and we're walking through the details of how we go out [with this] in the future. I will tell you, the culture of fitness is really dramatically changed within the Air Force. There's a lot more of our airmen who actually pay attention to their health, pay attention to their fitness, more so than we have in a long time. So the culture is there, and as we do this, we want to make sure we provide the opportunity for airmen to stay fit, because it's not only good for the mission, but it's also good for them, their families and their health.
Military.com: The Air Force has been pushing to send more aircraft to the boneyard in order to save money and invest it in new technologies. But Congress has authorized keeping some of those planes around, and has even authorized money to buy new aircraft. Does this hinder the Air Force's goal?
Brown: [How] I look at it is the future of force design. This is really going to be, 'How do we look at this together.' ... It's a combination of factors that I run through my mind as I work with the staff here, of the balance between the risk over time between all the different equities. So I really see it as a constant dialogue. … I fully realize that what I asked for may not be exactly what I get. But I think there's good understanding, and it's a dialogue that I've been able to have over the course of the past several months. Because the things we're doing are maybe a little bit new and different -- more software-based in some cases than it is hardware-based. The traditional models we've used for how we articulate what we're doing, it's different [now]. So how do we simplify the technical aspects of this and put it into the framework of how it provides operational capability? And then, how it provides operational capability each fiscal year, and [how] we hold ourselves accountable to that. That's not well defined because this is a collaboration piece with industry; I want to really tap into some things they're doing. And they don't exactly know exactly what [this is] going to look like. But they know there's a technology, a path to get there, and that's the part I want to be able to do as well.
Military.com: In your paper, "Accelerate Change or Lose," you argue that programs or platforms that are "broken," aging or that don't offer a competitive edge against near-peer aggressors must be reevaluated or even discarded. Have you given more thought to where cuts can be made?
Brown: Part of this is, I want to ensure that we have complete capability. If we're talking about airplanes, [it's also about] the sensors, weapons, the manpower, sustainment. ... So we've got to make sure that we have a complete package, and that requires some dialogue internal to the Air Force on how we do that.
Military.com: Throughout the year, the service has navigated its operations amid the "new abnormal" given the coronavirus pandemic. Do you foresee lasting challenges from COVID-19 on the force?
Brown: I am worried about our airmen and the stress that COVID lays on them. We're social creatures. It makes it difficult particularly for young airmen, their first time away from home, and then they can't go home on leave, or the challenges of not being able to travel. There are additional stressors because you're either teleworking, etc.. They may have extended family members that they're worried about, or they've become [the primary] child care providers. That to me is a concern. Ideally, as we get the vaccine into next year, we can get back to normal, but 'essential' normalcy. It will be different. We are doing some things different, and we're still getting the mission done. … Because there are some benefits. We're more inclined now to [virtually] collaborate on different areas and innovate. For example, Basic Military Training didn't slow down [the Air Force was able to streamline training to cut wasted time while dividing airmen between Joint Base San Antonio-Lackland, Texas, and Keesler Air Force Base, Mississippi, in a first-of-its-kind training experiment]. That to me is the power of outstanding airmen who were given, 'Here's the problem.' And they figured out a way to get it done.
-- Oriana Pawlyk can be reached at oriana.pawlyk@military.com. Follow her on Twitter at @Oriana0214.
Related: How the Air Force Will Expand Its Pacific Island-Hopping Campaign in 2021