A Texas-based Marine who died in an accident late last month was on track to become a pilot, and is remembered by those in and outside the Corps as a talented person dedicated to service.
First Lt. Clark Perkins, a 25-year-old student pilot with Marine Aviation Training Support Group 22, was on liberty when waves pushed him into the rocks while surfing off the jetty at Packery Channel in Corpus Christi, Texas.
Several other lieutenants pulled Perkins from the surf, and lifeguards on the scene attempted aid before an ambulance arrived, said Capt. Sam Stephenson, a spokesman for Training and Education Command.
Read Next: Navy Ends 3-Day Search for Sailor Missing from Carrier Nimitz
Perkins was rushed to the emergency room at Corpus Christi Medical Center, Stephenson said, where he was pronounced dead at 4:30 p.m. on Aug. 26. His death, listed this week by the Naval Safety Center, which tracks serious on- and off-duty accidents, remains under investigation.
Col. William Donnelly, MATSG-22's commanding officer, said Perkins' death is a tremendous loss to the nation and Marine Corps.
"He was a rising star in the Naval Aviation community and was well on his way towards his goal of becoming a Naval Aviator," Donnelly said. "Clark had recently selected the jet training pipeline and undoubtedly would have made an excellent tactical jet aviator for many years to come."
Perkins, who was from Fairfield, Connecticut, according to his service records, was promoted to first lieutenant in May.
His family could not immediately be reached for comment, but members of the Hamilton Fire Department in New York called him a valued member of their team.
"Talented, polite, attentive, genuine and loyal are just a few words we could use to describe Clark," the department said in a post on its website. "He always carried with him a sense of duty in his words and actions as a member of the Hamilton Fire Department. Above all else, a true gentleman."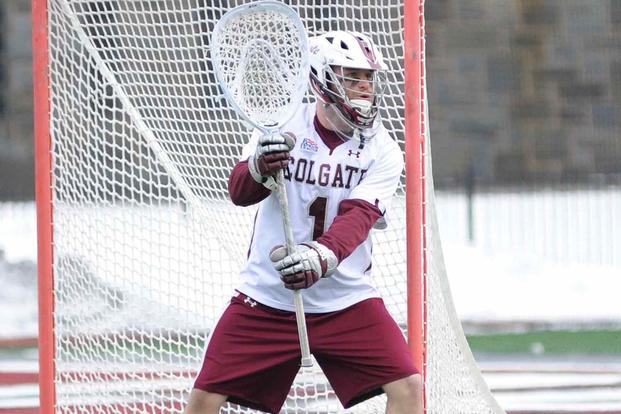 Perkins was featured in a 2018 National Collegiate Athletic Association video. The international relations and economics major, who played lacrosse at Colgate University in New York, said in the video that he wanted to join the Marine Corps because he viewed it as the most elite branch and wanted to challenge himself.
He talked about attending the Platoon Leaders Course in Quantico, Virginia, with the hopes of going on to flight school.
"You get to test what you yourself are made of as a leader," Perkins said. "And they just want to make sure that you have what it takes to put the other guys that are in your platoon before yourself."
Donnelly and the Hamilton Fire Department expressed condolences to Perkins' family over their loss.
"RIP Brother," the fire department's statement said. "We will take it from here."
Editor's note: This story has been updated to reflect that waves pushed Perkins into the rocks.
-- Gina Harkins can be reached at gina.harkins@military.com. Follow her on Twitter @ginaaharkins.
Related: Foul Play Not Suspected in Death of Fort Hood Soldier Who Collapsed During Physical Training