The Superintendent of the U.S. Naval Academy reached out to the staff of the Capital Gazette newspaper in Annapolis Friday, offering condolences following a horrific newsroom shooting Thursday that left five dead and more badly injured.
The small city of Annapolis is home to the Naval Academy, and officials were quick to offer support as news broke
"The Capital Gazette is our local newspaper and is often the first to tell our story," the academy's official account tweeted Thursday afternoon. "We are grieving with their staff and loved ones after the tragic events that occurred today."
Vice Adm. Ted Carter reached out to Gazette editor Rick Hutzell in a letter on Naval Academy letterhead, dated Friday. The letter was shared on the Gazette and Naval Academy Twitter accounts.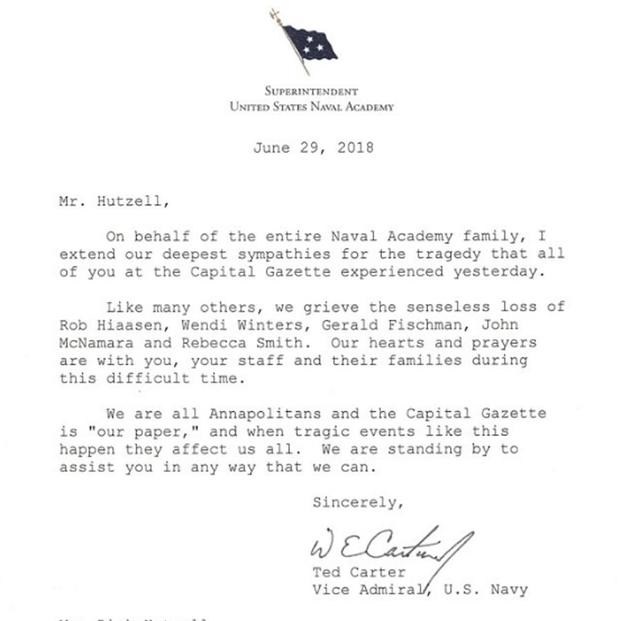 "On behalf of the Naval Academy family, I extend our deepest sympathies for the tragedy that all of you at the Capital Gazette experienced yesterday," he wrote. "Like many others, we grieve the senseless loss of Rob Hiaasen, Wendi Winters, Gerald Fischman, John McNamara and Rebecca Smith. Our hearts and prayers are with you, your staff and their families during this difficult time."
The shooting took place around 2:40 p.m. Thursday. The suspect, now in custody, is a 38-year-old man who had a years-long grudge against the paper and had previously filed a defamation lawsuit against it in 2012. The courts ultimately ruled in favor of the Gazette.
A Gazette photographer had begun the day at the Naval Academy on the day of the shooting, taking pictures of the induction of the newest class, according to reports from the paper. The anecdote highlights the close and regular interaction between the two institutions.
"We are all Annapolitans and the Capital Gazette is "our paper," and when tragic events like this happen they affect us all," Carter wrote. "We are standing by to assist you in any way that we can."
-- Hope Hodge Seck can be reached at hope.seck@military.com. Follow her on Twitter at @HopeSeck.