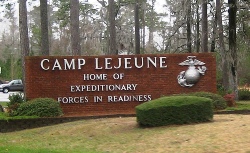 The mission of Marine Corps Base Camp Lejeune is to support the various Marine Corps commands, a major Navy command and a Coast Guard command as well as the Marine Corps Base itself.
Camp Lejeune with its various satellite camps, housing, training areas and New River Air Station is the largest concentration of Marines and Sailors in the world.
With its massive amount of land and resources, Camp Lejeune is truly the "Home of Expeditionary Forces in Readiness."
Welcome to Camp Lejeune.
More Base Details and Info
Learn More About Camp Lejeune
Marine Corps Base Camp Lejeune is a massive installation that wraps around the New River tidal estuary and borders the Atlantic Ocean. The 156,000-acre facility has a mix of pine forests, calm river shores, and miles of coastline available for amphibious and ground training. Camp Lejeune is home to the 2nd Marine Expeditionary Force, 2nd Marine Division, 2nd Marine Logistics Group and multiple other combat units and support commands. Several entry-level and career-level schools are also here, so chances are high that at some point in your career you will be training at Camp Lejeune!

Camp Lejeune consists of several smaller areas including Camp Johnson, Camp Geiger (Marine Combat Training at the School of Infantry), Courthouse Bay (Marine Corps Engineer School and the Joint Maritime Training Center), Stone Bay, and the Greater Sandy Run Training area.