The military family community sometimes responds to study results with a collective eye roll. Yes, we understand that studies are what force policy and budgetary changes, but do we really need to spend years and money on studies that "prove" service members don't get enough sleep? Probably not.
But some surveys are useful, giving us an idea of the things on which lawmakers could best focus. Last year over 11,000 participants took the 2019 Blue Star Families Military Family Life Survey, with one of the key findings highlighting the ongoing concern over military kid education. Specifically, 32% of families surveyed have lived apart primarily to ensure their child had access to quality or uninterrupted education.
Those results inspired the Military Child Education Coalition (MCEC) to dig deeper, launching their first survey last month.
Why Another Survey?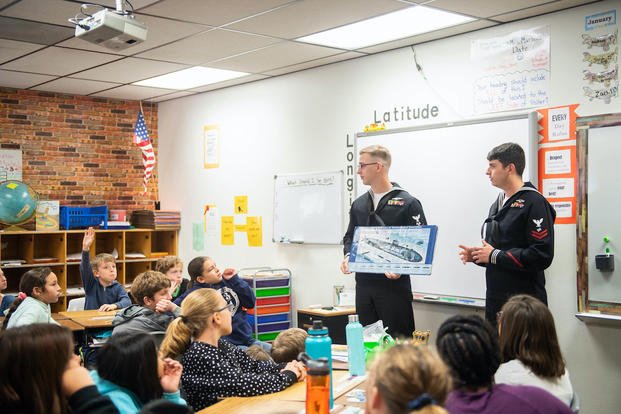 "We're hoping this survey will be a way for military-connected families and the professionals who support them to have their voices heard and to focus on helping military-connected students not just survive but thrive on their educational journey. Ultimately, MCEC is interested in determining the best ways to provide tools and solutions through innovation and ingenuity," said Helen Mowers, instructional systems design manager at MCEC.
The Education Survey's purpose is two-fold. First, it looks to identify the needs of military-connected students, their families and the educational professionals that support them. The survey will also help determine the best ways to provide solutions for that same demographic.
MCEC has been keeping up with military child education needs for years, but wanted to create meaningful conversations and help determine solutions.
"[We need] to know what is working, and if it's not working, we want to know why. MCEC wants to invest in programs that make an impact and recalibrate initiatives to help better serve our community. The survey is a way to do that--to listen intently to our military families and children, as well as those who educate them," said Dr. Rebecca Porter, president and CEO of MCEC.
Who Should Take This Survey?
This survey has three target audiences. MCEC is looking for military-connected students over the age of 13, military-connected parents with school-aged children (any age children) and professionals who support students connected to the military community. If you fit into more than one category, you should take the survey more than once.
MCEC also wants to make sure you share the survey with others in your community who are connected to military students, they said, including school officials and Military Family Life Counselors.
So far, MCEC's preliminary results can't pinpoint any single problem as the most significant for military-connection students, officials there said.
"Preliminary survey responses tell us that military children continue to struggle with the educational, social, and emotional ramifications of military transitions and mobility," said Porter.
Our military children are resilient, there's no question about that, and facing these challenges helps build their resiliency.
But students are still "coping with transferring credits and transitioning into appropriate educational programs, dealing with one or both parents being deployed, and being the 'disposable friend' because they move so often. The question underscores the importance of the MCEC's Military Kids NOW Education Survey and why we need as many voices represented as possible," according to Porter.
Help military-connected students and their families by coming alongside MCEC in their inaugural survey season. The survey is open through April 17th and takes less than 10 minutes to complete.
Keep Up with the Ins and Outs of Military Life 
For the latest military news and tips on military family benefits and more, subscribe to Military.com and have the information you need delivered directly to your inbox.
--Rebecca Alwine can be reached at rebecca.alwine@monster.com.