'Always Ready' in Hampton Roads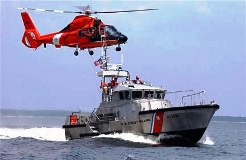 On 15 July 2005, Marine Safety Office Hampton Roads, Group Hampton Roads, and Group Eastern Shore merged to become Sector Hampton Roads.
Sector Hampton Roads missions supports the Commandant's six strategic goals of maritime safety, maritime mobility, maritime security, national defense, protection of natural resources, and most recently, homeland defense. This multi-mission unit, from Portsmouth, Virginia, has an area of responsibility including the lower half of the Chesapeake Bay and adjacent waters in the Atlantic Ocean out to 200 nautical miles.
4/26/18 5:45 PM
|
Military Headlines RSS Feed - Military.com
4/26/18 5:20 PM
|
Military Headlines RSS Feed - Military.com
4/26/18 1:18 PM
|
Military Headlines RSS Feed - Military.com
4/26/18 1:00 PM
|
Military Headlines RSS Feed - Military.com
4/26/18 12:13 PM
|
Military Headlines RSS Feed - Military.com
More Military Headlines