The immigrant experience is an essential element in the ongoing story of theUnited States. In his latest portrait collection, former President George W. Bush tries to capture the images and stories of some of those who came to America and found a new way of life.
One of the subjects of his new collection is Kim Mitchell, a U.S. Navy veteran who was born in South Vietnam and orphaned as a baby. Her extraordinary story is one of hard work and dedication that would lead to a lifetime of service, first to her country and later to her fellow veterans.
When Mitchell first came to the United States, she was just 10 months old. Her adoptive father was Air Force Tech. Sgt. James Mitchell, an airman deployed to Vietnam in 1972. He brought Kim home from an orphanage in Da Nang in what was then South Vietnam.
"My mother and father didn't have any children prior to my dad being deployed to Vietnam," Kim Mitchell tells Military.com "I think they just mentioned that if the opportunity came up to adopt a child, they would, and it didn't care if it was a boy or girl."
Tech. Sgt. Mitchell would regularly drop off clothes and supplies to the local orphanage. Many service members did, Mitchell recalls. But one day, the nuns in the orphanage put little Kim in his arms.
"I was fortunate enough for him to say that day, I'm gonna adopt this one. I'll take this one," she says.
From the start, her American experience was an exceptional one. Some of her earliest memories came in New Mexico while her father was stationed at Cannon Air Force Base. At just four years old, she was flying in an airplane belonging to a friend of her fathers, a fellow airman. Another early memory has her in a photo with then-Governor of New Mexico, Jerry Apodaca.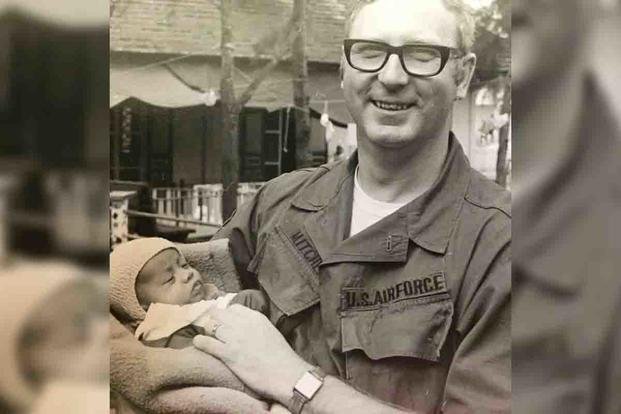 Mitchell spent much of her younger years on the family farm in Solon Springs, Wisconsin. Where many immigrants live with a family who are also immigrants, young Kim was one of two people of Asian descent in her family. One of her cousins was also adopted from Vietnam -- but none of that really mattered in her community.
"We were clearly not born down the road, like everybody else was in Northern Wisconsin," she says. "It wasn't until my Naval Academy days that I even met other Asians. Though I did have a cousin, we were the two Asians in the family and we both considered ourselves Americans just like everybody else. We didn't think anything about it."
Young Kim's father pushed her to consider the Air Force Academy after high school, but a chance encounter with a Navy Admiral took her career in a different direction. She was selected to represent her school at a Hugh O'Brian Youth Leadership conference and was asked to introduce him as a speaker. He convinced her to also look at the Naval Academy. When she got the brochure, she said, the decision came quickly.
"I started getting pamphlets about the Naval Academy and the programs that they had. Everything was in color and everyone was smiling," Mitchell says with a laugh. "And I was like, 'this looks like a lot of fun. I think I'm going to shift my focus to the Naval Academy.' In the pictures of the Air Force Academy, there wasn't a whole lot of smiling."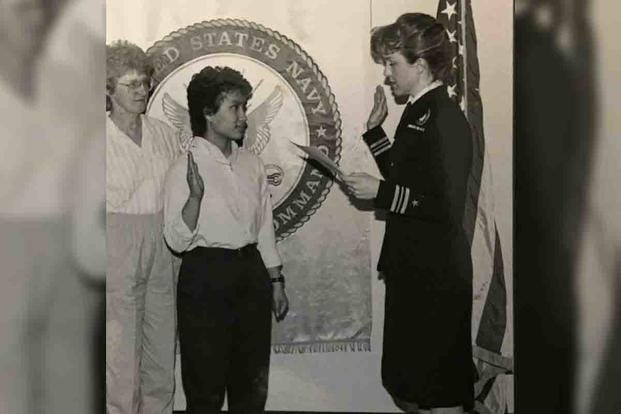 But her entry into Annapolis was rocked by the sudden death of her father. The academy allowed her to resign to take care of things back home and rejoin for the class of 1996. She would spend 17 years in the Navy as a Surface Warfare Officer, earn a master's degree from George Washington University and spend her last years under Adm. Mike Mullen, the 17th Chairman of the Joint Chiefs of Staff. She left the Navy in 2012 as Lt. Cmdr. Kim Mitchell.
While her Navy service was important to her, she saw the opportunity to continue serving. This time it was for a cause she cared about on a deeply personal level: veterans.
"The armed forces is a big melting pot of people who just want to serve," says Mitchell. "That call to serve is something greater than yourself. Some of them have some very interesting background stories and challenges that they overcame. I think it's just a great thing about America that our armed forces are able to bring in anybody who wants to serve."
Upon leaving the Navy, Mitchell embarked on a career of continued service as a civilian. Her first stop was the nonprofit Dixon Center, working with Adm. Mullen, the George W. Bush Institute and other community organizations, connecting veterans with the services they need to thrive in post-military life. She then took over as President and CEO of Veterans Village of San Diego, dedicated to providing housing and other services to homeless veterans.
Today, she's the Senior Vice President of Military and Government affairs at a non-profit online university aimed at the military-veteran community, National University.
In 2019, Mitchell returned to the Bush Institute as a member of the 2019 Stand-To Veteran Leadership Program. That's where the former president discovered her and her story. The staff told her Bush wanted to paint her portrait for his next book about the American immigrant experience.
"I'm an adopted, naturalized citizen, but sometimes I don't think of myself as an immigrant," she says. "The president's not going to paint a portrait of me, Kim Mitchell. I grew up on a farm in Northern Wisconsin."
But Bush did paint her, one of 43 portraits he created and put into his latest book, "Out of Many, One: Portraits of America's Immigrants." The book aims to put a spotlight on inspiring immigrant stories and the contributions they've made to their lives and the United States.
"I am deeply honored that the president chose my story to be one of the stories highlighted in this book," Mitchell says. "Being able to hear him talk about immigration and the contributions that immigrants bring to the United States and to America is a great discussion."
-- Blake Stilwell can be reached at blake.stilwell@military.com. He can also be found on Twitter @blakestilwell or on Facebook.
Want to Know More About Veteran Jobs?
Be sure to get the latest news about post-military careers as well as critical info about veteran jobs and all the benefits of service. Subscribe to Military.com and receive customized updates delivered straight to your inbox.