Danger (apparently) meant nothing to Bruce Meyers. Given his extraordinary life, one might theorize that death couldn't catch up to the dune-buggy racing legend. He was a southern California beach-goer, through and through. Meyers was a lifeguard, a surfer, a car enthusiast and, first, a sailor.
Meyers dropped out of high school and joined the Merchant Marine during World War II, one of the most treacherous jobs of the war. For every 26 men who joined the service, one would die before the war's end. In comparison, one in 34 men who joined the Marine Corps died in the war. It was a dangerous job, but someone had to do it.
After that stint ended in 1944, Meyers joined the Navy. He headed out to the Pacific Theater aboard the USS Bunker Hill, an Essex-class aircraft carrier in time to join the fight for Okinawa. During the battle, the Bunker Hill was struck twice by kamikaze attacks, which set the ship ablaze.
Although the carrier didn't sink, 352 crewmen were killed and 41 were missing after the attack. Meyers was one of many sailors who abandoned ship. While in the water, he saw a fellow sailor in distress, struggling to stay above water. Meyers went into lifeguard mode and swam over to the man to give him his life jacket. He then swam to a wounded pilot who also was struggling, swam him through burning oil slicks and stayed with him until they all could be rescued.
They were in the water for five hours.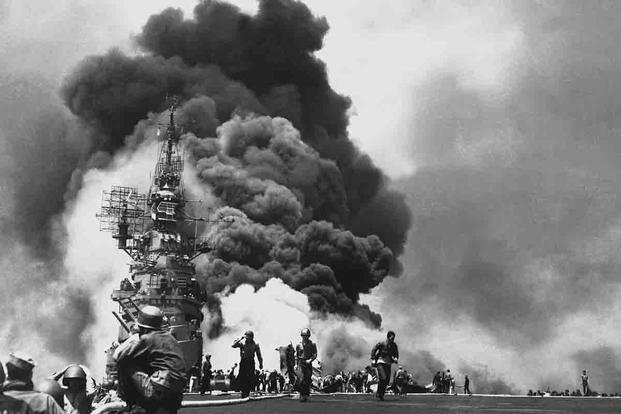 When the war ended, Meyers' service was far from over. He went back to serving in the Merchant Marine. Eventually he returned to his home in southern California, where he became a pioneer of surfing. He mentored surf legends Greg Noll and Bing Copeland on hollow wooden boards.
But Meyers was a sailor first, and he came to produce boats using a relatively new material at the time, fiberglass. His boats were so successful and popular that he began adapting fiberglass in his other activities, including surfboards and, eventually, his car.
In 1964, Meyers wanted to create a vehicle that would work well in the sands of Baja California and be cheap to drive. So he went to his garage and built a vehicle around a fiberglass tub using a Volkswagen parts bin and a Beetle chassis on wide tires.
He had just created the Meyers Manx, the first "dune buggy." It is now known as the most replicated car in history, with thousands of copies being made.
The Meyers-Manx was never intended to become known as a dune buggy, but it was copied so often and popularized in film and television after Meyers created thousands of kits for people to make their own. It really took off after Meyers and a buddy drove 1,000 miles through the desert in record time.
In the years before Meyers built the Manx, he and his friends were trying to beat the record of driving from Tijuana to La Paz, which stood at 39 hours, 46 minutes. Meyers and his friend, Ted Mangels, took off from Tijuana with 65 gallons of fuel in his newly made vehicle.
They beat the record by five full hours, and the race is now known as the Baja 1000.
Meyer's service in World War II was just the beginning of his gifts to the U.S. military. The Meyers Manx later was replicated by the U.S. and other armed forces, who gave birth first to desert patrol vehicles (DPV) and now are known as light strike vehicles (LSV), used by U.S. Navy SEALs and the U.S. Border Patrol.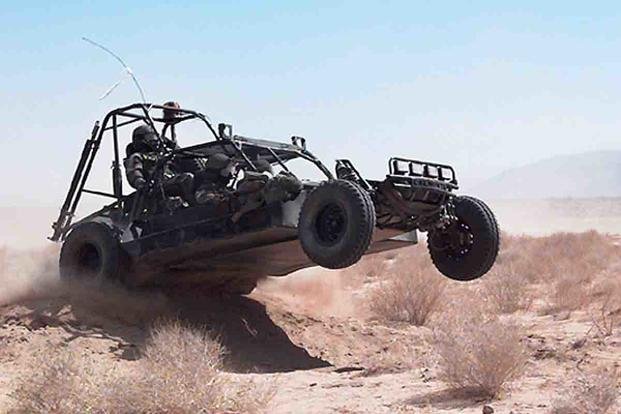 Although Meyers lost his copyright in a disputed legal battle with a copycat dune-buggy manufacturer, he is known to history as the creator of the original fiberglass version, his Meyers Manx.
Meyers died at age 94 in 2021, but his legacy lives on. You can still buy a Meyers Manx kit and zoom around your own stretch of desert, grassland or suburban street in one you built yourself.
-- Blake Stilwell can be reached at blake.stilwell@military.com. He can also be found on Twitter @blakestilwell or on Facebook.
Want to Know More About Veteran Jobs?
Be sure to get the latest news about post-military careers as well as critical info about veteran jobs and all the benefits of service. Subscribe to Military.com and receive customized updates delivered straight to your inbox.