"Instead of coloring the grass the way you see it, why not color it the way it makes you feel when you're there?"
This is the advice Richard Casper received that changed his life forever.
Art changed his life, especially his post-military life, at a time when he needed it the most. Now, he wants to give that same power to fellow vets who might be at the end of their rope.
"I was going downhill," Casper says of his time after the Marine Corps. "I was going to die."
He was drawing a photo of himself next to his friend Luke's grave in Houston, Texas. Everything else about the drawing was colored true-to-life. All that was left was to color the grass around him. Casper didn't think much of his professor's advice -- he didn't want to ruin his work -- but he went along with it and colored the grass red.
When his classmates saw the work, knowing Casper's past as a Marine in Iraq, he was awestruck at how quickly they interpreted it. They'd begun to pick up on feelings that Casper had never expressed to them, things he could never say out loud.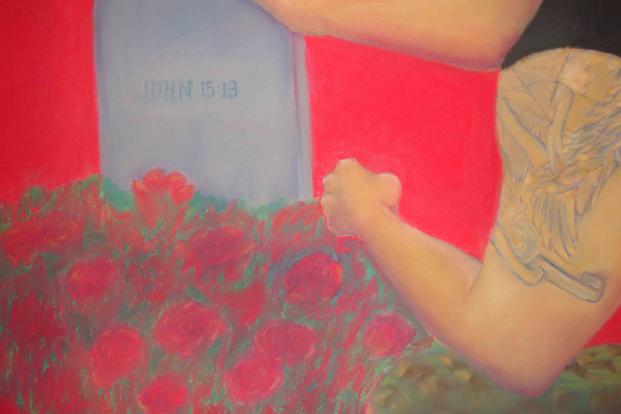 "They said things like, 'You made the grass red because you saw his blood,'" says Casper. "'You watched him die' or 'it makes you angry to think of it.'"
All he had to do was draw it.
When Casper left the Marine Corps in June 2007, things like traumatic brain injury and post-traumatic stress were not as widely known or talked about as they are now. Casper definitely never considered them before he was diagnosed.
During his first few months in Iraq, his Humvee was blown up four separate times, and his good friend was shot and killed. When he got back to the United States, he simply left the military without going to medical. No CT scan, no X-ray.
That's how it went back in 2007.
Life after the Marine Corps didn't go very well. Casper did everything he was supposed to do as a newly separated veteran. He went home and started school, but he struggled and didn't know why. The specter of the "22 veteran suicides per day" loomed large. Eventually, he went to the local Department of Veterans Affairs hospital, where they discovered his brain injury. Like the Marine he was trained to be, he adapted to his new situation.
These days, veterans and their families know the warning signs of PTSD. The military and VA know what to look for and when to conduct tests for TBI. New veterans, along with so many of Casper's contemporaries, can find help where they need it because of vets like him.
As he struggled with the lingering effects of his time in the Marine Corps, Casper eventually turned to the power of art as a means of not only expressing himself but letting his loved ones know what he was feeling and thinking. Now he wants to teach other vets to get their experiences out onto a page -- for themselves and for their loved ones.
Casper enrolled in an arts program at a small community college in Bloomington, Illinois. That's where he first drew the red grass around his best friend's grave. But he isn't just turning veterans on to painting to express themselves. That's something they can do in their own communities.
His medium of choice now is country music.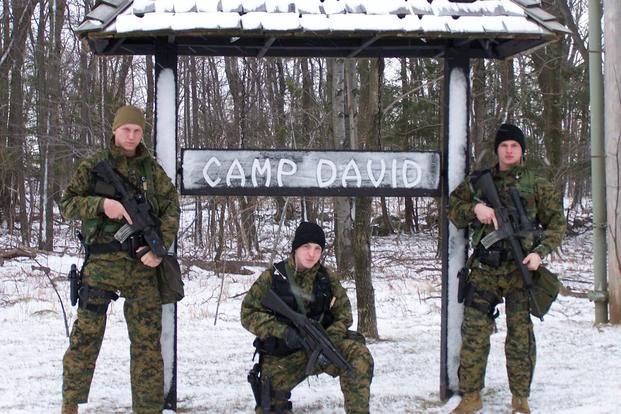 As he progressed in art school, he turned to songwriting as a means to talk about Luke, his best friend. Casper couldn't talk about him because it just made him break down.
"If people wanted to know about Luke, I wanted to be able to hand them a song and walk away," he recalls. "I want people to know about who he was and how he lived, but I couldn't talk."
That's when Casper met Mark Irwin, a country songwriter who wrote Alan Jackson's "Here In The Real World," as well as 2013's "Highway Don't Care" by Tim McGraw and Taylor Swift. Casper asked Irwin if he could come to Nashville so the two could write a song for Luke that would do his departed friend justice. Irwin agreed.
The two wrote Luke's song in under three hours.
The experience of expressing himself through art and telling his best friend's story through song was so cathartic, Casper decided he was going to build a program for other veterans to do the same thing and find the same healing. With the help of co-founder Linda Tarrson, that's when CreatiVets was born.
American veterans are responding so strongly that Casper and CreatiVets can hardly keep up. He designed the organization to be a creative opportunity that any veteran, even those who swear they would never want or need help, would find it hard to turn down.
"It's so powerful to watch, even just being behind the scenes," says Casper. "Just doing anything that we could do to get a veteran turned on to art music to help them heal."
CreatiVets brings veterans backstage at the Grand Ole Opry, country music's longtime pilgrimage site, to work with experienced Nashville songwriters and translate their feelings into songs over a four-day session. Then, they record the songs with the best session musicians in Music City.
But these songs aren't for release on the radio. If the veteran doesn't want to allow their song on CreatiVets' SoundCloud, that's OK. Many others do.
It's about expressing thoughts and feelings in a way the veterans were unable to do before.
Even the most reluctant of veterans who need help would have a hard time saying no to songwriting and a country music jam session at the Grand Ole Opry.
If country music or songwriting isn't at the top of a veteran's list, CreatiVets also has three-week accredited art courses for vets at top schools around the country, including the University of Southern California, Houston, and Virginia Commonwealth University. Civilians are invited to see their works and talk to the veterans about them.
"Our big thing is that a veteran can share their experience, the story of their lives, for the first time because it's a song," Casper says. "It's a powerful thing."
The program is catching on in the country music world. CreatiVets even visits Zac Brown's own "Warrior Week" and comes to teach songwriting at his Georgia campsite. The only problem for CreatiVets now is funding: Veterans are so responsive the waitlist is years long.
That solution only requires funding. To find out more about CreatiVets, sign up for its programs or donate, visit its website.
-- Blake Stilwell can be reached at blake.stilwell@military.com.
Want to Know More About Post-Military Careers?
Be sure to get the latest news about post-military careers as well as critical info about veteran jobs and all the benefits of service. Subscribe to Military.com and receive customized updates delivered straight to your inbox.