April Caldwell and her husband Aaron were running a popcorn business out of their house when their dreams were suddenly dashed. They were ready to take the next step and open a real storefront, but no one would accept a popcorn shop next door.
"We actually tried three different places to get a storefront and open up shop, but all three places turned us down for various reasons," Caldwell said.
For years, the couple sold popcorn at events like farmer's markets and saw real success. They decided to ask other business owners whether they could set up shop briefly in their stores.
Their business, called The Princess and the Popper, would spend a day here, two days there. It was a real pop-up popcorn shop.
But that led to an even better business idea, a forum through which mobile vendors like themselves could connect with other business owners who had brick-and-mortar spaces and would allow them to drop in and set up a pop-up shop: fayVen -- short for "your favorite venue/vendor," depending on which side of the exchange you fall on.
"We kept on trying for all these different opportunities," Caldwell said. "We realized there's not a place you can actually go online and find venues that are willing to let you set up shop for three days to do a pop-up."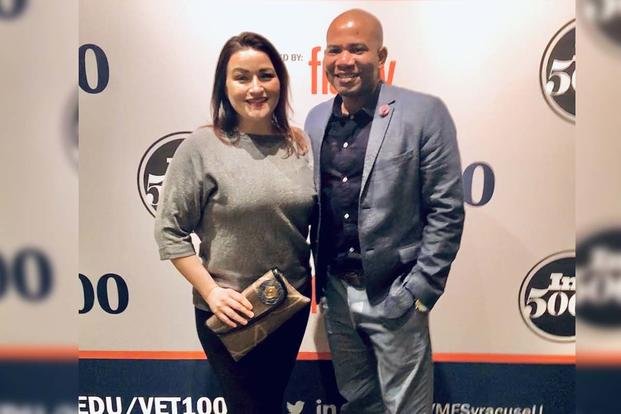 The Caldwells describe fayVen as "the AirBnB of small business," but it's much more than simply scrolling on a website to find the perfect situation. FayVen matches vendors to the venues that will work best for their business.
"Of course, we want the businesses to be complementary," he said. "We don't want to have too many of the same tastes of vendors at the same venue or be overrun with multi-level marketing companies. We're here to focus on small businesses who are doing everything and need help the most."
The Caldwells are no strangers to hard work. April joined the Air Force right after graduating from high school and became a dental lab technician. She met her husband, also a dental lab tech, while serving in Germany. Together, the two run fayVen from their home in Tampa Bay, Florida.
Running a small business can be tough. Despite working her own business for years, April relied on the resources and training offered by the Institute for Veterans and Military Families' Veteran EDGE conference. Veteran EDGE brings together veterans, spouses and other business leaders in a four-day conference to network and learn from one another.
"Small businesses have to stick together at this time," Caldwell said. "To really grow, we should spend our effort where it's actually going to help somebody other than a big company."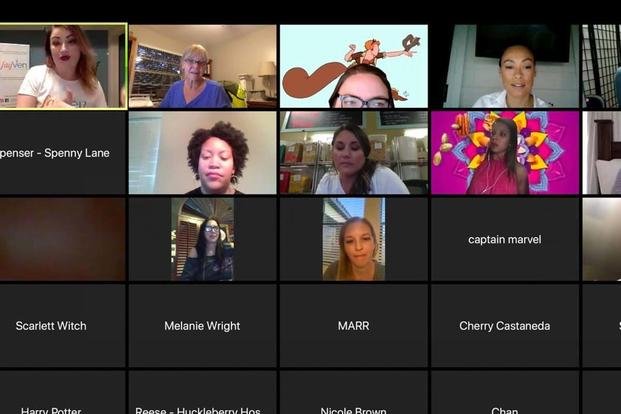 The Caldwells ran The Princess and the Popper from their home for 2 years, starting in 2017. They put that on the back burner and decided to focus on fayVen after moving to Florida in 2019.
"It just seemed like [fayVen] could be a lot bigger than a popcorn company," April Caldwell said. "Going to some of those events to sell popcorn made me realize how much of a hustle it was to find the right place. And some didn't even turn out to be successful for us."
The disappointment felt by the Caldwells about their popcorn storefront efforts was echoed by other small vendors in their sphere. It was time-consuming to search for the right events and decide where to focus their time and energy. Creating a go-between for companies, events and vendors to meet and share their mutual interests was a natural progression.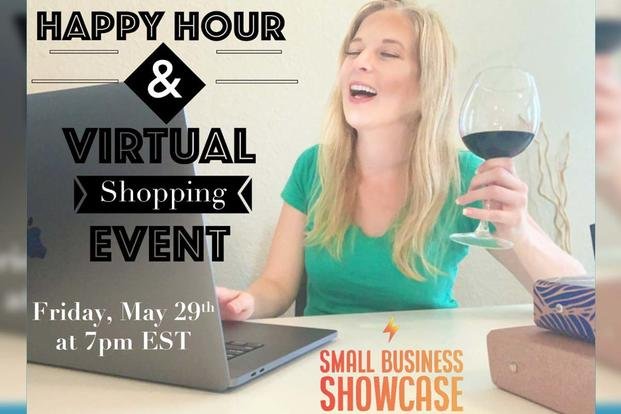 In fayVen, the Caldwells come from a place of experience as small vendors. They take the time to match vendors with events and locations to take the pressure off other small businesses, so they can focus on what they do best.
Even in the face of limited interactions forced by the novel coronavirus pandemic, fayVen is thriving. They do virtual events, encourage happy hour libations, and present potential shoppers with unique companies and products.
"When you're a community, you support other small businesses in your community," Caldwell said. "One way that they can do that is by allowing other small businesses to have some space in their location."
-- Blake Stilwell can be reached at blake.stilwell@military.com. He can also be found on Twitter @blakestilwell or on Facebook.
Want to Know More About Veteran Jobs?
Be sure to get the latest news about post-military careers as well as critical info about veteran jobs and all the benefits of service. Subscribe to Military.com and receive customized updates delivered straight to your inbox.