There's a fine tradition of military personnel and veterans being hard-chargers, but few go as hard as Dr. Jonny Kim.
Kim, 35, just finished training for NASA's Artemis program that will see him, 11 other Americans and two Canadians in orbit around the Earth. They will also be eligible for missions to the moon and perhaps even Mars in the future.
Kim will be the first Korean-American to join a NASA mission in space. He has also served as a U.S. Navy SEAL and a Harvard-trained physician. It all started with his enlistment in the Navy, where he started his career as a seaman recruit after graduating from high school in 2002.
He was the child of poor South Korean immigrants who arrived in Los Angeles in the early 1980s, where he was born. It's from this upbringing Kim learned the one thing he would now want to tell his younger self:
"All things that are worthwhile are very difficult to obtain," he told CNN.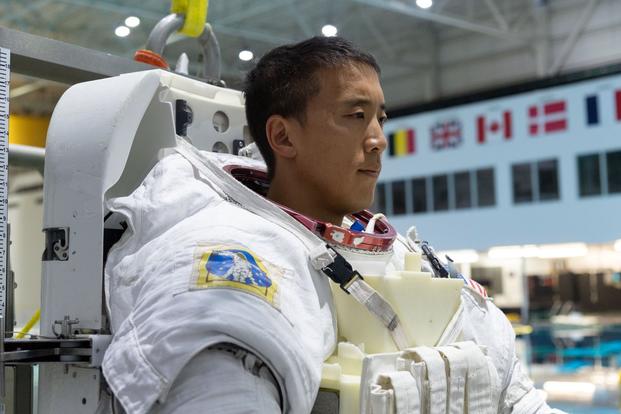 After completing basic training and the Corpsman school, he went to the Navy's Basic Underwater Demolition-SEAL course in Coronado, California.
As a special operator with SEAL Team 3, Charlie Platoon, Kim served in a number of roles, including combat medic, sniper and navigator. During more than 100 combat missions, he earned a Silver Star and a Bronze Star with Combat "V."
It was his time helping his comrades that turned him to becoming a doctor. He recalled the story of trying to save a wounded friend to the Harvard Gazette.
"He had a pretty grave wound to the face," Kim told the Gazette. "It was one of the worst feelings of helplessness. There wasn't much I could do, just make sure his bleeding wasn't obstructing his airway, making sure he was positioned well. He needed a surgeon. He needed a physician, and I did eventually get him to one, but ... that feeling of helplessness was very profound for me."
Eventually, he sought a commission from the Navy's Seaman to Admiral-21 program after earning a degree in mathematics from the University of San Diego. From there, he attended Harvard Medical School, graduating in 2016.
When he was selected for NASA's Artemis program, he was a resident physician in emergency medicine with Partners Healthcare at Massachusetts General Hospital and Brigham and Women's Hospital.
He is still on active duty, as a lieutenant stationed with NASA. His training with the space agency took two years, and now he can add International Space Station systems, Extravehicular Activities (EVA) Operations, T-38 flight training, robotics, physiological training, expeditionary training, field geology, water and wilderness survival training, and Russian language proficiency to his list of accomplishments.
It's an incredible story for a kid who joined the Navy to handle self-confidence issues.
"I needed to find myself and my identity," Kim told the Harvard Gazette. "And for me, getting out of my comfort zone, getting away from the people I grew up with, and finding adventure, that was my odyssey, and it was the best decision I ever made."
-- Blake Stilwell can be reached at blake.stilwell@military.com.
Want to Know More About Post-Military Careers?
Be sure to get the latest news about post-military careers as well as critical info about veteran jobs and all the benefits of service. Subscribe to Military.com and receive customized updates delivered straight to your inbox.