Evan Hafer, founder and CEO of Black Rifle Coffee Company, has a deep love of four things: his family, coffee, the Second Amendment and helping veterans.
BRCC currently has 160 employees and contractors, of whom 50 percent are veterans, with plans to hire 10,000 more veterans over the next five years as part of a rapid expansion first announced in a viral 2017 meme. He also recently brought on Tom Davin, a seasoned Marine Corps veteran and former CEO of the popular 5.11 brand of tactical clothing and accessories, as co-CEO of the company.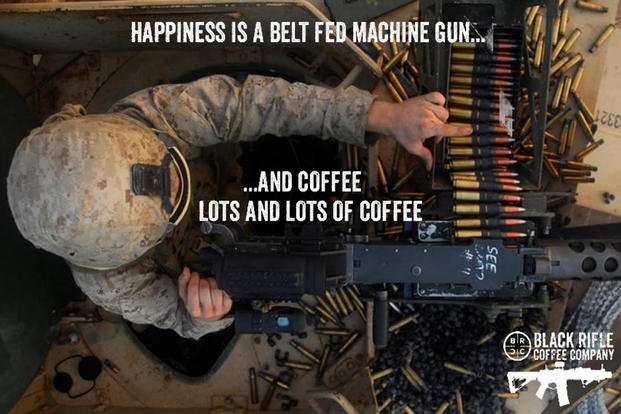 Hafer wants vets to realize their true potential but reminds them that they need to "kick themselves in the ass" every day to achieve their goals. Here, in his own words, are his top tips for making it.
5 Military Transition Tips from Black Rifle Coffee CEO Evan Hafer
1. You have to feed yourself a heaping bowlful of humility. Humble yourself at the altar of business. If you're humble, you'll find the right answers to your questions, not the answer that your ego wants.
2. Understand that your military training is a gift. Lean your ladder on the fact that you've had tougher circumstances.
3. Be your own first sergeant. Ask yourself, what would my senior non-commissioned officer or officer tell me to do? Be your own leader, yet look to others you respect and ask lots and lots of questions.
4. Kick yourself in the ass every day. You're equipped to show up and get the job done even if you don't want to do it, because it benefits the mission. Beat the trash can to get your ass moving.
5. Being a civilian is not about being comfortable. Write yourself a mission statement and mission objectives. Write operation orders and overall mission goals, and do after-mission assessments to evaluate what went according to plan and what didn't.
Black Rifle Coffee Company is a veteran-owned company based out of Salt Lake City, Utah. It bills itself as "the world's premium conservative coffee." According to its website, "BRCC specializes in small-batch, roast-to-order coffee and other high-quality products." Its goal is "to deliver the highest-quality customer experience, serve premium coffee to the conservative customer and honor those who protect, defend and support our communities and our country." For career opportunities, visit BRCC.
-- Sean Mclain Brown can be reached at sean.brown@military.com. Follow him on Twitter at @seanmclainbrown.
Master Your Military Transition
Looking for more transition tips? Military.com has you covered. Sign up for a free Military.com membership to have military news, updates, and job resources delivered directly to your inbox.