When it's time for veterans to put their uniforms away and leave the military, many encounter difficulty with the process.
The reasons are varied: Some have trouble navigating the culture of the civilian workplace. Others have issues translating their considerable military accomplishments into terms that hiring managers can understand. Some are still recovering from physical and emotional wounds incurred while on duty. Still others need assistance pinpointing occupations they're best suited for, and connecting with companies that understand the values veterans can bring to the job.
No one knows better than a fellow veteran the pitfalls and challenges of a civilian career after military service, and many are dedicating themselves to supporting those with whom they served. It can be as simple as offering job advice through a veteran network, or as involved as starting a business to help connect veterans with the jobs they need and deserve.
Profiled here are just a few of the veterans who have contributed time and energy to their fellow veterans. Their mission: Help their comrades acclimate to civilian life, and find them the right job. Their stories are an inspiration to veterans and civilians alike.
Adam Popp: An American Odyssey
Adam Popp joined the military in 1997 after a childhood spent watching his close family and friends do the same. He joined an Air Force Explosive Ordnance Disposal (EOD) team and, after the terrorist attacks of Sept. 11, 2001, decided to stay in the military. "In EOD, all we do is train for those types of events," he says. So he re-enlisted, with deployments to Iraq and Afghanistan, and soon found himself facing all the situations for which he had trained.
On Dec. 7, 2007, in Afghanistan, Popp and his team were clearing a device from a culvert. Once the device was disarmed, he wanted to make sure the entire area was clear. During his sweep, another device detonated nearby. He was seriously injured despite the fact he was wearing his bomb suit.
As his teammates made the area safe for a medical team to come in and get him, a fellow EOD team member snuck a satellite phone to him so he could call his dad. "Dad, I'm hurt, but I think I'm going to be OK," he told him.
Popp was transported to Walter Reed National Military Medical Center, where he endured multiple surgeries. Despite the loss of a leg and permanent injuries to his arm, he credits his fellow patients for helping him through his recovery by leading by example.
"I saw people who had been there for six months and had the same injury as I did, so it helped me visualize my future," he says. "Those patients helped me reconcile in my mind what was possible."
Popp was medically retired in 2009 due to his injuries and went to work for a defense contractor. His transition, he says, was "tough."
In a twist of fate, he was back in Afghanistan as a contractor on the third anniversary of his injury, and when he was startled by EOD teams conducting an "Indirect Fire Drill" in the vicinity, he thought: "Why am I back here?"
Something shifted in his mind. A chapter was closing.
Popp had been volunteering during this time with the EOD Warrior Foundation through peer mentoring visits to Walter Reed. By 2015, he had decided contract work wasn't what he really wanted to do -- his true passion was in giving back to other veterans. He changed his major to psychology, completing his degree in 2015, and is currently working toward a master's in rehabilitation counseling at George Washington University. In 2016, the EOD Warrior Foundation asked him to become a board member, where he continues to serve.
Every year for the last five years, he has taken a group of EOD vets on a recreational rehabilitation trip to Bellingham, Washington, for Memorial Day. The trips have been transformational for him and for the attendees. This year, the team will be made up of first-time attendees, and Popp is looking forward to giving them opportunities to try sports and activities they may not otherwise have been able to experience.
Popp credits the military for his ability to recover from his injuries and forge a new path for himself.
"Adaptability is what the military taught me," he said. "You are always working through problems that may not have a clear-cut answer, and you may not always have all the resources, but you do the best with what you have in the moment and keep moving forward."
Justin Brown: Connecting Veterans with 'Second Service'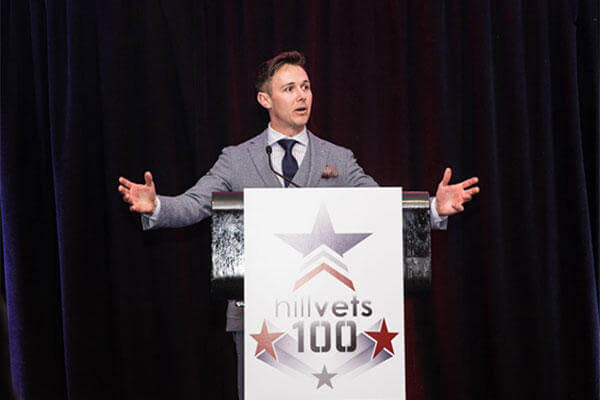 Justin Brown, Navy veteran and founder of HillVets
Justin Brown is a Navy veteran and arguably one of the most influential voices on veterans' issues on Capitol Hill today. The founder of the non-partisan, non-profit organization HillVets, Brown helps other veterans find their place at the table in policymaking and in elected offices.
After a military career that included multiple deployments, Brown earned a college degree and headed to Washington, D.C., determined to make an impact on government. "I came here and recognized there were a lot of great veterans in the D.C. area, but I had no way to network or empower the community in a non-partisan way," he says.
It was at that point that Brown sensed he had an opportunity to make a difference. In his view, the U.S. government needs veterans because they have the training to be respectful of others regardless of political views or backgrounds.
"We've learned to fight side by side with one another regardless of where we came from or what party we are in," he says. "Military identity trumps political identity, and that has allowed for a backbone of trust where veterans can talk to one another."
That perspective is in contrast with the current political landscape, and something that Brown believes we especially need now. "Most would agree our country is about as divisive politically as it's ever been," he says.
As an example of how times have changed, he notes the Post 9/11 G.I. Bill for veterans, which would probably not be passed today. "That bill became a reality because of four senators, two from each party," he says.
To capitalize on the desire many veterans have to continue serving their country, Brown started a fellowship program within HillVets to help create a pipeline connecting veterans with government work. HillVets House is a rolling admission, four-month program that provides a place to live, a food stipend and a temporary job on Capitol Hill with a senator or representative. The program's ultimate goal is for the veteran to network and land a permanent government job in the D.C. area.
Brown intends to make sure veterans' voices continue to be heard on the Hill. "There are many like me out there who maybe don't have the resources or the network," he says. "The game has changed. Veterans can come to our events and meet other veterans to network and look for connections.
"A lot of us struggled with the same thing, a transition to a very expensive city. I want to let vets across the country know there is a real opportunity here to serve the nation," he says. "There are many ways to make positive impact and provide that 'second service.' "
Gary Jenson: Better Times Ahead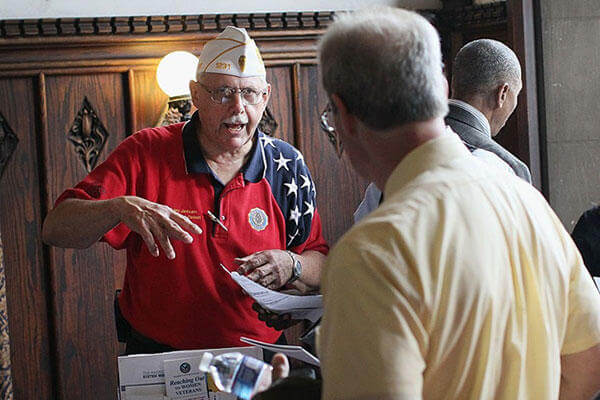 Gary Jenson, Navy veteran and American Legion member
Gary Jenson is a heartland kind of guy -- he's spent most of his life in Illinois, with deep ties to his community of Lake in the Hills. He's also lived long enough to see public perceptions of veterans swing around, and he's doing his part to help change them.
When the Vietnam veteran left the military in 1970, he found that he and his fellow veterans were not universally popular back in the States. "When we came home, we were not welcomed -- we were looked down upon. Some people would even spit on us," he recalls.
Much has changed since then: Our military is now a volunteer force, and Jenson and other veterans like him want to ensure troops are treated with respect and shown they are welcome when they come home. Most importantly, he's doing his part to make sure veterans find productive jobs.
To that end, Jenson has covered the state of Illinois for the American Legion as an assistant adjutant, and attended numerous veteran job fairs and National Guard Yellow Ribbon programs to lend his support and advice. He says that even veterans who don't stop to talk specifically with him can be touched: "The more they see us [at these events], the more at ease they are, and they will start asking questions."
Jenson notes several major challenges for veterans looking to transition into a civilian job. Many have either been out of the job market for a while, or are new to the civilian hiring environment. And many large companies' HR departments are not staffed with veterans. "They don't know how to translate the military resume into civilian terms, and they don't know what a great employee they are missing if they pass up on a veteran," Jenson says.
His presence at hiring fairs leads to advice to both job seekers and employers on how to overcome these hurdles.
For veterans undergoing transition, Gary recommends joining an organization such as the American Legion, but also to be around peers and others with similar military experiences. "Only 1 percent of the total population has ever served in the military," he reminds us. "It is a big undertaking by such a few in our military to keep our country free and living the way we like to live."
Bob Looby: 'The Right Thing to Do'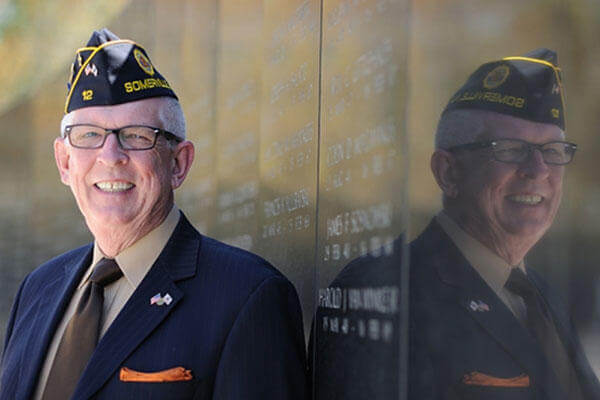 Bob Looby, Army veteran and American Legion member
Bob Looby has gained a near-mythical reputation among working veterans in the state of New Jersey, and for good reason.
As a member of the American Legion, he has been Post Adjutant and Department Commander for the state, and he is currently chairman of the Legion's Department of Employment and Education.
For 50 hours every week, he facilitates job fairs and entrepreneurship programs throughout the state, and his department participates in dozens of hiring fairs that have connected hundreds of job-seekers with prospective employers. For his efforts, the state of New Jersey has recognized him with its highest civilian award: The Governor's Citation.
"I started learning about all the employment issues facing veterans, and [the hiring fairs] seemed like the way to go," Looby says. "Most of the returning [veterans] ... are right out of high school [with] no résumé-writing training, no interview skills. It's just the right thing to do. It's an American thing, and it's a veteran thing."
The former Army sergeant has been in the Legion for four decades, and credits his participation in the organization's activities with giving his life purpose after leaving the military.
Some may have the perception of the Legion as a bunch of veterans hanging out at a bar and drinking, but in New Jersey, Looby notes the Legion "has the most vibrant homeless program, education programs like Boots to Business Workshops, an employment program, 36 job fairs, and one-on-one assistance."
His achievements include building a housing project for homeless veterans called Veterans Haven (in Camden, New Jersey) and arranging for numerous education scholarships.
Looby and his fellow veterans' volunteer events have also expanded to help female vets with their own unique issues, as well as veterans who are dealing with homelessness, unemployment and mental health issues related to post-traumatic stress order (PTSD) and traumatic brain injuries (TBI).
For Looby, the ability to help a fellow veteran is its own reward, and the only one he needs. "It's like, 'You did your job,' " he says. "You've collected your bonus, and that bonus is gratification."
Advice About Transition
Asked about advice for other veterans who are preparing for transition to civilian life, Popp says, "It's never too late to go after what you want and reach your full potential. It took me eight years after my military transition to start a new career path. … It's the small changes that tend to turn you in one direction or the other."
Jenson recommends seeking out occupations that are in high demand, citing the farming industry as an example. "Within the next five to eight years, there will be over 50,000 jobs open in the farming field," he says. New demands for organically grown produce far exceed availability, and other related fields such as food inspection could use a workforce infusion.
"Our veterans have grown and fought to preserve our freedom -- now they can help feed our country and still serve the United States," he says.
Popp says small steps are important because you need to try different options and find what fulfills you.
"Today's culture is one of immediate gratification; people want results now," he says. "But change happens slowly, and you have to put in the time and effort to really get to where you want to be."
Popp was recently recognized by Evan Williams as an American-Made Hero. He says, "I am extremely proud and honored to be chosen. My parents sacrificed to give my brothers and me an incredible childhood, and then sacrificed again to support me through my recovery. Initially, I was a little uncomfortable about being nominated by my mom, but soon realized it is a great honor and tribute to a successful recovery, which was largely successful because of her and my family's support."
Moving forward, he and the other veterans profiled here will continue to support their fellow veterans as they make the challenging transition to civilian life.
More Success After Service stories: