Throw a stick and there's a good chance you'll hit a veteran entrepreneur that's opening a brewery or a T-shirt company. But a distillery? There's a handful of them but only one is owned and operated by a combat-disabled veteran.
Enter Hotel Tango Artisan Distillery, located in historic Fletcher Place in downtown Indianapolis. The distillery is the brainchild of Marine Corps veteran Travis Barnes and his wife Hilary. Barnes was in law school when he met his wife, and it was where the distillery bug bit him.
How Hotel Tango Got Oscar Mike (On the Move)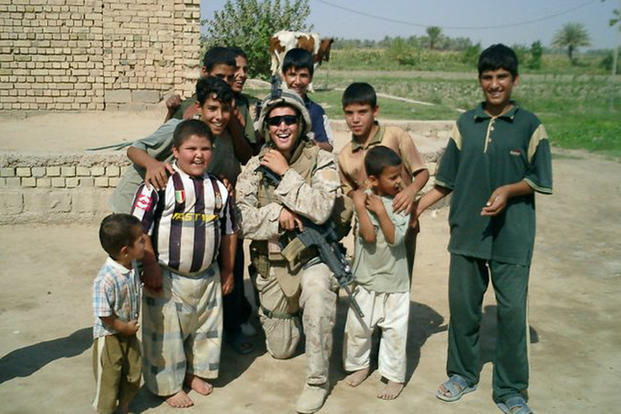 Travis is no stranger to tough times and improvisation -- he did three combat tours as an infantryman with 1st Battalion Recon Marines in some of the most fierce battles in Iraq from 2003-2006. He was injured during his last tour and began pursuing a law degree after his service, but soon discovered that law was not the right path for him. And want to talk about improv? He built his first still out of a turkey fryer.
"I was in law school and making whiskey in my backyard on a homemade still," Barnes says. "I always knew I wanted to do something different, but that didn't come to fruition until people who tried my first couple batches said it was really good. I never thought about making a career out of making booze, until I saw how much folks enjoyed the product."
Barnes's business is also the result of his savvy attention to detail. When a newly enacted Indiana Artisan Distilling Law went before the Indiana Legislature in 2013, he saw an opportunity to turn his passion into a business. Together with his wife Hilary, along with his business partners Brian Willsey, Nabeela Virjee, and Adam Willfond, they made Hotel Tango a reality.
Semper Gumby
Barnes had some initial trouble getting into bases but with a little Marine Corps grit and a dash of Semper Gumby he's managed to get an impressive distribution for his spirits.
"I would love to see a bottle of HT in every PX around the world," Barnes says. "We have so many opportunities to grow over the next few years, it will be a challenge to decide which opportunities we pursue."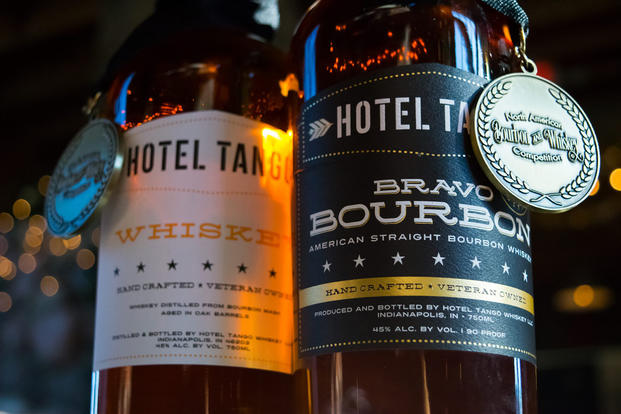 In addition to his tasting room and distillery, Barnes and his partners recently purchased Hotel Tango Farms, with the aim of growing ingredients for his spirits as well as partner with local restaurants for a farm-to-table experience. As an added bonus, you can stay at the recently renovated farmhouse via AirBnB and sip cocktails on the porch.
Ask anyone he works with and they'll tell you that Barnes' description of his transition to civilian life is "too colorful" for consumption by the general public. It was a turbulent ride and one that Barnes doesn't want other veterans to unnecessarily endure.
Barne's Top 4 Transition Tips for Veterans
The lessons Barnes learned in the Marine Corps play a critical role in his success as an entrepreneur. He subscribes to the JJ DID TIE BUCKLE acronym which details the Marine Corps 14 leadership traits and are as follows: Justice, Judgment, Dependability, Initiative, Decisiveness, Tact, Integrity, Enthusiasm, Bearing, Unselfishness, Courage, Knowledge, Loyalty, Endurance.
Take responsibility for achievements, but more importantly, take responsibility for your failures. Learn to be wrong, then do it more often.

Ask questions of everyone with 3-5 years more experience than you have in your chosen field.

Only go into business with people who can yell at you and be yelled back at (it's okay to be mad at your partners, but it's more important that you all can get over it).

Never give up, never quit, never surrender. When everyone else on the team seems to think the world is going to end, I know that whatever the situation, it's not the end of things. I've been in lots of circumstances where it "looked" like we were in deep shit, but we fought our way out. It's the same thing in business. You can either give up and die, or push the fight harder than ever.
Where in the World Is Hotel Tango Artisan Distillery Spirits?
If you're like Tom Waits and don't have a drinking problem except when you can't get a drink, then you'll be happy to know that Hotel Tango Artisan Distillery spirits can be found at some U.S. military bases. To learn more about their products, go to www.hoteltangowhiskey.com or visit them in person when you're in Indianapolis.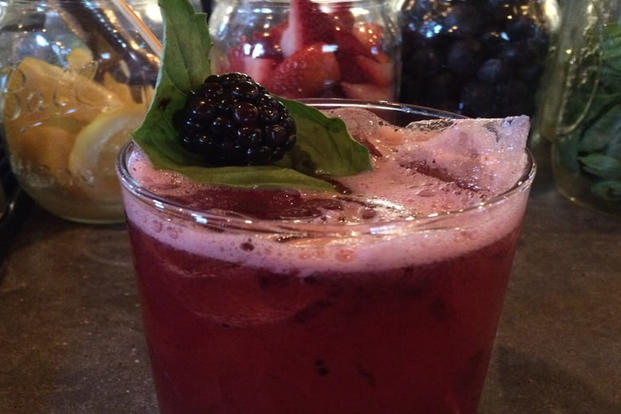 And when you do get some, try out Travis and Hilary's favorite drink, the Gin Bravo.
GIN BRAVO
2 oz. Hotel Tango Golf Gin
6 Blackberries
2 Basil Leaves
1 oz. Green Tea Simple Syrup
½ oz. Lemon Juice
Build in shaker tin, muddle, shake, double strain, and serve in Old Fashioned glass with a blackberry and basil leaf as garnishes.
-- Sean Mclain Brown can be reached at sean.brown@military.com. Follow him on Twitter at @seanmclainbrown.