When the economic downturn hit Detroit hard, Coast Guard veterans James and Kathy Rolin's family entertainment center business went belly up. They quickly ate through their savings and found themselves without the nest egg they had worked so hard to build.
On the hunt for a back-up plan, they relocated to Montana and jumped into school, landing on a surprising agriculture idea: cricket farming.
"Kathy went back to school at Montana State University to study nutrition," James said. "And it was there she discovered that insects as a sustainable food source would make for a good business."
Cricket farming? The idea seemed crazy at first -- that is, until James conducted a feasibility study. Cowboy Cricket Farms was hatched soon after, and the company now offers a variety of cricket products: cricket powder that can be used as a substitute for flour in baked goods, "chocolate chirp" cookies and flavored whole-roasted cricket snacks.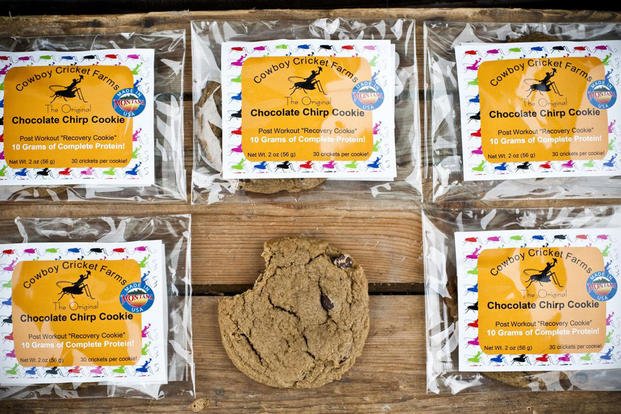 Related: Search for Veteran Jobs
While their business is in its infancy, demand for their product is booming. Business is growing at about 40 to 50% every month, and they don't have enough crickets to meet demand.
According to Meticulous, a market research company, the global edible insects market is expected to reach $7.96 billion by 2030.
In addition to the economic benefits, James and Kathy, with Montana State University professor Dr. Florence Dunkle, have authored several scientific papers on the environmental sustainability of using crickets as a food source. Their research found that, compared to beef, crickets use a whopping 2,060 times less water, require 14 times less feed, use 200 times less land, have two times more protein and iron, and pack 43 times more omega-3.
James encouraged other veterans who are interested in sustainable food to seriously consider getting involved in their partner farmer program, saying that vets make for great partners because they have the same work ethic -- they work hard until a mission is completed.
Veteran Entrepreneur Incubators
The Rolins said they owe a debt of gratitude to Patriot Boot Camp and Bunker Labs for helping educate and support them through the entrepreneur process.
"Patriot Boot Camp and Bunker Labs made all the difference for us," James said. "We were able to secure grants, land investors, and bolster our network with industry professionals. They are fantastic resources for veterans looking to become entrepreneurs."
Battlefield Tactics in Business
James said that "failing is inevitable, but the military taught us to keep our heads on a swivel and pivot, to be flexible, Semper Gumby."
The Rolins attribute their success to a simple formula: They found something they were both passionate about, they're OK with working as long as it takes to complete a mission, and they ask for help from other veterans and industry professionals when they need it.
"No one cares about your rank out here," James said. "They only care about your mindset."
Vets considering entrepreneurship should remember to keep the positive aspects of their military experience but to own their leadership position.
To find out more, visit Cowboy Cricket Farms.
The Next Step: Get Veteran Jobs Tips
Looking for transition and veteran jobs tips? Military.com has you covered. Sign up for a free Military.com membership to have military news, updates and job resources delivered directly to your inbox.
-- Sean Mclain Brown can be reached at sean.brown@military.com. Follow him on Twitter at @seanmclainbrown.