When Air Force veteran and franchise entrepreneur Jack Child does anything, he does it with military style planning and precision. After his career as an instructor pilot on the C-141, he went into business for himself, started two businesses, turned them into successful franchises, and then sold them.
While he was deciding what he wanted to do next, he stumbled on a veteran-owned franchise that catered only to veteran entrepreneurs. For Child, this was his lightbulb moment to found G-FORCE, a parking lot paving and striping company.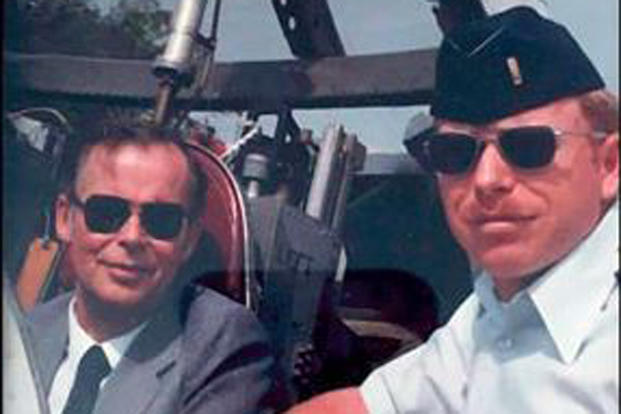 Child recognized the aptitude veterans have for owning and operating their own successful businesses. Veterans are dedicated workers, they persevere, and work tirelessly until a mission is complete. "We've combined our industry and military experiences to create a unique, low-cost franchise business opportunity for veterans and veteran family members," Child says.
Veteran Franchisees in High Demand
As it turns out, veterans are in high demand when it comes to franchise businesses. Entrepreneur magazine found that 68 percent of the 988 companies that applied for the Entrepreneur 2017 Franchise 500 ranking offer some sort of incentive (usually a franchise-fee discount) for veterans joining their system.
G-FORCE franchise locations are independently owned by military veterans; the organization is the only one of its kind awarding franchises exclusively to veterans. Child says that he also has worked hard to create a robust support system and partnerships with companies to provide materials and equipment with substantial grants and discounts.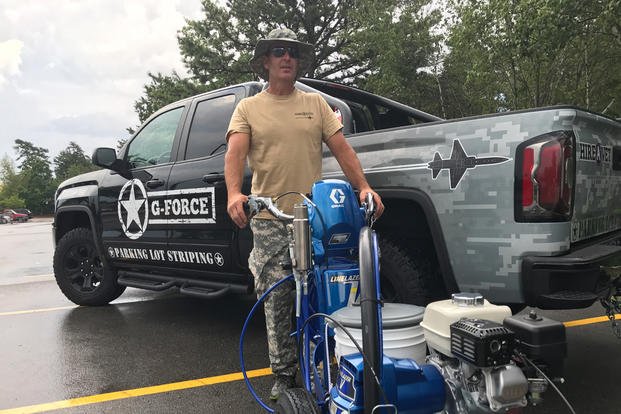 Military Training Gives Vet Business Owners an Advantage
"As an instructor, your job is to clearly communicate the steps needed to complete the task, caution against common errors and set your colleague up for success," Child says. "That's exactly what good franchisors do for their franchisees." The franchise business model is very much like what you might find in a military training environment; whether it's teaching someone to plug into a KC-135 refueler at 25,000 feet, repair a Bradley tank or run the engine room on a ship, the learning curve can be shortened for new team/squadron/platoon members who leverage the knowledge of those who came before them.
Constant Need for Service
Parking lot striping is what Child calls a "stealth business" in that not many people have heard of it or think about it, but anyone who uses a parking lot interacts with the industry. Because it's required by law for parking lots to be clearly marked, there is a constant need for the service G-FORCE offers, Child notes. Over time, parking lot stripes and other markings wear away and that can lead to dangerous and even litigious, situations for businesses. A fresh striping job also enhances the property's value and aesthetics for customers, employees and tenants.
In addition to parking lot striping, franchisees will have the opportunity to expand their services if they want. They're required to offer the striping services, but if they choose, they may expand into warehouse striping, hot rubber crack sealing (very high demand), asphalt repairs and installation of signs, detectable warning systems, rubberized speed bumps, rubberized wheel stops and concrete parking stops.
While the business is seasonal in the colder climates, it can be run year-round in warmer climates. It also has low overhead and can be operated from home as an owner-operator service until a franchisee is ready to expand and hire more people, Child points out.
G-FORCE's distinctive camo-style trucks and trailers, inspired by a military theme, help set G-FORCE franchisees apart from the competition, and according to Child, appeals to a business community that supports veteran business initiatives.
Child says he started G-FORCE because he wanted to do meaningful work, like the work that he did in service to his country, and help other veterans in their military transition. In that vein, he provides the following transition advice:
Jack Child's Top Transition Advice
Don't be afraid to ask for help. There are far more resources available now for veterans than when I separated and that's a really good thing. Unfortunately, I'm seeing many of these resources being under-utilized.
Join Veterati - it's a mentor program exclusively for veterans. Don't settle on the first mentor you are assigned unless you really hit it off. While all mentors want to help, the one you're assigned might not be the best fit or have the experience you need that's relevant to your goals. Keep mining.
Join LinkedIn (they offer a free membership period for veterans). Follow their guidance on how to make the most of LinkedIn. A large number of fellow veterans (and non-veterans) are members of the career focused website and are eager to help with resumes, referrals, business advice and the like.
Check with your local SCORE office. SCORE is made up of retired executives offering free business advice, much like you'd find with Veterati, only on a local level.
Be patient. Few jump out of the military into their ideal position right away. Take the long view. Make a plan, execute and adjust as needed. Keep your mind open to things you've never considered before.
-- Sean Mclain Brown can be reached at sean.brown@military.com. Follow him on Twitter at @seanmclainbrown.