Conquer the Transition: Part 3
When I was a college athlete studying to be a coach, a professor gave me some advice for developing game-day strategies. He told me a story about legendary Texas football coach Darrell Royal. When asked about his own strategy, Coach Royal said, "You dance with the one who brung ya." He meant he would use players and plays that had been successful in previous wins. While mentoring a young major during my final deployment to Iraq, I advised him how to manage his professional and personal matters. I said, "Dance with the one who brung ya."
Unfortunately, when it came time for me to transition to the private sector, I didn't heed my own advice. I aimlessly shot my resume downrange, hoping to hit some unknown target. It took 155 tries for me to see what I was lacking: strategy. I finally realized that I could apply my experience in operational planning to identify career fields that aligned with my skills, values and needs. Once I identified a course of action for my new mission, I was able to successfully transition into the private sector.
The following five steps helped me gain critical insight into my post-military career interests. I hope you will use them on your own path to transition success.
1. Get to know yourself. If you don't know who you are and what you want, how are you going to convince anyone to hire you? Get in touch with your interests, passions and goals so that you can better sell yourself to potential employers. See more tips and gain access to some great tools in this Transition Guide.
2. Translate your military experience. The skills you gained as a service member are truly valuable and in high demand. However, you may need help identifying the civilian career fields your skills match. Thankfully, there are great tools out there to help, like Military.com 's Skills Translator.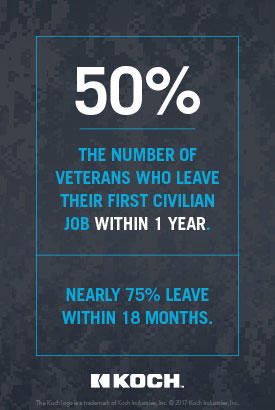 3. Research Potential Careers. Rather than jumping into the first job that comes your way, make it your goal to succeed in a private sector career that you will enjoy long term. Identify career fields that will satisfy your passions and interests, and will allow you to showcase the skills, knowledge, abilities and attributes you previously identified.
Almost 50% of veterans left their first civilian job within 1 year and nearly 75 percent within 18 months.
4. Ask the pros. Once you've found the career(s) you might be interested in pursuing, it's time to do your research. Gain insight into requirements, work environments, challenges, lifestyle, advancement opportunities, required certifications, and possible pitfalls. Conduct informational interviews with professionals in the career field(s) you are considering, connect with employers at job fairs and ask them honest questions, and get active on LinkedIn.
5. Establish your objective. Your end-state can't be about getting a job. Instead, it must be more strategic in nature and be about succeeding in a new career. Set a goal, envision how you're going to achieve it, anticipate some of the challenges you may face and how these can help you grow.
Get more tips on each of these steps in Koch Industries' Transition Guide.
John C. Buckley, II, Colonel, U.S. Army (Ret) is a veteran, career coach and mentor, author, and an expert in the field of military-to-civilian career transition. He currently assists Koch companies to develop and implement military recruiting and retention programs. Prior to civilian life, he commanded infantry soldiers in combat and peacekeeping operations and directed two of the Army's most prestigious schools. He teaches transition courses, gives seminar presentations, writes about the military-to-private sector career transition, and continues to counsel current and former military personnel. His recent article "Dance With The One Who Brung Ya," was published in Military Review by Army University Press in 2016. Email John at veterans@kochind.com.