U.S. Navy veteran Andrew Way is a new franchise owner for Pillar to Post, which specializes in home inspections. We talked to Andrew as well as Brian Wieters, Vice President of Franchise Sales at Pillar to Post, to get their thoughts on franchise opportunities, as well as tips for transitioning veterans.
Andrew Way:
Can you give us a brief rundown of your military background and experience?
I served in the U.S. Navy as an avionics technician. The schooling is considered one of the hardest in all the Navy – I second that notion! That said, I graduated in the top three of my class and was given the opportunity to choose my "duty station" (where I'd serve). I chose Japan. Ultimately, I became what is known as a final checker/trouble shooter on the flight deck of an aircraft carrier, the USS Kitty Hawk. I launched jets and would be called to troubleshoot and repair "gripes" with all things associated with the avionics in the aircraft. We would work between 90 and 120 hours per week under extreme conditions. Our tour of duty took us out to sea eight months a year with regular stops in ports throughout the Middle East and South Pacific including both coasts of Australia. My experience was surreal and I would not trade it for anything.
What led you to the real estate industry after you finished your service?
After serving my country and traveling extensively, I wanted to transition to a career with strong earning potential and freedom to spend time with my family. My father was an entrepreneur so while at sea I started reading a lot of business and real estate books. Once I arrived back in the U.S., I became a real estate agent and quickly gravitated toward investing in real estate.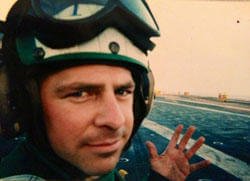 What attracted you about Pillar to Post?
After years of being a "lone ranger" in the real estate business, I began to consider other opportunities where there was a greater level of support. My father was a successful franchisee and spoke highly of the experience. With that, I investigated further and found Pillar To Post to be a really good fit; established brand, great support, strong earning potential, control of my time and it was a natural transition.
What have been some of the challenges of becoming a franchise owner? Are there skills that you picked up in the military that have been helpful in the process? What are some of the things you had to learn that you didn't have experience with before?
Regarding the challenges, I would say managing expectations has been the greatest. You have to be very careful to establish clear expectations up front. Like so many things, this is all new. I have a lot of experience in the real estate industry which has been incredibly helpful, but every organization and system has their own learning curve. Learning a skill being taught to you is one thing. Managing yourself while learning the day-to-day process and overcoming obstacles that no one can prepare you for is very different. This has become something I've learned since joining Pillar To Post – I've grown to embrace this challenge and appreciate the personal and professional growth it offers.
In the military, there's always a process; and, upfront, it's not always clear. In time, you learn that trusting the process yields the greatest results. In the civilian world, fear gets the best of a lot of people who have not yet learned to identify and trust an established and successful process. I learned to trust in a set of guidelines in the military and it has helped me find success with Pillar To Post.
What type of support and resources has Pillar to Post been able to provide?
From providing the essential tools to perform the basic skills and duties required of an inspector to successfully establishing a strong nationally recognizable brand, and everything in between, Pillar To Post is a franchisor who will pick up the phone and listen. If you have a question, they are ready and available to provide you the answer. I appreciate that.
What's a typical "day in the life" for you as a franchise owner?
I work daily on building and maintaining relationships with business partners and clients. Delivering a professional inspection and a great customer experience is half of my job, but most importantly I work to deliver on my word (I send documents or correspondence when I say I will, I answer my phone so I'm available to my business partners and clients and I work to make sure I'm organized and focused).
This means I'm shuttling radon boxes from here to there and communicating the results. I then make sure I follow up by emailing those results later. I am often visiting with real estate agents and sharing with them how I can contribute to their businesses, whether they use me for inspections or not. I'm always working on spreading the message of how I can contribute.
You just opened up your franchise recently – how's it been going so far?
I'm busy! I'm doing inspections and I still carry a healthy dose of cautious optimism.
What tips or general advice would you have for veterans who might be interested in getting into this industry?
Veterans are just like civilians... we're all different. Do your homework. Take your time. Make sure you get to a point where you feel you're comfortable with the expectations and that this is a good fit for you, your personality and your family. And, if you get to a point where it feels like it's the right thing to do, embrace the challenge and jump in! The water feels good.
Brian Wieters:
Can you tell us about the Pillar to Post franchise and what services each franchise provides?
Pillar To Post Home Inspections started in 1994 and is now the largest home inspection franchise in North America with over 400 franchises. Our franchisees provide home buyers with information, through an on-site inspection report, that helps them make an informed buying decision.
What made you decide to target veteran hiring for Pillar to Post franchises?
Veterans are used to operating in a system and utilizing proven operating models for success. A franchise is exactly that – a proven, successful system for operating a particular business. Because of this experience in operating within a system while serving our country, Veterans can make the transition to a franchise system easily in many cases. With our relatively low investment of $25-$30,000 – the dream of reentering the civilian work place as a business owner is definitely attainable for many veterans.
How are you actively recruiting veterans to Pillar to Post?
We support the VetFran initiative through the International Franchise Association, participate in military job fairs and have the ability to help Veterans navigate the road to obtaining additional funding from the Veterans Administration. We offer veterans a $1,500 discount on the initial franchise fee and can help them take steps to see if they qualify for additional financial benefits from the Veterans Administration such as training, marketing and equipment expense reimbursement.
What types of training and support do you have in place to help veterans transition to their new career?
Our franchisees attend a 2 week on-campus training program that prepares them for the technical nature of the inspection business and introduces them to the marketing basics of their business. After these initial 2 weeks, they then participate in a 12-week Quick Start Program from their home office which helps them prepare their business and market their services within their local real estate market. The Quick Start Program does two things for them: 1) introduces them to realtors in their market to generate initial inspections and, 2) builds knowledge and habits for continuing to build their business over time. Additionally, each of our franchisees is supported by a Regional Director based in the field.
What are the steps of the franchise process?
After their initial inquiry, they will be contacted by phone by our Franchise Sales Director within 24 hours for an initial conversation about their goals, aspirations and to answer any initial questions about Pillar To Post. Additional information is then emailed to them about the company and our offerings, along with a Confidential Questionnaire to complete. Once they complete the Confidential Questionnaire, we send them our Franchise Disclosure Document (FDD) so that they have all of the pertinent information to make an informed business decision about Pillar To Post. An additional phone call will occur at that time to go over the FDD with them and answer their additional questions. At the conclusion of this call, their Sales Director will ask them to contact 7-10 franchisees to validate what they have heard in their conversations with the Sales Director and read in the FDD. After they complete their validation calls, we will schedule a phone interview with one of our executive team members as a final step in their approval process. After the executive interview we will send them franchise agreement documents to sign and return and confirm them for the next available franchisee training class.
Visit www.pillartopostfranchise.com for additional information on Pillar To Post, or contact me directly at brian.wieters@pillartopost.com or (855) 891-2232 and I would be glad to assist with any questions about the home inspection industry.