Making a movie is an almost impossible task. Writing, directing, producing and starring in a deeply personal one is even harder by several orders of magnitude.
Max Martini has met a lot of veterans and active-duty military in a successful career that's included hard-man roles in favorites such as the movies "Saving Private Ryan," "Captain Phillips" and "13 Hours" and the TV series "The Unit."
He wanted to get his gratitude on screen and spent years raising the money for making "SGT. Will Gardner" (out now on Blu-ray, DVD and Digital).
Max told us his story back in January before the movie opened in theaters.
RELATED:
"SGT. Will Gardner" is a deeply heartfelt movie. Martini recruited an all-star cast to share his vision. Not many low-budget indies have actors the caliber of Gary Sinise, Robert Patrick, Omari Hardwick, Elisabeth Röhm, Lily Rabe, Dermot Mulroney, JoBeth Williams, Holt McCallany, Stuart Margolin and Army veteran Luis Bordonada working on the cheap.
You all know about opportunity cost from economics class, right? Martini took time away from what had to be several lucrative roles to write, raise money for and direct this movie. He found investors who were willing to donate all of the profits to charity.
If this looks like a movie you'd want to see, consider renting it from iTunes or your cable company's VOD service. Or buy a digital copy, DVD or Blu-ray. Streaming services like Netflix don't pay much for rights to stream indie movies like this one, so your best chance to actually support the cause is to act now.
Martini checked back in with us to discuss the reactions to his movie and what he's got planned next. It's an honest conversation with someone who put himself on the line to make a movie that's worth watching. Not everyone in Hollywood understood his movie, but our readers should be the perfect audience for "SGT. Will Gardner."
What kind of response have you gotten to the film?
The response has been just amazing. It's been embraced in such a huge way by the veteran community. I've been getting 20 to 50 messages, instant messages, through my social media daily from veterans thanking me for having made the film and thanking me for what I'm trying to do and explaining how profoundly it's affected them.
One of my fears was that I was going to get it wrong and the movie wouldn't be accepted by the veterans. So this has been very reassuring. Not only are they telling me that they've been touched, but also they're all getting behind it, and they're helping me share it on social media and helping me promote it and reaching out to people that they know that have radio shows or podcasts. It's been one of the best experiences of my life.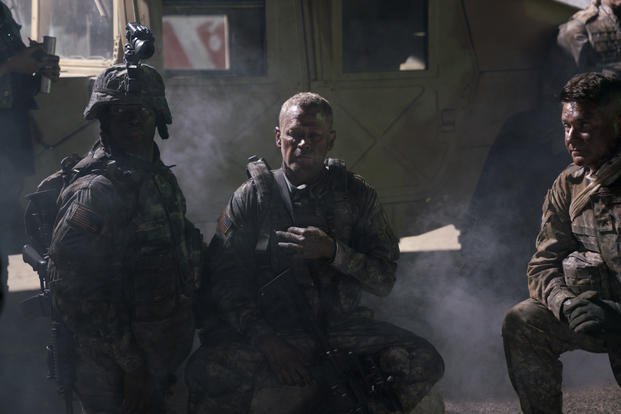 When I've worked in music, I've always told artists that it's way more important to be someone's favorite band than it is to be nominated for a Grammy. I thought of that when I saw your movie. You made a movie that, for the people it reaches, it's going to be their favorite movie. Was that something you were thinking about when you were working on it?
It wasn't something that I was thinking about then. Since it came out, so many people have said that it's their favorite film, and I just can't even believe it. I find myself constantly in shock that people are reacting that way.
To tell you the truth, when this film came out, it was really attacked aggressively by the critics here in Los Angeles. On Rotten Tomatoes its 25% with the critics but with five stars and 98% for audience reviews.
The critics' reviews came first, and they were really quite a gut punch. It was really hard to digest that because this town is my community. But people tried to make it political. One woman said it seemed like a Red State film; another guy criticized me for using country music or waving the flag. It was so disheartening that they had to make it part of their political agenda. I didn't anticipate that because I really made an effort to keep politics out of the film and make it largely just a veteran story.
But the flipside is that, because viewers have received it in such an amazing way, I've healed from the experience of my critics and now I'm in a great place creatively. Once we start profit-sharing with our charities, then it will have achieved the level of success that I envisioned. That's the next step of the journey but, in the meantime, people are helping me by sharing it and promoting it.
Every Led Zeppelin album got a bad review in Rolling Stone. The movies that matter to people over time aren't necessarily the ones that get a good review the week they're released.
Look, we made this for $2.5 million. We shot in Los Angeles, Albuquerque, Baltimore and Washington D.C. We took a crew across the country to shoot the motorcycle footage.
Everybody in the crew worked for scale. I mean, it was like we made a $10 million movie on a 2.5 budget. As an independent filmmaker and a first-time director with this amazing, flawless cast, and this incredible charitable effort behind this film, for these critics to not find one redeeming quality about this movie was so shocking to me.
The only thing I could come up with, and really in dissecting the remarks, was that they wanted to make it about politics. For some reason, we can't wave the flag any more on film. Well, I'm sorry, I'm a patriot. I have a tremendous amount of love and respect for our military and what they do for our freedom and our liberties here as Americans, and I just can't accept that attitude.
This is Max talking. You don't have to like the film, but at least say, "Look, I don't agree with it, I don't like it, but I love the cause." It took us 10 years to find financiers that would give to charity without a write-off, that would help our veterans, many who are still out there today suffering from emotional and physical injuries. Not all of them, but some of them.
There's an incredible driving force behind this film, so they could have said to support that, buy the movie, turn down the volume and walk away and just know that you're supporting this incredible cause. I would have been happy with that. Not one critic even mentioned the charities. It is what it is.
RELATED:
I think you did a really good job of writing the kind of characters that don't usually appear in movies. Anyone who shops at the Dollar General is going to recognize the people in your movie.
I wanted to take somebody from a very low point in his life and in two hours show that, with an iota of assistance, what that person was capable of being. Employment, fatherhood, companionship. To do that in two hours, I can only touch on TBI, I could only touch on PTS, I could only touch on the dependency. If somebody has a debilitating brain injury, you can't tell that story in two hours.
But clearly, people are relating to it. I got a video message that I posted on my Instagram yesterday from a buddy, Tig, John Tiegen, who's one of the contractors from the "13 Hours" story. He had a bunch of veterans over to his house and he played the movie for them, and they all sent me this video saying how much they were affected by it and how pissed off they were at me that I made them cry.
It was really wonderful, man, to see that these kind of hardened soldiers, and one in particular who has TBI, that my movie struck them at their core. It gives me the kind of validation to go forward and to really talk about this movie proudly and not be affected by the harsh Hollywood critics.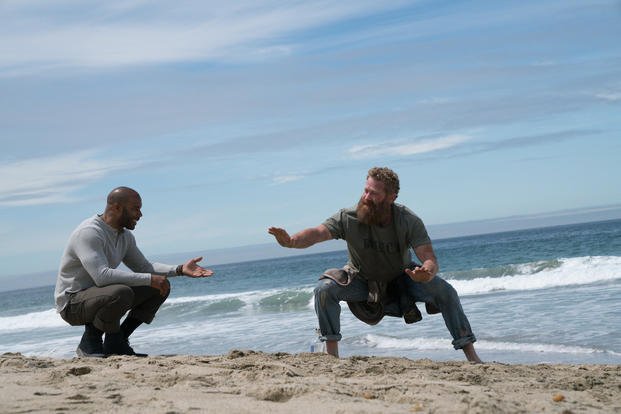 I have no doubt people are going say something about this movie to you every day for the rest of your life.
Thanks, brother.
Hopefully, we get to do this again. Make another one.
I'm going to New Mexico in about a week to direct two more back-to-back. One is called "Coyote," and it's a part of a deal that I made with the company that bought "Will Gardner." It's a big action/revenge shoot-'em-up film, so it's something completely different.
Then, I'm gonna do a genre film, which my producing partner and I wanted to do. It's called "The Manson Brothers Midnight Zombies Massacre," and it's hilarious. So, I'm gonna pull my crew from "SGT. Will Gardner" back in to do these two movies, and we're all gonna shoot a zombie film and take a break and have some laughs. I'm super excited to get that going.