Actor Max Martini wrote, produced, directed and stars in the new movie "SGT. Will Gardner," the story of a homeless veteran who embarks on a motorcycle trip in hopes of reconnecting with his young son. The new film opens in theaters this Friday, January 11th, and will be available via Video On Demand the same day.
Martini could be considered an honorary veteran at this point. He played Cpl. Henderson in "Saving Private Ryan" and went on to portray Mack Gerhardt for four seasons on the CBS series "The Unit." Recently, he was Mark "Oz" Geist in Michael Bay's Benghazi movie "13 Hours" and the SEAL commander in "Captain Phillips."
"SGT. Will Gardner" was conceived as a both a tribute to and fundraiser for the veteran community. A portion of profits from the film will be donated to Higher Ground, Warriors Heart and the Gary Sinise Foundation.
Max's friend Gary took a role in the film, and we've got a clip. Will Gardner walks into a bar, and the bartender (Sinise) recognizes a fellow veteran and they talk about their service. Watch a clip of the scene below.
Martini attracted an impressive group of actors to his movie. Robert Patrick, Omari Hardwick, Elisabeth Röhm, Lily Rabe, Dermot Mulroney, JoBeth Williams, Holt McCallany, Stuart Margolin and Army veteran Luis Bordonada all play important roles in the film. We'll have a fascinating interview with Bordonada later this week.
Max told us how he came to write and direct "SGT. Will Gardner," how he became so close to the military community and why he wanted to make a movie that could also raise money for military charities.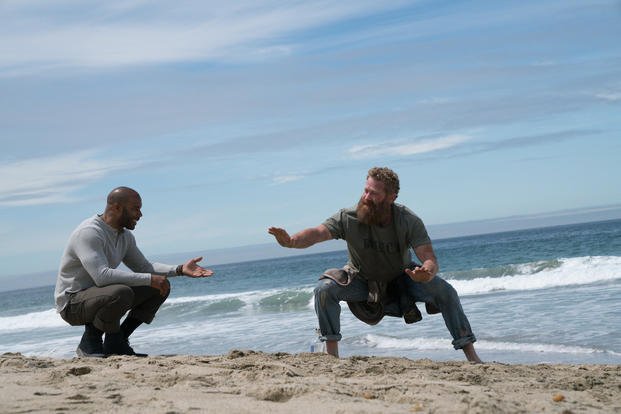 You took on a lot of tasks in this movie. Tell us about "SGT. Will Gardner" and how it got made.
The idea came to me while I was filming a series called "The Unit," which ran for about four years on CBS. That was a show about CAG. During those four years, a couple of the other cast members and I decided to go to the Middle East. So we went to Iraq on our first trip and Afghanistan on the second.
On the first trip, I befriended an Army Ranger who was a fan. We started talking on the tarmac while we were waiting for a C-130 to scoot. He just seemed like a really great guy. I gave him my information, and we stayed in touch. We're in touch to this day.
While he was there in combat, he started voicing some concerns regarding sleep deprivation and anger issues. He had survived a couple IEDs, and I think on one of them his entire team was killed. He was the only survivor. So he was having some issues and was very apprehensive about coming forward and asking for help.I think primarily for fear of being ridiculed. I think we're chipping away at that, but there was a fear of being stigmatized.
This is at the head of the war. As we started to see more and more of these injuries -- emotional and physical, physical being TBI -- it inspired me to write a movie that would not only help sort of raise and maintain a level of awareness, but also raise money for private charities that are supporting our veteran community.
At the end of my movie, there are some very sobering numbers, statistics regarding traumatic brain injuries, the homeless veteran population, PTS and veteran suicide. I have a lot of friends who have had amazing experiences with the VA, but I also have way too many buddies who haven't. It's crucial that we support these charities and foundations that are making up for where the VA system is failing. This movie is a means to do that.
You had the idea for making the film while you were on "The Unit." It's been quite a while. How did you get from idea to the first day of shooting?
Here's what made the road difficult. The film is not overtly commercial. There's no tits and ass, there's not a single alien in the entire film, there's no big car racing action. There's nothing that screams sales to buyers. It's a passion project, so that in and of itself made it very difficult to sell the film.
Additionally, we wanted to give a large portion of our profits to charities. At the time that I completed the script and we started looking for money, we were trying to give 50 percent away. What we couldn't offer to investors was a write-off, so it was hard to find potential financiers to fund a passion project that wasn't an obvious slam dunk with sales. Plus the film would only really sell domestically because it's a story of an American soldier. If it had any foreign sale value, it was gonna be minuscule. And we wanted an investor who would give back to charity. The odds were against us in a big way.
We found a financier out of Texas named Tanya Hill who called at the eleventh hour and wanted to fund our film. She gave us the majority of the money to make the movie and was behind the charitable cause 100 percent. What we ended up with at the end of the day was a plan to give 30 percent of our profits to three charities that do incredible work for our veterans:
First is Higher Ground, which is based out of Sun Valley, Idaho, which uses recreational therapy to assist veterans suffering, and now has a branch in Los Angeles to address the homeless veteran crisis in Southern California.
Another charity is Warrior's Heart out of Texas, which was started by a tier 1 operator buddy of mine. They are not only assisting active-duty service people, but also veterans and first responders who are suffering from drug and alcohol dependencies and PTS. They're doing amazing, amazing work.
And lastly, the Gary Sinise Foundation. Anyone who goes to Military.com is aware that Gary is the #1 military charitable driving force in Hollywood. Nobody does more than he does for our veteran community. His foundation is doing everything from entertaining through the Lt. Dan Band to building homes for veterans to retrofitting homes for veterans who are now disabled. They're just doing amazing work. Gary is in the movie, and he's amazing in the film.
Robert Patrick is in the movie; he's a big supporter.
When I was crewing up and casting this film, everyone was so passionate about being part of this project because it had something more than just sheer entertainment value going for it. The movie could potentially really touch a lot of people and make some difference in people's lives. Everyone worked for a fraction of their pay, and we put together just a really beautiful piece.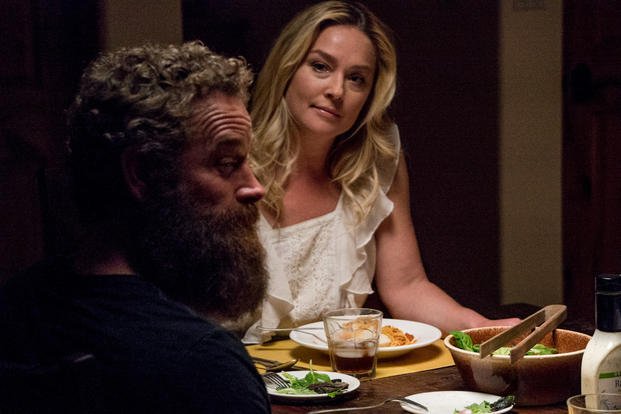 Most indie movies have one or maybe two actors with high-profile credits. You've got maybe a dozen actors in this movie who could carry an independent film on their own. It's really impressive.
We really put a 10-million-dollar movie into a 2.3-million-dollar framework. I did pull us favors, but also there's a lot of the cast that I didn't know. A lot of the crew was from New Mexico. I had worked with a few of them, but largely didn't know them either.
For most of them, I think it was an opportunity to be part of something that doesn't come along often. To my knowledge, I don't think there's been a movie in Hollywood that's given back to charity.
Hopefully, we're setting the stage for something new. Movies are a great medium and a powerful medium. When I went to the Middle East, "The Unit" was a huge hit with the troops. To this day, I get so many communications from people who have served saying, "Hey, I watched your show and your character the entire time I was in Afghanistan. I just re-ran it, and it took my mind away from things and it really got me through a lot of the grind." That's when you realize that what you're doing is important and that it serves a purpose.
I see a lot of feature films about TBI and guys coming home. They're mostly, generally, sort of unrelentingly dark. What you've made as a character study, an entertaining road movie about a guy who is dealing with issues, but it's not bleak.
That was 100 percent a conscious thing. I wanted this movie to inspire veterans who are suffering to come forward and ask for help and get help and reinvent their lives and find their purpose again. Part of the through line of this film is that when you've done that, you can help other veterans, because you've walked the same walk, you've talked the same talk. They're more apt to listen to you, because you're a survivor.
This is a very personal story for me. I've just had way too many buddies and too many people that I know who have dealt with these conditions. I wanted to keep the central character heroic, I wanted to tell the story about an infantryman and not a Navy SEAL or a unit guy. Those are the stories that Hollywood tells all the time.
I also wanted it to be entertaining. I wanted people to go, that movie was hilarious, but it really left me leaving the theater more informed or more aware of what soldiers are facing post-combat or more inspired to get involved. I didn't want to make a beat-you-over-the-head piece about PTSD or somebody suffering. There's a place maybe in the documentary world to do that, but a movie has to be a movie.
In looking for money to make this movie, I've discovered there's a lot of people that say they support the veteran community, but they don't really do much. It's just words that they utter. What we've done is lay out all the groundwork. All you have to do is watch the film and let yourself be entertained. A portion of the proceeds are going to organizations that are doing stuff to help veterans.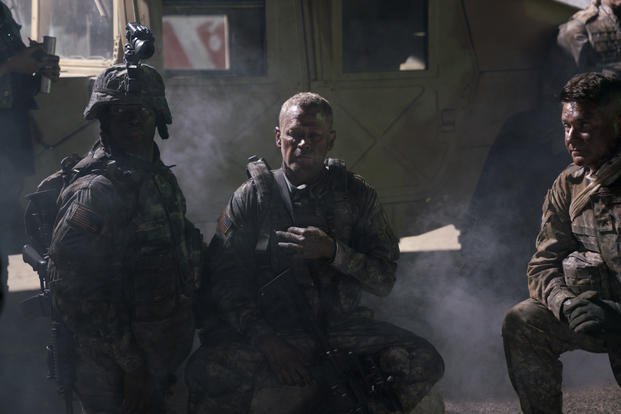 A lot of veterans are dealing with TBI or PTSD. It's not an on-and-off switch. There are obviously varying degrees. There are people who deal with milder forms of it who see a movie and say, "That's not me, I'm not that bad, maybe I don't need any help." "SGT. Will Gardner" presents varying levels of adversity. That's something I really liked about it.
Yeah, that was intentional. When I was researching TBI and PTSD and doing all the preparatory work to write the screenplay, I did interviews with a lot of people, friends of mine and social media friends of mine who were very forthcoming in offering up their experiences. There was a balance that I needed to find, and I think I accomplished that because, like I said, I wanted the audience to consider this guy a hero. Because, in my mind, he is a hero.
Here's a cool little thing. I'm very vocal about helping the homeless veteran population. We're all guilty of avoiding eye contact with a homeless person at some point in our life. But it occurred to me that that man or woman may have served our country, may have put their lives on the line to ensure that we continue to enjoy our freedom. That person is capable of being a father, that person is capable of loving and being loved and being able to be a part of the workforce.
In my story, the motorcycle connects Will with that potential. Something as simple as a motorcycle really was life changing for him. And the removal of that element sent him back to the same situation that he was at the beginning of the film.
So I think it's something to be aware of, that sometimes the simplest of things can change these lives. And the people that are displaced, especially in our veteran community, are not lost causes.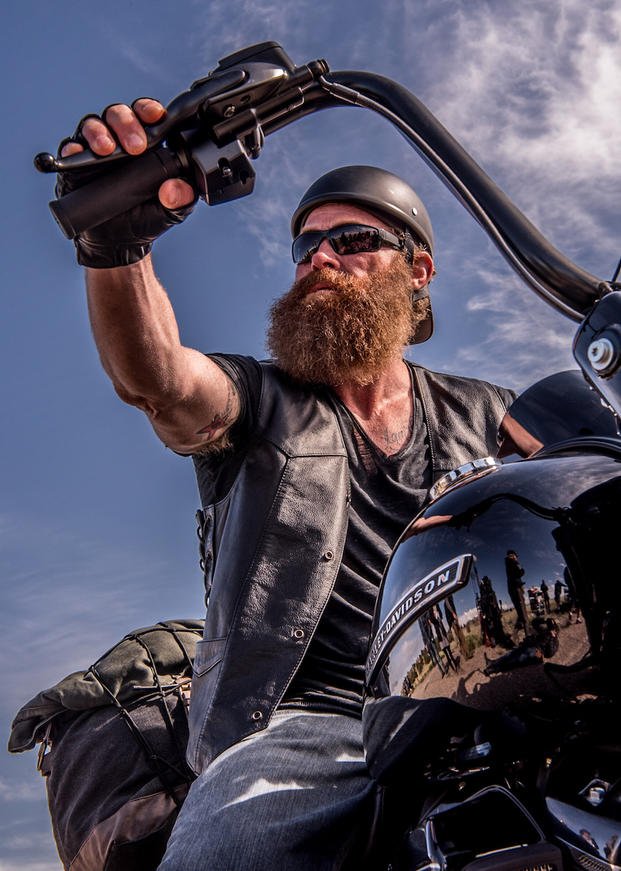 You didn't serve in the military but you've made a great career playing some very iconic military roles. Did you grow up with an affinity for military service?
I have members of the military in my family and law enforcement. My mother was in law enforcement. I mean it's something that I've dabbled with in the back of my mind quite often. I've thought about [what] would it have been like to have joined the police department. At one point, I went and sat in the recruiting center in Times Square New York and talked to a -- I won't mention which branch of the military because I have too many friends in all the others.
But it is something that I considered. I did "Saving Private Ryan" many, many moons ago, and that was what really led to this trend of military roles for me. My base of friends is largely military now. I've just kind of become embedded in the community, and it's family for me.
I never thought that I'd be doing this. But if you would have told me when I was 16 that this is what I'd be doing, I would have laughed, but it's who I've become. I love it, and I'm a proud supporter and a patriotic American. Without our military, this would be a much different country.