There's someone brand new on the Navy's hospital ship USNS Comfort, which is currently anchored off the coast of Puerto Rico where it is providing hurricane disaster relief.
Sara Victoria Llull Rodriguez graced the ship with her newborn presence Oct. 14, the first baby to be born on the ship since 2010. Her mom, Tania Rodriguiz Ramos, is reportedly doing well.
The ship, one of the Navy's two floating hospitals, has a labor and delivery ward as needed, and the area was stood-up before the Comfort set sail for Puerto Rico late last month, officials said.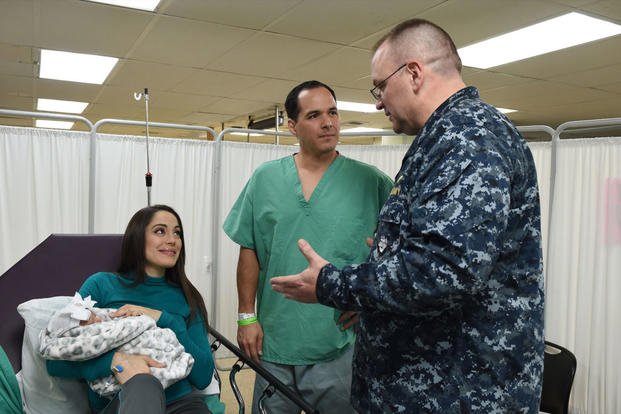 Cmdr. Michael Chaney, chaplain from Naval Medical Center Portsmouth and the head chaplain embarked on the Military Sealift Command hospital ship USNS Comfort, speaks to the mother and father of the first baby born on Comfort since 2010. . (Photo: U.S. Navy/ Mass Communication Specialist 2nd Class Stephane Belcher.)
"I never thought that our special moment would happen here on this ship," Francisco Llull Vera, Sara's father, said in a Navy release. "Everyone has been so helpful and gentle while caring for our baby. I hope this opens the door for those who still need help to seek out the Comfort."
More than Navy 800 medical personnel and staff are currently serving aboard the Comfort.
Even the territory's governor noted that Sara's birth is a "bit of good news," according to the release. He dropped in to cuddle the newborn and meet her parents.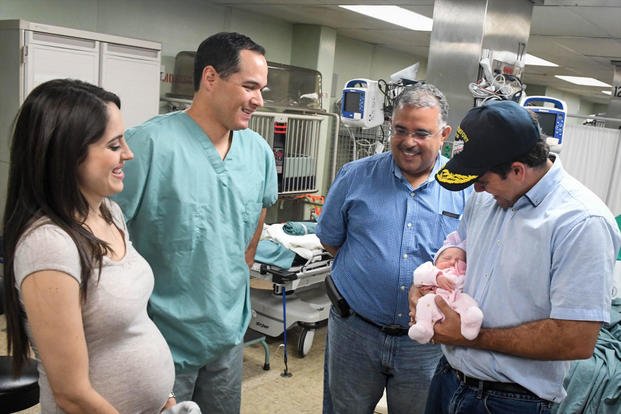 Puerto Rican Governor Ricardo Rossello holds the first child born aboard the U.S. Navy hospital ship USNS Comfort in more than seven years. (Photo: U.S. Navy/Mass Communication Specialist 1st Class Ernest R. Scott.)
Sara weighed 6 pounds, 8 ounces at birth.
And she won't soon be forgotten by Comfort's crew. Comfort's Ship Master Roger Gwinn ceremoniously renamed one of the ship's two small boat tenders the Sara Victoria in her honor.