Imagine you've lucked out and been invited to an exclusive White House holiday decorations preview just for military families. Now imagine your sassy 3-year-old just landed apparent BFF privileges with the First Lady, and you have no idea what they talked about.
You've just put yourself in Army wife Ashley Broadway-Mack's shoes. 
Broadway-Mack's wife, Army Lt. Col. Heather Mack, accompanied almost 4-year-old Carley to the White House event Nov. 29. In addition to a tour of the holiday decorations, kids in attendance got to meet First Lady Michelle Obama, First Family dogs Bo and Sunny, eat some snacks and make holiday stockings and ornaments during a craft time.
But Carley scored some extra special help -- from "Sunny and Bo's mom,  you know, Mrs. Obama," all of which was captured in a series of adorable photos. 
Even before the family got home, Ashley started seeing photos of Carley and FLOTUS together. Her immediate question -- What in the world did they talk about?
Photos and videos of the event show Carley and Obama holding hands, walking around the craft time, making a stocking and chatting.
Parents everywhere know there's no telling what's going to come out of the mouth of a 3-year-old (Poop stories? Tales about mommy's evening wine habit? Unsolicited sharing of family political opinions?). Just imagine what Carley must've been saying to get this face as a reaction: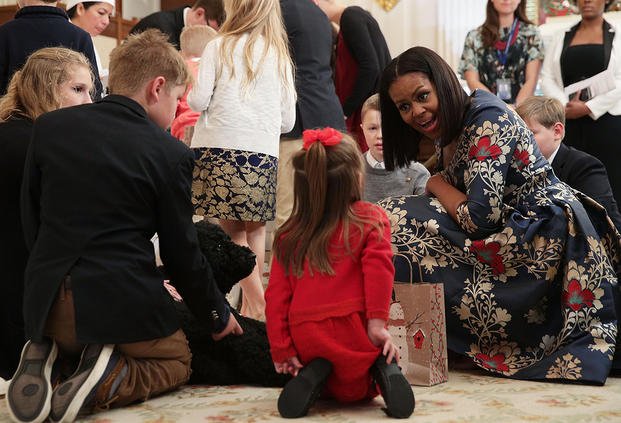 (Alex Wong/Getty Images)
So how did this happen? Before heading into the room with the other the kids, Obama and no parents, Heather told Carley that, were she to feel scared, she could find an adult and hold his or her hand. 
So that's exactly what Carley did. 
(Photo courtesy of Ashley Broadway-Mack)
Ashley, who heads up the American Military Partner Association (AMPA) said they told Carley to "be polite, use manners, have courage and be kind," but didn't prompt her to spend time with the First Lady on purpose. She said Carely knows Michelle Obama is famous -- but doesn't see her any differently than any other famous-to-a-three-year-old character or person "like Minnie Mouse or Elsa." 
Carley told me during an interview (between popping snacks) that she and the first lady talked about "nothing," which proves my theory that children only discuss the intimate details of conversations when you don't want them to. 
Carley said her favorite part of the day was making her stocking and drinking cups of hot apple cider, of which she had two. She said her preschool teacher had a copy of the Washington Post  with a photo "of me making my stocking" at school the next morning.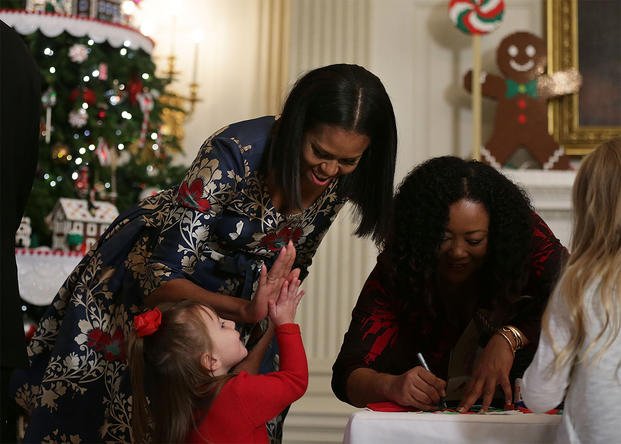 (Alex Wong/Getty Images)
Carley seemed rather unimpressed that also in the photo was the current First Lady of the United States -- and the logging of an incredible, once-in-a-lifetime experience. 
Being 3-years-old is awesome.