Army kid Melody Pimentel, 4, was born with a condition that is particularly hard for little girls -- especially those who dream of long, gorgeous locks. Moniletrix, a rare hair disease, causes short, fragile, broken hair and has no cure. And even though her mother, Fabiola, has always let her know how beautiful and perfect she is, her lack of hair was giving her a lot of sadness.
Then came the video of Melody crying over her hair and her mom comforting her. Hoping to get the attention of the Ellen Show to get some help getting wigs for her daughter, the video instead got the attention of a slew of other good hair angels.
%embed1%
"I don't think anyone believed me about what it was like to hear her crying about it," Fabiola said. "I didn't know if I should post it, if people were going to judge me asking 'why does a little girl have a self-esteem issue at such a young age?'"
Instead of judgement, Melody and Fabiola found compassion. Hair donations started pouring in, and when the video was shared on a Nashville-area country radio station near their duty station at Fort Campbell, Kentucky, it got the attention of high-end makeup and hair stylist, Melissa Schleicher, best known for her work with Carrie Underwood.
"Fabiola brought Melody to Parlour 3 ... for a full afternoon of pampering. She was greeted with a bag full of goodies such as lipgloss, headbands and more," wrote Schleicher's daughter, Hunter, in a blog post. "My mom put some makeup and glitter on her and she received a glitzy pink manicure by Parlour 3's Jennifer Tsourvakas. She quickly won over every person in the entire building with her sweet smile and lively personality."
(Photo courtesy of Cameron Premo)
A gorgeous wig was donated through Schleicher to Melody by Maria Filorimo. Filorimo's daughter, Taylor, lost a battle to cancer in 2012, and she passed on the wig to keep her daughter's memory alive, Schleicher wrote.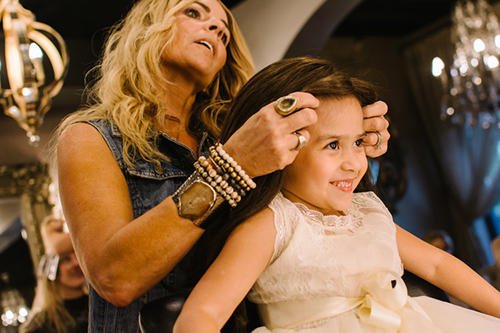 (Photo courtesy of Cameron Premo)
Thanks to the donation, Melody now has a gorgeous wig, worth around $4,000. And Fabiola said Schleicher will continue to work with them in the future, styling the hair donated to Melody into gorgeous wigs that can fit her as she grows and even after their upcoming PCS to Germany.
%embed2%
Fabiola said she believes that much of the outpouring of support and help they've received is because they are in the military community. It was thanks to other military wives, she said, that Melody's story was shared to start with.
"I think the wives -- they are the ones that made it happen, they started sharing it and they've actually been reaching out," she said. "I feel like if we were civilians nothing like that would've happened. They really helped a lot, and still people keep messaging me that they were touched by Melody's story."