We don't know exactly who Lily, an Air Force brat who recently wrote U.S. President Barack Obama, is. But we do know one thing: she's exactly the kind of kid that makes every military parent proud.
Lily recently sent Obama a handwritten note asking him to do "something fun." The letter, which has been shared almost 15,000 times, was posted to the White House Facebook page Friday with a link to the president's response.
"Dear Mr. President, I think this country needs more spunk," Lily wrote. "With all the attacks, the Zika virus, and the wars, this country is a very sad place. Please do something fun."
Lily suggested that the president "do something fun and out going" like "wear a tie-dye shirt and shorts to something important" or "take your family to Disney World."
But the real moment of pride for military parents in this letter is two-fold. First, she demonstrated something that we all worry about for our military kids: that, thanks to their service member parents' jobs, they feel the weight of the world. But then she showed that despite that military kids can be counted on to reach high.
"Also, please say something that will make everyone calm. You do [not know] how many politics worries I have," she confessed. "My dad is in the Air Force and that inspired me to have my back up job be President. (My dream job is cardiovascular surgeon.)"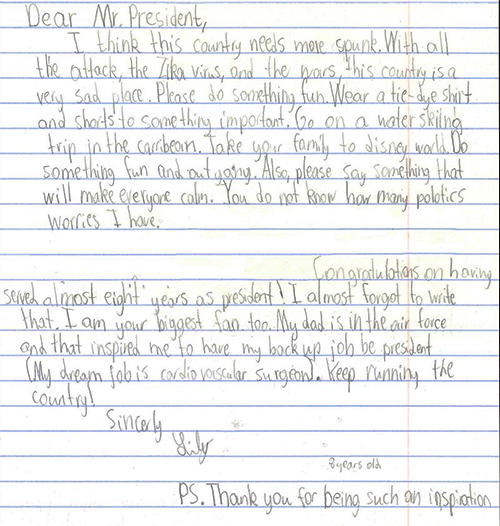 The full text of Air Force brat Lily's letter to President Obama
In his response, Obama told Lily that she seems like a "great kid" with "plenty of spunk to help keep our nation strong." He said that although he isn't sure how his wife and kids would feel about him sporting tie-dye in public, he believes that it is kids like Lily with her plans for the future that keep the U.S. going.
"Wherever your hard work and talents take you  --  whether it's becoming a cardiovascular surgeon, the President of the United States, or chasing a dream you've yet to discover  -- always remember that you have a big role to play in shaping the world and making a difference in people's lives," he wrote.
He also told her that he hears her concerns.
"I know things happening around the world can sometimes be worrisome, but we can make real and lasting progress if young people like you focus on growing and learning and keep speaking out about important challenges our Nation faces," he wrote.
As military parents we know our kids see and feel things at a depth we wish was not inevitable or, at times, necessary. But we also know that our kids are just like Lily -- spunky with big dreams and the self awareness to know that, despite the things they worry about, they can make something like being a president "just" a back-up plan.
You can see the whole exchange between Lily and Obama here.