When your Birthday Boy (or girl) is out of the country over his big day you have to come up with a way to make him feel special from a world away. Cake aflame with candles is out. Breakfast in bed is out. In-person off key singing is out.
If you can't fit birthday joy in a care package, you're pretty much sunk.
We wanted to test our birthday care package skill set. We searched far and wide across the internet for the best birthday care package ideas. Here is what we came up with:
How to Put Together an Amazing Birthday Care Package
The perfect birthday care package doesn't have to be as complicated as you may think. Combine a little creativity with a pile of the birthday boy's favorite things and you're on the road to birthday joy.
1. Gather your supplies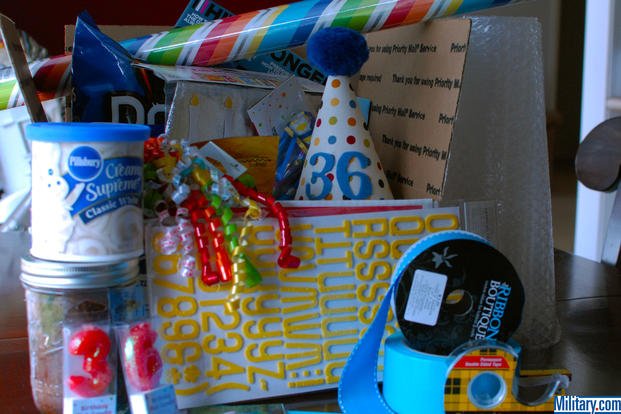 Here's a run down of what we used in this birthday package, which was sent to a soldier in Afghanistan in late August.
1. Some of his favorite things. This is the easiest part of the whole thing. In this package we included several kinds of candy, Swiss Rolls, Cool Ranch Doritos and a copy of the latest Golf Magazine.
2. Festive decorations. To copy our decoration style you'll need colored duct tape, card stock, four photos printed at or cropped to 3.5 x 3.5 in., decorative 3-D alphabet stickers, double sided tape and two package bows from the wrapping paper section of any given store.
3. Cake in a jar, a can of icing, plus a plastic fork and knife. You'll also want some bubble wrap for padding the jar when you pack it.
4. A DIY decorative birthday hat.
5.  Candles for the top of the cake. We found ours at Walmart.
6.  Birthday decorations and toys. We included a fun looking "Happy Birthday" banner that he can hang-up and some blowers.
7. Wrapping paper. Because even chips seem more gift-like when they're wrapped.
8. A large, flat-rate UPS box.
4. Decorate your box.
Start by assembling your large, flat rate UPS box and bust out your colored duct tape.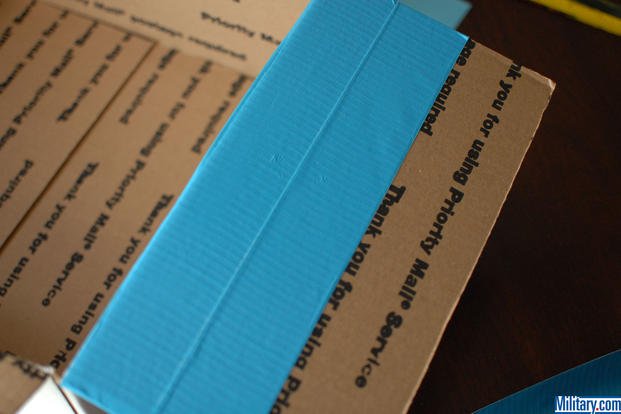 Colored duct tape is a great way to liven up the brown of these boxes. Simply roll it out to the correct length and rip it off.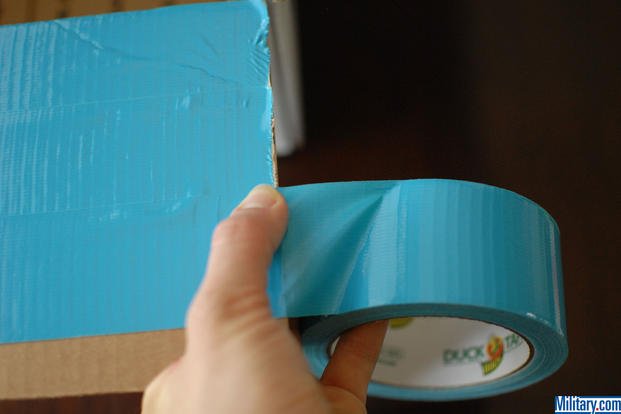 Bonus tip: hold the edge of the box where you want the tape to end between your thumb and other fingers on one hand. Use your other hand to tear the tape. Ta-da! A clean finish.
See? So much better than blah brown.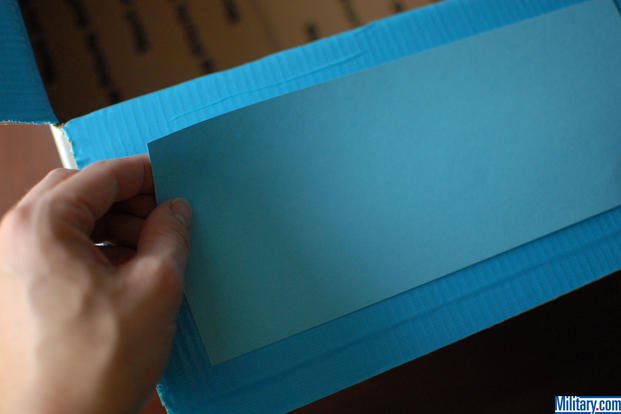 Next, using double-sided tape, secure a 10x4 in. piece of card stock on each of the flaps.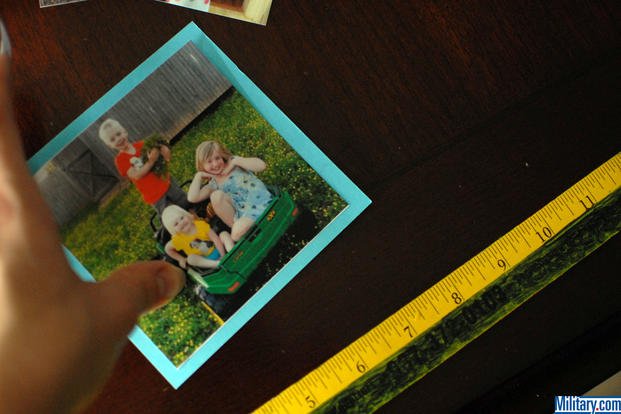 Again, using double-sided tape, place your photos centered on a 4x4 in. pieces of card stock.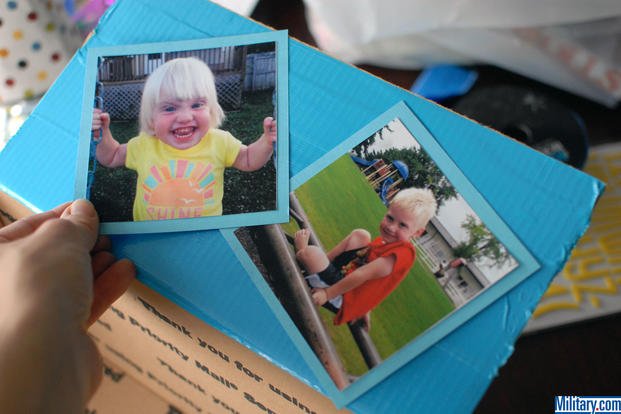 Place those photos at angles on the flaps on the right and left side of your box.
On the remaining flaps do your darnedest to place the alphabet stickers in a straight line to spell a message for the recipient. We spelled "Happy Birthday Daddy!" on ours since we were making it on behalf of three local Army brats.
Place your bows on either side of your message and you have yourself one festive looking box!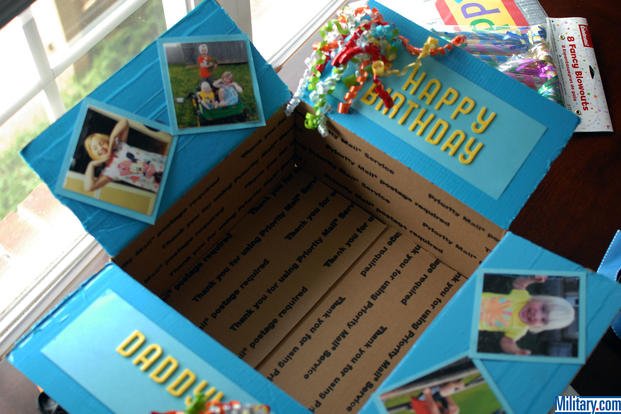 3. Make your hat.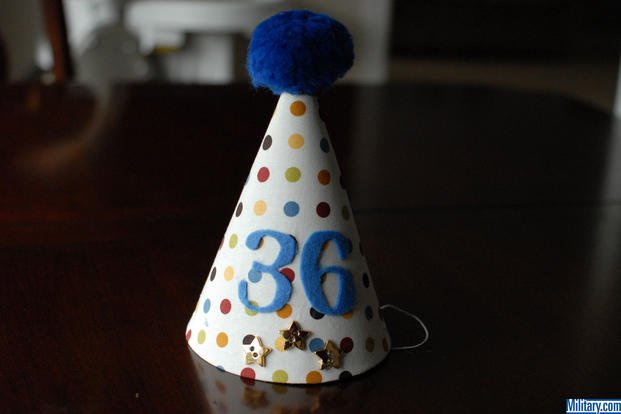 Include a fun, custom birthday hat by following our how-to tutorial over here.
4. Make a cake in a jar (or two!)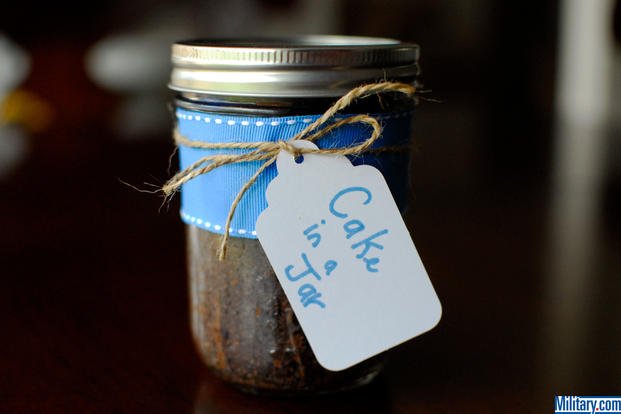 And what do you know, we have a tutorial for that, too.
5. Stuff your box with all of your birthday goodness.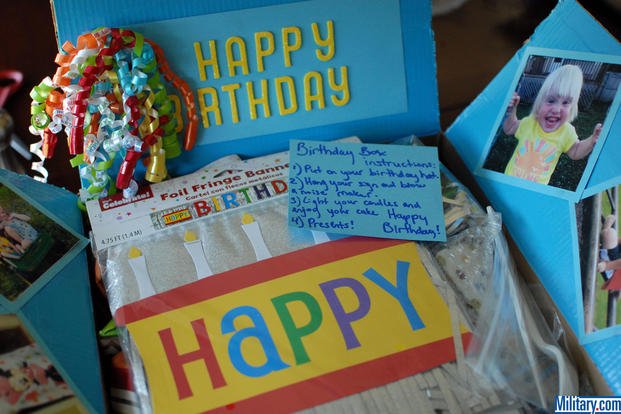 We also included a little Birthday Box instructions note.
Could you possibly have an unhappy birthday after receiving such a box? I don't think so.
What are your birthday care package tips or tricks?
Keep Up With the Ins and Outs of Military Life
For the latest military news, videos, tips on military family benefits and more, sign up for a free Military.com membership and have information delivered directly to your inbox.