Military spouses are known for their hard work and passion to get things done, so it came as no surprise that Navy spouse Nikki James Zellner was behind the recent push behind Virginia legislation to require a carbon monoxide detector in all schools and day care facilities.
What was surprising is that it even needed to be done.
Current Virginia building codes require carbon monoxide detectors in all rental properties and all schools constructed after 2015. On Feb. 21, the Virginia Senate passed the legislation needed to mandate detectors in all buildings, and the bill is expected to be signed by Gov. Ralph Northam.
Monday marked a huge milestone for Zellner, who has been working on the project for almost a year. An issue at the day care Zellner's two children attended prompted her hard work.
"It started as an angry mom wondering why carbon monoxide detectors … didn't exist [in that facility]," she said.
Zellner dove into the data, learning that "schools nationwide are not prepared in the slightest from an education standpoint about what their risks actually are. They're not prepared in the slightest for what a mass casualty event could look like if carbon monoxide affected more than five kids in their class. Because the only way to clear carbon monoxide out of your system is through fresh oxygen."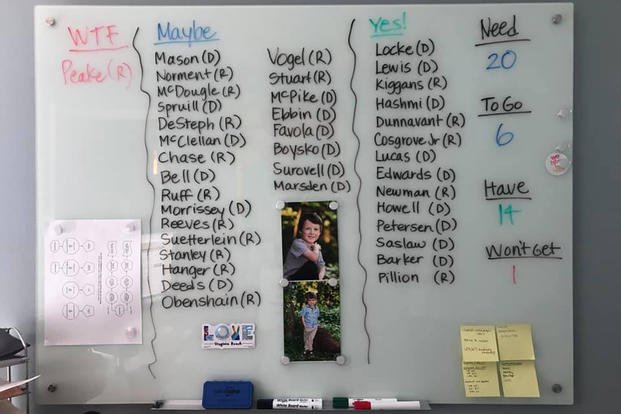 Sometimes, that can be accomplished by going outside for fresh air; sometimes, it means being hooked up to an oxygen tank for hours. For the worst-hit, it means going into a hyperbaric chamber.
Zellner said there are only 37 hyperbaric chambers in Virginia, and each can accommodate only one or two people at a time.
"Where would you send 100 kids and teachers if a mass casualty event occurred as it related to carbon monoxide? You can't send them to an emergency room," she said.
The discussion about requiring detectors in schools and day cares usually revolves around what people know about carbon monoxide in the home, but Zellner says that isn't the right approach.
"There needs to be, in my opinion, a complete re-education on the risks of carbon monoxide in schools, and we need to stop treating them as if they're residential environments or not at risk," she said.
Virginia would become the seventh state to mandate detectors in schools and day care facilities. But that's not enough for Zellner. She wants other parents to know enough about the issue to ask the right questions -- especially military parents.
"That is a huge, huge number of military families at risk [as they transfer to new schools and seek new day care facilities]," she said. "We found the highest-rated day care in our area. It hit all of the checkmarks, and what we did not know to ask, 'What is their risk for carbon monoxide exposure on-site?' We didn't know to ask that question. We assumed smoke detectors, that our children would be protected. It is not the case."
Zellner is taking her advocacy outside Virginia state limits. Her new website will have updates and ways for people to take action to help protect children from carbon monoxide exposure.
--Rebecca Alwine can be reached at rebecca.alwine@monster.com. Follow her on Twitter @rebecca_alwine.
Keep Up with the Ins and Outs of Military Life 
For the latest military news and tips on military family benefits and more, subscribe to Military.com and have the information you need delivered directly to your inbox.