Parenting this year has been an adventure like no other. Regardless of the age of your children, you've had to explain many adult topics in age-appropriate ways. From the pandemic to social injustice to elections, it's been a lot.
But many parents turn to childrens' books for help explaining tough subjects, which is what prompted military spouse Ashley Gooding and veteran Kayla DeWalt to join forces and write a children's book. Both women have been involved in the military community, Gooding's husband spent almost 10 years in the Michigan Army National Guard and DeWalt is a veteran, lending them a unique perspective on the needs of military families, who often experience more diversity over the course of their moves.
Gooding and Dewalt started Little Minds Big Changes Publishing (LMBC) with the goal of sharing both their own book and other books that inspire little minds to make big changes. Their first book, "What is Privilege?" is due out on January 20, 2021.
The pair met in an online forum focused on infertility and pregnancy. They've met up a few times over the years and they have very similar interests, views about the world and parenting styles. It was no surprise to them that they ended up joining forces on this project.
The idea for their book "What is Privilege?" was born in the summer of 2020 -- prompted by a meme.
"Along with a small group of friends, we built a set of social justice ABCs off this meme, and very quickly both realized this was great information! A spark ignited and we immediately knew we wanted to create a book for our kids," Gooding said in an email.
The pair noticed their young children listening and watching as they grappled with what was going on in the world. They decided it was time to ensure their children were learning the right things. They felt this was important, even if the children were too young to understand everything.
"They hear our frustration when we watch the news, they can understand the tone of the conversations we have with our spouses and family members around these topics. We knew it was on us to explain tough concepts and social structures. And we knew these were not conversations that could wait," Gooding said.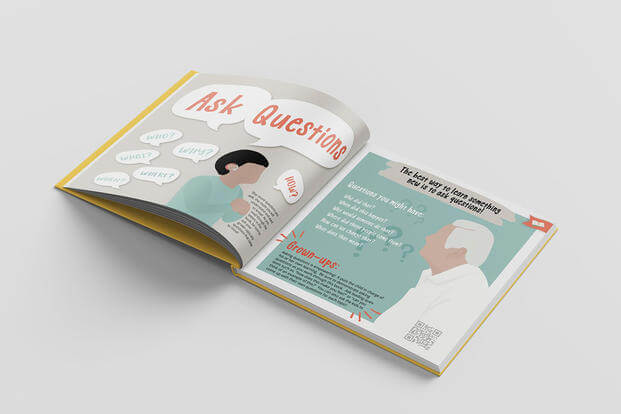 The authors think this book is a great fit for military parents. Thanks to their military community experiences, they believe it's very important that military service members and their spouses are aware of implicit bias and any privilege they may have, they said. And the same tools they can use to teach their children can be used directly in their workplaces.
The duo has plans for more books on topics ranging from social systems to religions to a deeper dive into the BIPOC and LGBTQIA+ communities. But they said these projects can't be rushed, as they want them done right. To make that happen, they have the books and other projects vetted by people of the communities being discussed so they can be accurately and fairly represented.
"We recognize our own privilege and do not claim to understand what it's like to be affected by most of the issues we are discussing, but we do feel a calling to help educate our own families and communities," Gooding said. "Our purest and deepest hope is that this book opens eyes and helps grown-ups realize that not only can they teach their kids about big social concepts, but that they should be!"
Follow Little Minds Big Changes Publishing for updates on book recommendations and to preorder your "What is Privilege?" book.
--Rebecca Alwine can be reached at rebecca.alwine@monster.com. Follow her on Twitter @rebecca_alwine.
Keep Up with the Ins and Outs of Military Life 
For the latest military news and tips on military family benefits and more, subscribe to Military.com and have the information you need delivered directly to your inbox.