There's something about movies, television shows and even books featuring military wives that makes me hesitate. It's similar to my husband's aversion to watching movies and shows about current military events. Something is just always a little off. The uniform is wrong, the words are wrong, the situation is weird.
I've felt that way so many times as I've watched people try to tell the story of my life and experiences as a military wife. Or worse yet, they attempt to gather all of the experiences we all have over a collective 20-plus years into one season of a television show. Those shows, I worry, not only don't improve the military-civilian divide, they also don't help the internal division we see within the military spouse community. (I'm looking at you, "Army Wives.")
Despite those feelings, I agreed to watch the new feature film "Military Wives," from the U.S.-based Bleecker Street studio starring Kristin Scott Thomas ("The English Patient", "Four Weddings and a Funeral") and Sharon Horgan ("Catastrophe," "Game Night"), available on Hulu, Amazon Prime and iTunes on May 22.
Based on British military wives, I thought maybe the non-U.S. focus would make it feel different and farther removed from my life and let me ignore the imperfections, or chalk them up to the film being based on life in another country.
Instead, I was surprised by how much I loved the film.
Not only did not feel off -- I was blown away by how close to home the film, experiences and relationships felt. I laughed, I cried and I nodded my head in agreement to what was going on.
The story follows a group of military wives whose husbands are heading off for deployment. The staunch and traditional colonel's wife is set in her ways and determined to bring unity among the spouses. The sassy and often rebellious sergeant major's wife brings us laugh after laugh with her "in your face" attitude.
And among the group of wives, we can each find ourselves. There's the brand-new wife who married her high school sweetheart; the solo parent with the teenager who stays out late drinking; the one who writes notes and puts them in his luggage to find later; and the couple who says goodbye at home instead of in public.
We see – and understand -- the struggle to find childcare during family meetings. There's the spouse who burns off steam drinking wine with her friends. And, my personal favorite, there's the spouse who gets caught packing up her husband's stuff into the closet before he even leaves.
These women yearn to come together but can't quite figure out what's standing in their way. They're united by their spouses' service, but that's really it. They have different interests, different backgrounds and different desires.
To bridge that gap, the wives ultimately find their connection through singing. And we see them forge friendships and work through trauma together.
Director Peter Cattaneo ("The Full Monty") said he chose music that "crossed all barriers of age and cultural and social differences" just like military spouses cross all barriers. He said it became apparent that the context of the songs was poignant without being cheesy.
"They are emotional to an audience; music needs to be part of the story not just added on," he said.
A new-found realization and appreciation for military spouses developed during filming among the cast and crew, cast members said. Some, like Kristin Scott Thomas, who plays Kate, had a small amount of knowledge of military life when walking into the film -- but most of them didn't.
"I have two stepbrothers who [were] in the Army. They both served in Iraq, one of them served in Afghanistan. Part of my childhood was spent on a naval base. So, I sort of knew a bit about it, even though that was the murky past." Scott Thomas said in an interview with Military.com. She said that writer Rachel Tunnard did a lot of research, which was really helpful.
Sharon Horgan, who plays opposite Scott Thomas as the regimental sergeant major's wife, said she had little knowledge of the military world going in but learned "they're just regular humans."
That's something military spouses and service members have been preaching for a long time.
"I think the idea that you can be that brave in that situation was the thing that was so surprising to me. I still can't sort of fathom it, how you can sort of just get on with life and everything that life throws at you, anyway. They just sort of get on with life, and they find joy, and fun, and everything else, but this thing is kind of hovering in the background. By the end of it, I had such an enormous respect for them, actually," Horgan said in an interview with Military.com.
And while military spouses do have some different experiences, deep down, we are also parents, spouses, professionals and friends. Thomas said working on this film highlighted that for her.
"I think the thing that we forget, sort of us people, civilians, what we forget is that you all have exactly the same fears, anxieties, irritations, frustrations as we do. You're humans and exactly the same, but you're just under a hell of a lot more pressure," Scott Thomas said.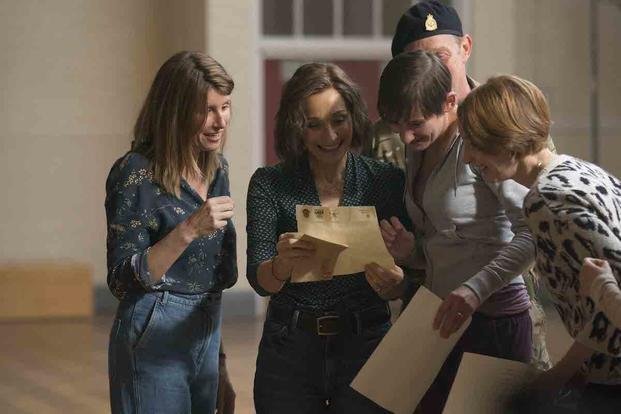 In one deployment farewell scene, Cattaneo said he actually used military wives as extras in the film.
"It all happens the way it really does, because the families and soldiers have actually done it before," he said. "It was understated – just, here you go."
When talking with Horgan, Scott Thomas and Cattaneo, you can really hear the excitement in their voices regarding the production of this film. They were thrilled, they said, when military wives from the United Kingdom and the United States told them how much they loved the film.
"That's the best thing we love to hear is when real military spouses enjoy the movie. The highest compliment we could have," Scott Thomas said.
"We're already campaigning for Military Wives Two," Horgan said.
Keep Up with the Ins and Outs of Military Life
For the latest military news and tips on military family benefits and more, subscribe to Military.com and have the information you need delivered directly to your inbox.
--Rebecca Alwine can be reached at rebecca.alwine@monster.com. Follow her on Twitter @rebecca_alwine.