Last year, Lakesha Cole, Kia Young and Krystel Spell blew military spouses away with their first makeHER MilSpouse Retreat. Thirty women -- military spouses, veteran spouses, retiree spouses and veterans themselves -- all looking to start or grow their own business, gathered for a weekend full of resources, relaxation and community.
And grow they did. These women took big leaps in the last quarter of 2019 and are reaching for the stars in 2020. Their community lifts each other up, propels each other forward and shares in celebrations together. So, when small businesses started seeing some struggle with the COVID-19 pandemic, the creators of makeHER stepped up.
Here's all the information from Kia:
"The #MilspouseOwned Virtual Conference is an online event created by the founders of the makeHER Milspouse Retreat as a response to the challenges military spouse business owners, creatives and freelancers are experiencing due to the COVID- 19 pandemic.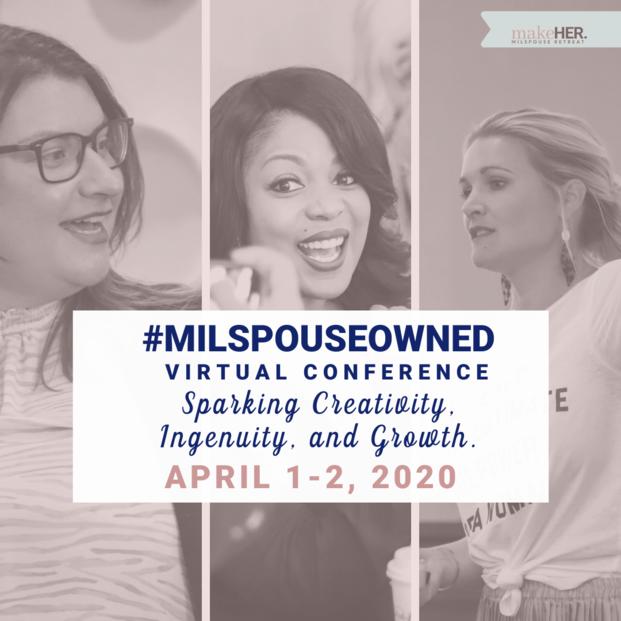 "We simply wanted a way to show up for each other with no strings attached. The free event is taking place 100% virtually on Facebook and is rooted in the purpose of sparking creativity, ingenuity and growth.
"This event takes one of the most successful and celebrated workshops from the makeHER Milspouse Retreat, a peer-to-peer incubator model, and brings that experience online to the entire military spouse entrepreneur community.
"Speakers will present on topics that they've mastered in their own business, ranging from tangible business development strategies to wellness, mindset and tips on working from home.
"Attendees and speakers have backgrounds in everything from retail and owning brick-and-mortar business locations, to online service-based businesses, influencers and everything in between.
"We've put this together quickly because times are changing quickly. Military families are uniquely positioned and qualified to 'go with the flow,' but having to pivot this quickly is still a challenge. One of the best ways that we can stay afloat and spark new ideas is to support each other and share what you know. This creates an environment of community versus competition. We like to call it our 'Milspouse Village.' In a village, everyone has a place, everyone is essential and the community isn't the same if someone is missing.
"That's what we're building with the #MilspouseOwned Virtual Conference. We hope this is just the beginning of a place to co-work, lean on, inspire and support one another.
"The virtual conference is open to anyone military-affiliated, not just active-duty military spouses. If you are a business owner, but say your spouse is retired or a veteran, you absolutely can be a part of this event."
***
Interested? Here are the details:
- April 1-2, 2020
- Free to attend
- Starts at 10 a.m. both days, goes through evening
- Content will remain online to refer back to
- To join the group: https://bit.ly/milspocongroup
- To be considered for presenting: https://bit.ly/milspocon
- For inquiries: makeherretreat@gmail.com
Join these amazing milspouses and many more names you will recognize (I'll be there, too!), and let's kick off something fun and resourceful. See you there!
Keep Up with the Ins and Outs of Military Life
For the latest military news and tips on military family benefits and more, subscribe to Military.com and have the information you need delivered directly to your inbox.
--Rebecca Alwine can be reached at rebecca.alwine@monster.com.