We put our faith, our trust and our lives in the hands of doctors. We expect that, first, they'll do no harm. And when that doesn't happen in the civilian world, there is recourse through malpractice lawsuits.
But when military medicine fails you, it's a shoulder shrug and an apology. That's because a law known as the Feres Doctrine blocks service members from suing the federal government for injuries that were sustained during service.
Now, Army Sgt. 1st Class Richard Stayskal and his wife, Megan, are trying to fix that by asking lawmakers to change the Feres Doctrine.
Related content:
Megan and Rich started dating in January 2006 and, like many military couples, married only a few months later. Fast-forward 11 years and two kids. In January 2017, while stationed at Fort Bragg, North Carolina, Rich went in for a routine computed tomography (CT) scan at Womack Army Medical Center in order to go to dive school. Though he had taken a bullet to the left side of his lung in 2004 when serving as a Marine, Rich was cleared for the training.
But he failed dive school.
Rich failed because he couldn't breathe, which didn't make any sense at sea level, Megan explained. "When he came home, he sounded wheezy," she recalled.
On May 15, 2017, he called from work and told her he was heading to the hospital via ambulance. When Megan arrived, he was sitting in the waiting room, looking lethargic.
"Long story short," she said, "they did a chest X-ray to see if he had pneumonia, but they never did a CT scan. They did a nebulizer breathing treatment and sent him home with prednisone."
On May 22, Rich was back in the hospital.
"He called me, and I told him I would meet him at the ER," Megan said. "When the car pulled up, he was slouched over in the passenger's seat. I went in and got a staff member. We got him in a wheelchair, got him in triage and, while he was hooked up to the EKG machine, he stopped responding."
Megan immediately grabbed a nurse, who did a sternum rub. They did another chest X-ray, a nebulizing treatment and a pulmonary function test and, once again, Rich was sent home with prednisone.
Shortly after their second emergency room visit, Rich began coughing up blood. He went back to the ER, where he was sent home. Frustrated, Rich called Tricare to get a referral off base because the on-base pulmonologist was fully booked for more than a month. Even that was a struggle, said Megan. "He told them he was coughing up blood; they said to go to the ER."
Rich finally got in to see an off-base pulmonologist, who did a CT scan. The doctor called the next day and scheduled him for a biopsy. "The doctor said if he could get us in that day for a biopsy, he would," said Megan.
Days later, Megan heard the words no one ever wants to hear: Your husband has cancer. Non-small adenocarcinoma. Lung cancer. The kind of lung cancer that has a five-year survival rate of 6%, and it had spread into his trachea.
The Stayskals went to Duke University Hospital to meet with a surgeon who thought it would be operable. After three rounds of chemo, Rich underwent surgery in October 2017 to remove the upper right lobe of his lung. "We thought at the time they had got all the negative margins," Megan said.
The Stayskals were cautiously optimistic.
"We went home for Christmas that year," Megan shared. "The beginning of vacation was good but, by the end, his neck was swollen, he was lethargic, and he was sick."
Megan's mom and sister tested positive for the flu, and Megan thought maybe Rich had a touch of that. He was put on Tamiflu, but it didn't help.
"I was so careful on the airplane," she said. "I wiped everything down, pushed the buttons for him. I tried everything I could to keep him well."
There was nothing Megan could have done. Rich went in for a positron emission tomography (PET) scan; the cancer had metastasized. It had spread to his lymph nodes, liver, spleen, right hip joint, ilium and spine.
What's harder than cancer? Feeling as though it could have been prevented.
Megan explained: "When Rich went to the pulmonologist, the doctor couldn't believe we hadn't been told about the mast [cell tumor] from that first scan. 'Why weren't you told you had a mast on your lung?' he said. It was a quarter in size in January, and had doubled in size by the time Rich got in to see the pulmonologist."
Megan and Rich both feel strongly that, had the cancer been treated in January when it appeared on the CT scan, Rich's outcome would have been different.
"It's a hard pill to swallow," Megan said. "I have a hard time fathoming what goes through his head on a daily basis. I wouldn't be as cool, calm and collected as he is. But the kicker for me is our girls. Knowing the statistics, the survival outcomes, knowing my girls, ages 10 and 12, might grow up without a father because of someone else's mistake or oversight, is too much."
The Stayskals believe that Rich's case qualifies as malpractice but, because of the Feres Doctrine, they are unable to sue.
"The Feres Doctrine was put into place in the 1950s for soldiers overseas and training accidents," Megan said. "It wasn't intended to be applied to walking into a hospital on U.S. soil and facing malpractice. This didn't happen during a skydiving accident or downrange."
"For Rich, it's important to him, not just for him, but all the future soldiers that are going to join the military," she said. "If our daughters want to join. If their daughters want to join. Not having that same right, not having that legal recourse that you and I have to somewhat make myself whole again if someone wrongs me, only because he wears a uniform? I have a hard time even wrapping my head around it."
Because of this, the Stayskals are fighting to have the Feres Doctrine changed to allow service members to sue in the event of medical malpractice through the National Defense Authorization legislation in the House. A similar measure is making its way through the Senate.
"Now, we're trying to get senators on board. It isn't about the money for us," she said. "It's about doing what is right."
If you want to weigh in on the issue, you can contact your senator.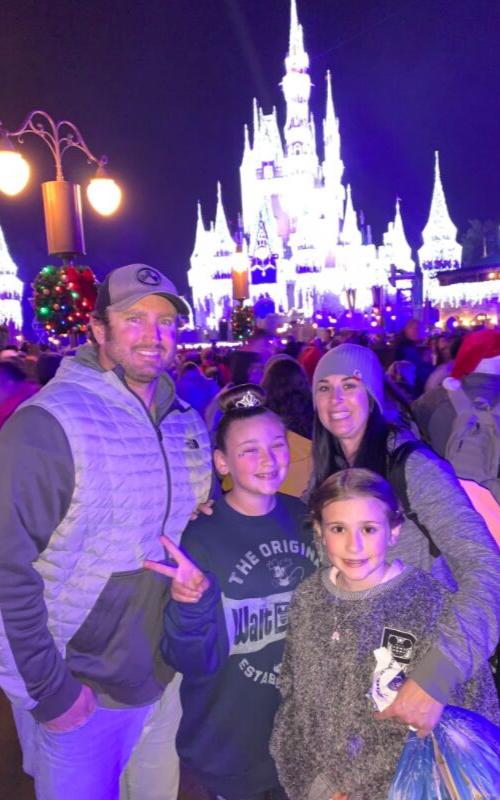 Keep Up with the Ins and Outs of Military Life 
For the latest military news and tips on military family benefits and more, sign up for a free Military.com membership and have the information you need delivered directly to your inbox.