They make the visit to Fort Carson, Colorado, every two years -- a trip to see how their son is remembered and celebrate his memory.
Carol and Tony DiRaimondo still live in Simi Valley, California, where their son, Sgt. Michael A. DiRaimondo, grew-up. He enlisted from there in the Army in 2001 with dreams of becoming a firefighter paramedic. He died Jan. 8, 2004, near Fallujah, Iraq, alongside eight other Soldiers when onboard a UH-60 Blackhawk helicopter during a Medevac flight.
Sgt. DiRaimondo was awarded the Bronze Star, the Air Medal and the Air Medal with Valor for his life-saving actions for 13 soldiers during a downed CH-47 Chinook accident in November 2003.
In May 2004, Fort Carson named its newest medical facility the Sgt. Michael Anthony DiRaimondo Troop Medical Clinic, which later expanded and renamed the DiRaimondo Family Medicine Clinic. Carol and Tony DiRaimondo most recently visited Sept. 27.
"This is an incredibly important event because we take a minute to reflect on the many who paid the ultimate sacrifice for our country," said Col. Eric S. Edwards, Evans Army Community Hospital commander. "He was a remarkable individual."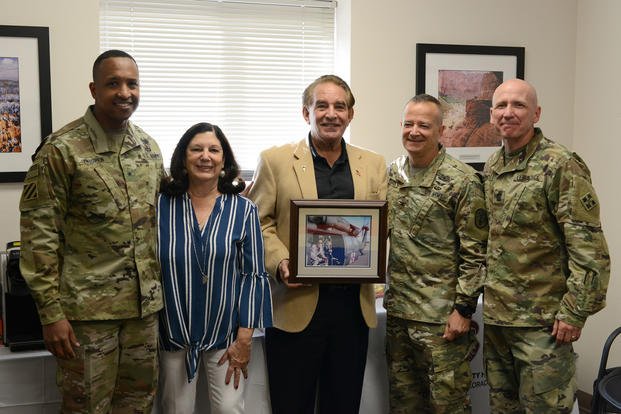 Filled with determination, a selfless heart and a caring spirit, Sgt. DiRaimondo was the embodiment of an outstanding Soldier who made his family proud.
"He is always around us," said Carol DiRaimondo, who fondly remembers Michael and the presence he exuded. "It's been difficult, it'll be 15 years in January. We remember the Michael when he was little, the Michael when he was growing up and the Michael who wanted to be in the military."
Sgt. DiRaimondo was stationed at Fort Carson and deployed in support of Operation Iraqi Freedom in April 2003 with the 3rd Armored Cavalry Regiment. Determined to become a flight medic, he completed his training right away and joined the 571st Medical Company (Air Ambulance) during his deployment.
"If there was a high time in his life, it was the day he earned his wings," said Tony DiRaimondo, Michael's father and a veteran who served during the Vietnam War. "He always knew what he wanted to be, to help people in need."
"I like to think that Michael watches us as we do our daily duties and I feel like we use our healing hands and compassionate hearts to see every Soldier," said Erin Smith, the clinical nurse in charge of the facility who has met with Carol and Tony during three visits. "They just want to know we are taking care of Michael, of his legacy. We hope we make them proud every day."
The DiRaimondo family presented the clinic team with a framed picture of Michael in a helicopter during his deployment to Iraq, in which he is seen with an endearing grin during the height of his life.
"We're extremely grateful for the both of you being here today and your constant communication and contact with Fort Carson, especially our great medical providers," said Brig. Gen. William L. Thigpen, deputy commanding general of the 4th Inf. Div. and Fort Carson. "Mike comes from three generations of veteran service so we are honored to have you here and we're grateful for all that you do for our nation."
Michael's memory lives on with The Michael A. DiRaimondo Foundation, a non-profit organization founded in January 2004 by Carol and Tony that raises money to provide scholarships to individuals in southern California who want to become paramedics. In April 2004, the Military Order of the Purple Heart also named its Conejo Valley chapter in California the Sgt. Michael A. DiRaimondo Chapter.
In keeping Michael's memory alive, Tony and Carol plan to continue celebrating Michael's life and his service here at Fort Carson.
"As long as we live, we plan on coming back here," said Tony DiRaimondo.