If your military kids are anything like mine, they love free stuff no matter what it is or where it comes from. Toy that will fall apart in five seconds? Hand it over. Gross candy? Sign them up.
That's how I know that a July 28 promotion from the Army and Air Force Exchange Service at 125 locations worldwide might be worth the extra effort to make a trip. You can find whether or not your store is participating by looking it up here or giving them a call.
Military kids can visit the Exchange that day to score a free "military brat patch" and a $5 coupon for Stripes Alterations stores, which will help them get the patch sewn onto wherever they want it. The patches are available while supplies last.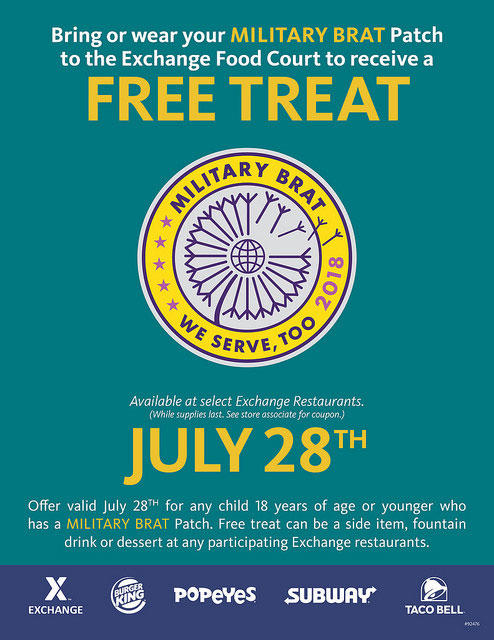 If they show their patch at an Exchange restaurant they can also score a free treat, which might include a side, drink, dessert or other item, depending on location, officials said in a release.
Some main Exchange stores will also be giving away book bags with the purchase of $30 or more in skincare, fragrance or cosmetics, the release said.
The promotion and free patch giveaway is meant to mark the back-to-school season, officials said.
"A new school year is a perfect time to recognize the important role of military children." Exchange senior enlisted adviser Air Force Chief Master Sgt. Luis Reyes said in the release. "The Exchange wants to help kids see their value as they get ready to go back to school, and these patches help accomplish that."