Joselle's Bakery in Temecula, California doesn't just serve up delicious pastries -- it's owned and operated by a veteran spouse and her Navy veteran husband. And now they want to share some of their delicious recipes with you just in time for Valentine's Day.
Luis Surla and his spouse Olivia, a pastry chef, started the business after Luis left his more than 20 year career in the Navy. They were able to open the business with help from the Semper Fi Fund's apprenticeship program, which helped cover the cost of equipment.
Most of us don't live near Temecula, which is located between Los Angeles and San Diego in Southern California. That means we can't visit the shop to test the goodies for ourselves.
But the Surlas want to make sure you can see what they do anyway, even if it means preparing their goodies in your own kitchen.
Ready for some Valentine's Day treats? Try one of these recipes straight from their kitchen.
Real Peanut Butter Cookies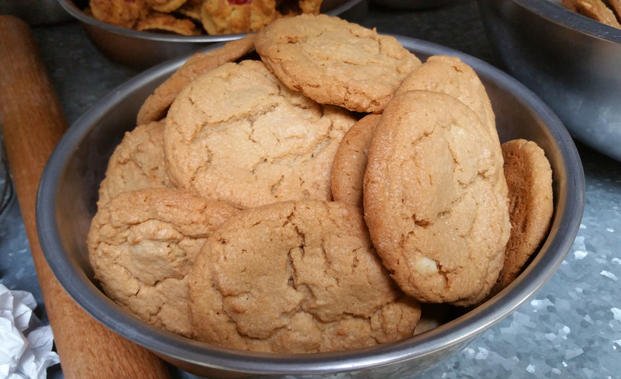 Ingredients: 
142 g -- Peanuts, Shelled, blanched
255g -- All purpose flour
7g -- Baking Soda
227g -- Light Brown Sugar
227g -- Granulated Sugar
227g -- Butter
7g -- Salt
114g -- Eggs
340g -- Creamy Peanut Butter
Instructions:
Line sheet pan with silpat mat or parchment paper
Sift together the flour and baking soda
Cream together the sugar, butter, and salt with the paddle attachment until light and fluffy
Scrape down the bowl as needed and blend evenly
Add eggs in 2 or 3 additions
Scrape down the bowl as needed and blend evenly
Add the peanut butter and blend evenly
Add sifted flour and baking soda and cooled peanuts
Mix on a low speed just long enough to combine the ingredients
Use a 2 fl oz. scoop to divide the dough into 2 oz. portions
Arrange the dough on the prepared pan
Bake at 350 F until golden brown 8-10 mins
Let it cool before removing from the pan
Store in an airtight container
Simple Pistachio Cookies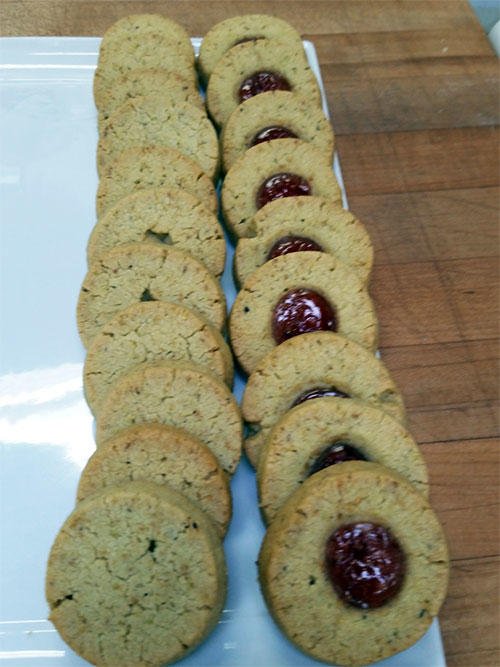 Ingredients:
7oz -- Sugar
12oz -- Butter
15oz -- All purpose flour
4oz -- Pistachio flour
Instructions for mixing:
Cube butter and place in the bowl
Do not over cream the butter and lumps
Put in the mixer to mix
Add sugar and continue to mix
Scrape the mixture
Add vanilla
Sift the flour
Add pistachio in the butter mixture and mix
Scrape then place it back to the mixer to continue to mix
Once nicely mix; pour flour to the pistachio mixture
Continue to mix in the low speed until everything combine
Knead to form a log
Scale to have 19 oz ea
2 log roll it with the parchment paper
Creating the cookies:
Cut log about 3/4 inch sections
Place in the tray
Make indentation in the center of half the cookies, leaving half without an indentation
Pipe raspberry jam in the center of the ones with the indentation
Bake all at 350F for 10 minutes