At the end of the Vietnam War, the United States either left its military working dogs (MWD) behind in country or euthanized them. And while the U.S. military has come a long way in the years between Vietnam and Afghanistan when it comes to its four-legged veterans there's still some work left to do.
Now, with the help of organizations like Mission K9 Rescue, all American families -- civilian and military alike -- can do their part.
In 2000, President Clinton signed legislation known as "Robby's Law," which opened military working dogs up for adoption first to law enforcement agencies, then to handlers and finally to the general public. That law was updated in 2016 to give handlers first priority and to include working dogs trained and owned by military contractors. And while the current law affords preference for former MWD handlers, those veterans aren't always available or willing to take dogs. That's where you can come in.
Mission K9 Rescue is a Houston-based nonprofit with the mission of rescuing working dogs formerly owned by the DoD or military contractors, reuniting them with former handlers (if possible) and treating them for post-traumatic stress, which affects dogs just like humans. Since 2013 the organization, co-founded by a former Army Veterinary Technician, has been helping find homes for these good boys.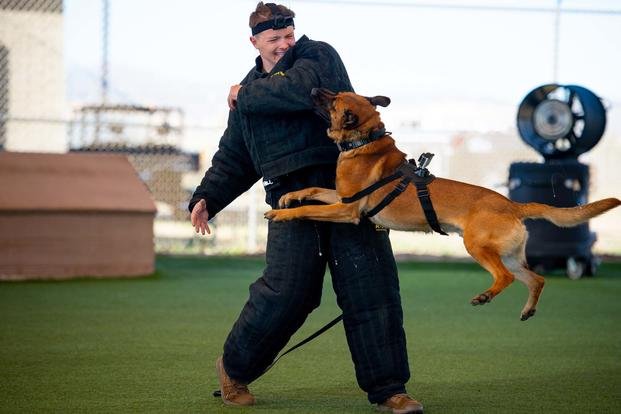 According to Mission K9 Rescue, these dogs "train like athletes" for their entire career, and work missions like patrolling dangerous territory, sniffing out explosives, drug interdiction and more. Military working dogs accompanied the best troops the United States can deploy on the most daring of missions. When SEAL Team Six raided the Abbottabad compound of Osama bin Laden, they were accompanied by a Belgian Malinois named Cairo. When Army Special Forces took down Abu Bakr al-Baghdadi in Syria, another Belgian Malinois named Conan chased the ISIS leader into a tunnel.
Now Read: This Is The Military Working Dog That Helped Take Out the Leader of ISIS
Some 500 or more working dogs like Conan and Cairo are deployed at any given time with most serving up to 12 years of near-constant deployments, while the average time in service for humans is less than 11 years. While human troops (rightfully) come home to a hero's welcome, the dogs are still classified by the Department of Defense as "equipment," and can still sometimes be left behind or abandoned when retired overseas. Those who do come home can suffer from a wide range of mental and physical issues. Mission K9 Rescue mission also covers rehabilitation and "repair" of these retired heroes, they said.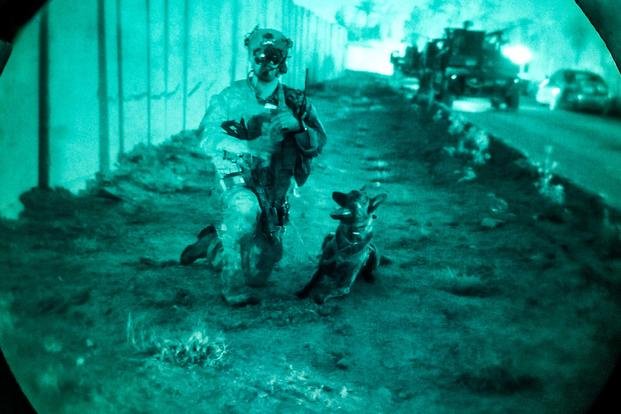 Not all the dogs have deployed overseas. The dogs start their lives at the Air Force's 341st Training Squadron on Joint Base San Antonio-Lackland. From birth to eight weeks old they are specially reared there, then exposed to external stimuli that will determine if they qualify to become a military working dog. If not, or if they wash out of training at any time, these puppies will need a home.
Related: 11 Steps to Turning a Puppy Into a Badass Military Working Dog
That could be your home, Mission K9 officials said. While the number of dogs available are limited and the wait for a dog to adopt could be as long as 12 months or more, there will always be a loving dog retiree who needs a good home and a family eventually.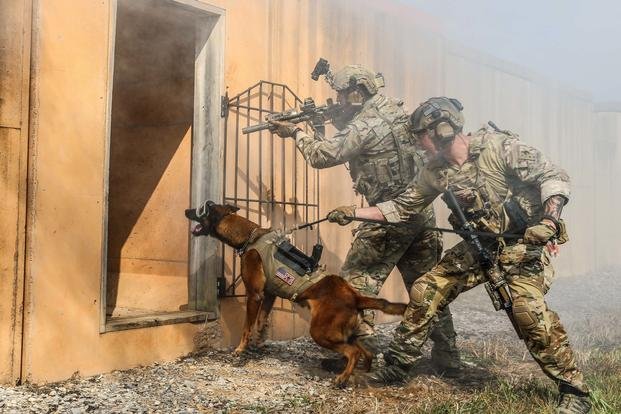 To learn more about rescuing a dog who served, check out the adoption page on Mission K9 Rescue's website.
Want to Know More About Military Working Dogs?
Be sure to get the latest news about America's "dogs of war," as well as entertaining information about military culture and all the benefits of service. Subscribe to Military.com and receive customized updates delivered straight to your inbox.