Author Lee Child's "Jack Reacher" books have been some of the best-selling thriller novels of the past 25 years. A new television series aims to bring the iconic Army veteran to life in a fashion that's more true to the books than a pair of movies made over the past decade.
Prime Video is set to launch a new television series, "Reacher," on Feb. 4, 2022. It's based on Child's first "Jack Reacher" novel, "Killing Floor," originally published in 1997. In the book, Reacher visits the small town of Margrave, Georgia, and gets arrested for murder. The locals sort out that Reacher is a retired military investigator and enlist his help in solving a string of killings.
Check out the first trailer.
In the new series, Reacher is played by Alan Ritchson, the middle son of a retired Air Force chief master sergeant. Ritchson first came to fame during the 2004 season of "American Idol" when he got down on one knee to sing "You Are the Sunshine of My Life" to Paula Abdul.
He played Aquaman on the "Smallville" television series and Hawk in the DC series "Titans," but he's been waiting for his big break. This show looks like that break may have finally arrived.
Ritchson is 6'2", a full seven inches taller than Tom Cruise, the actor who previously played the role in one very good 2012 movie ("Jack Reacher") and one not-as-good-but-not-bad 2016 movie ("Jack Reacher: Never Go Back"). The movies were successful but their box office wasn't anywhere close to the "Mission: Impossible" series, and, anyway, there was this "Top Gun" sequel that Cruise decided to make. The movie series stalled.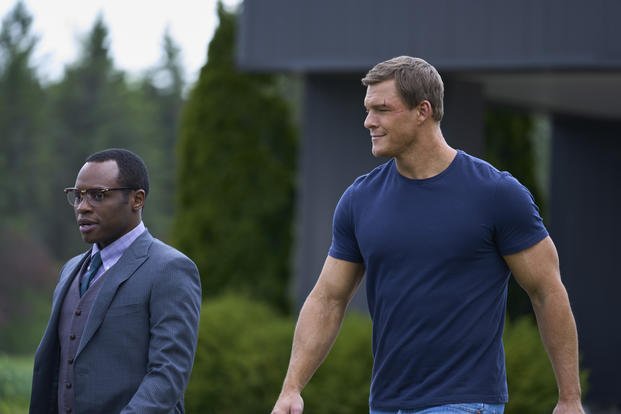 Ritchson's height is a lot closer to the 6'5" height described in the books, and even the author admitted that Cruise may have been too short to play the character. When announcing plans for the new series in 2018, Child told BBC Radio Manchester that "I really enjoyed working with Cruise. He's a really, really nice guy. We had a lot of fun. But ultimately the readers are right. The size of Reacher is really, really important, and it's a big component of who he is."
The Jack Reacher character in the novels graduated from West Point in 1983, the spring after Ritchson was born in November 1982. Obviously, the character will be updated along the lines of Jack Ryan in Prime Video's "Tom Clancy's Jack Ryan" series, Det. Harry Bosch in Prime Video's "Bosch" series and John Kelly/John Clark in Prime Video's "Tom Clancy's Without Remorse" movie. Updating iconic characters is just what they do at the Amazon-owned streaming service.
As the trailer reveals, the new television Reacher has a Bronze Star, a Silver Star and a Purple Heart, so let's just assume this version has seen combat in either Iraq or Afghanistan. Here's hoping the most devoted fans can handle the update now that Reacher is approximately the right height.
Writer and producer Nick Santoro is in charge of the new series. He's worked on "The Sopranos," "Law & Order," "Prison Break" and created the successful CBS series "Scorpion," so he's got the experience and skill for this project.
We'll have more details as the show's February 2022 release date approaches.
Keep Up With the Best in Military Entertainment
Whether you're looking for news and entertainment, thinking of joining the military or keeping up with military life and benefits, Military.com has you covered. Subscribe to the Military.com newsletter to have military news, updates and resources delivered straight to your inbox.