For the third year in a row, we've got the same top pick for the year's most anticipated military movie. Will 2022 be the year when we finally get to see "Top Gun: Maverick"?
Theatrical releases were almost as chaotic in 2021 as they were in 2020. This year, studios and viewers also have to deal with the fact that big, sprawling productions were mostly off-limits in 2020 and 2021 because of pandemic safety restrictions, and now there are fewer movies in the pipeline than anyone would've anticipated in early 2020.
Even if we're short on movies with epic battlefield scenes, there's plenty of smaller-scale drama, a bit of espionage and even a presumably heartwarming comedy about a military working dog. This might turn out to be a good year at the movies.
If the theaters stay open, the dates listed below should hold. Here's hoping we're all packing the movie houses by Memorial Day weekend.
1. The 355
Jan. 7, in theaters
"The 355" is an origin story for a group of international female spies who come together to prevent world destruction by a rogue computer program and root out some rot in the security services of the world's largest democracy. They're named after Agent 355, an anonymous female spy who worked for Gen. George Washington during the American Revolutionary War.
Jessica Chastain stars as a CIA agent forced to go rogue. She's joined by a German agent (Diane Kruger), a British agent (Lupita Nyong'o), a Colombian therapist-turned-agent (Penelope Cruz) and a Chinese agent (Fan Bingbing).
Directed by X-Men producer and screenwriter Simon Kinberg, the movie features an outstanding shootout scene in a Shanghai hotel. "The 355" will stream on Peacock later this year.
2. The Tragedy of MacBeth
Jan. 14, Apple TV+
Denzel Washington and Frances McDormand star as Lord and Lady Macbeth in Joel Coen's movie version of Shakespeare's play. Coen has trimmed a huge chunk from the stage play to focus on the action.
The movie was shot on stages and features a very stylized black-and-white color palette. Even though it had a limited run in theaters at the end of 2021, it will be widely available via Apple's app soon. The best part about streaming "The Tragedy of Macbeth" is that you can rewind if the language gets a bit tangled for you or go back and watch it once you've adjusted your brain to Shakespearean dialogue.
Related: Here Are the Top Military Movies of 2021
3. Munich: The Edge of War
Netflix, Jan. 21
Based on the bestselling novel by Robert Harris, "Munich: The Edge of War" is set at the notorious 1938 conference between Neville Chamberlain and Adolf Hiter. George MacKay ("1917") plays British diplomat Hugh Legat, whose best friend at Oxford is now junior German diplomat Paul von Hartmann (Jannis Niewöhner).
Legat had a falling-out with von Hartmann over his friend's enthusiasm for the Nazi government, but the German has undergone a change of heart and wants to share intel with the Brits that could blow up a potential deal between Chamberlain and Hitler.
4. Moonfall
Feb. 4, in theaters
"Midway" and "Independence Day" director Roland Emmerich brings his special effects-driven style to a tale of an aging NASA astronaut (Patrick Wilson) forced out of retirement by a scientist (Halle Berry) and a conspiracy theorist (John Bradley) to prevent the moon from crashing into Earth and destroying the planet.
Apparently, the Space Force can't handle a moon that's being controlled by an alien intelligence, so it's left to this ragtag bunch to avert planetary disaster.
Related: 'Moonfall' Wonders If Our Space Program Is Prepared to Save the Planet
5. Dog
Feb. 18, in theaters
Can a high-strung military dog and a high-strung Army Ranger (Channing Tatum) use a cross country trip to a military funeral to sort out their issues and find peace?
"Dog" presents itself as a comedy, but there's no way there won't be some heart-tugging drama late in the third act. Tatum co-directed this movie with his longtime production partner, Reid Carolin.
Related: 'Dog' Asks If a Service Animal Can Save a Wayward Army Ranger
6. The Contractor
April 1, in theaters
After James Harper (Chris Pine) is kicked out of Special Forces, he joins a private military contracting company along with his best friend (Ben Foster). They head overseas on a covert mission commanded by a fellow veteran (Kiefer Sutherland).
There's not yet a trailer or even many details about this movie, so all we've got so far is the plot and an impressive cast. Stand by for more details as we get them.
7. Top Gun: Maverick
May 27, in theaters
It's a fact that we've written more words about "Top Gun: Maverick" than we have any other movie in the history of Military.com. So many false starts when it came to making the movie in the first place, so many rumors during production and what seem like a hundred changes of release date.
We do have some proof that the movie actually exists. Filmmaker Edgar Wright ("Last Night in Soho," "Baby Driver") posted a list of every movie he saw in 2021 on his Instagram, and he claims that he saw a theater screening without offering any further details.
Can "Top Gun: Maverick" live up to the hype and survive the crazed anticipation of the last decade of rumors and false starts? Let's hope we find out this Memorial Day weekend.
Related: Meet Your New 'Top Gun' Crew
8. Elvis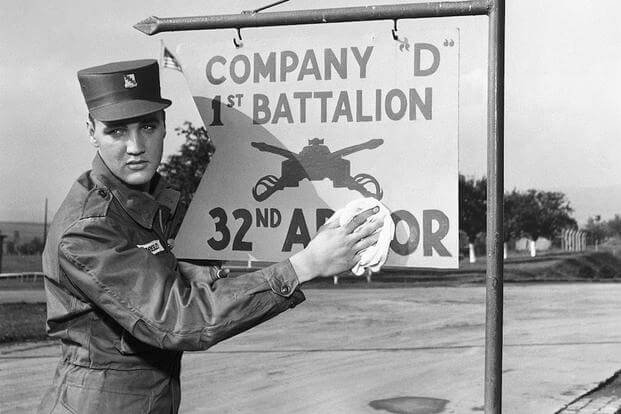 June 24, in theaters
Australian filmmaker Baz Luhrmann ("Moulin Rouge!," "The Great Gatsby") had to delay his long-awaited movie about Elvis Presley in March 2020 after co-star Tom Hanks tested positive for COVID and the movie became one of the first shut down during the pandemic.
Austin Butler, star of the upcoming "Band of Brothers" sequel "Masters of the Air," will play the Army veteran and king of Rock 'n' Roll. Hanks plays Presley's notorious manager, Col. Tom Parker.
We can't guarantee just how much time the movie will spend with Pvt. Presley during his Army service in Germany, but what other part of his life could be as interesting as his military service?
Related: Why Elvis Presley Showed Up Two Months Late for Boot Camp
9. The Woman King
Sept. 16, in theaters
Viola Davis ("The Suicide Squad") plays Nanisca, general of an all-female military unit in the Kingdom of Dahomey, in a based-on-a-true-story movie about one of the most powerful states of Africa in the 18th and 19th centuries. John Boyega ("Star Wars") and Lashana Lynch ("No Time to Die") also star in this movie directed by Gina Prince-Bythewood, who directed the excellent Netflix action movie, "The Old Guard."
10. Mission: Impossible 7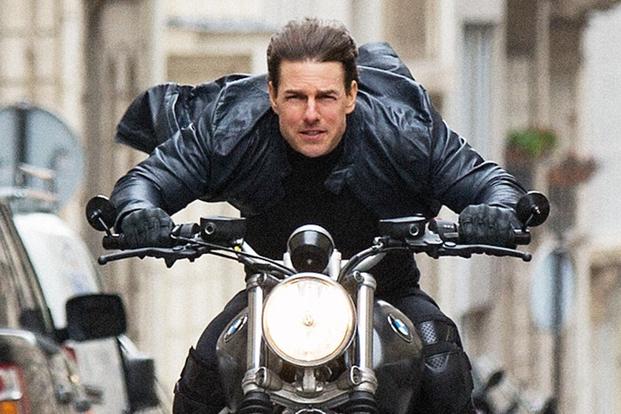 Sept. 30, in theaters
Every time "Top Gun: Maverick" gets delayed, it takes over a release date previously occupied by this movie from Tom Cruise's other big movie series. We have no details about the plot or the final title, but the good news is that this movie and the next sequel "Mission: Impossible 8" are directed by Christopher McQuarrie, who also made the excellent "Mission: Impossible - Rogue Nation" and "Mission: Impossible - Fallout."
Related: Check Out Tom Cruise Filming on Top of a Moving Train
11. The Gray Man
Date TBD, Netflix
The brother director team Anthony and Joe Russo try to bounce back from the disaster that was "Cherry" with a movie that's closer to their "Avengers" skill set. Based on Mark Greaney's best-selling Court Gentry espionage novels, "The Gray Man" will star Ryan Gosling as the disgraced CIA agent Gentry and Chris Evans as Lloyd Hansen, the former colleague sent to track him down.
Ana de Armas, fresh off a great role in the Bond movie "No Time to Die," and Billy Bob Thornton also star. It's hard to imagine how this one wouldn't work. Fingers crossed.
Related: Ryan Gosling Will Play Court Gentry, a Fictional CIA Agent Turned Assassin, in 'The Gray Man'
12. Operation Mincemeat
Date TBD, in theaters
Based on Ben Macintyre's 2010 history "Operation Mincemeat: How a Dead Man and a Bizarre Plan Fooled the Nazis and Assured an Allied Victory," this film's UK release has been pushed back to April 2022 with no details yet about a U.S. release.
Colin Firth stars in this movie about one of the great espionage deceptions of World War II. He's joined by Matthew Macfadyen ("Succession"), Jason Isaacs (Lucius Malfoy in the "Harry Potter" movies), Kelly Macdonald ("Boardwalk Empire"), Mark Gatiss ("Sherlock"), Penelope Wilton ("Downton Abbey") and Johnny Flynn (as future 007 creator Ian Fleming!).
Related: WWII Thriller 'Operation Mincemeat' Delayed by COVID
Keep Up With the Best in Military Entertainment
Whether you're looking for news and entertainment, thinking of joining the military or keeping up with military life and benefits, Military.com has you covered. Subscribe to the Military.com newsletter to have military news, updates and resources delivered straight to your inbox.