Most new enlistees take the Oath of Enlistment at their local Military Entrance Processing Station. Some get a special "swearing in" ceremony, maybe on the field of a local NFL game.
Re-enlistments can be a bit more fun, be they underwater, in a gas chamber or at gunpoint. Just don't try it with hand puppets.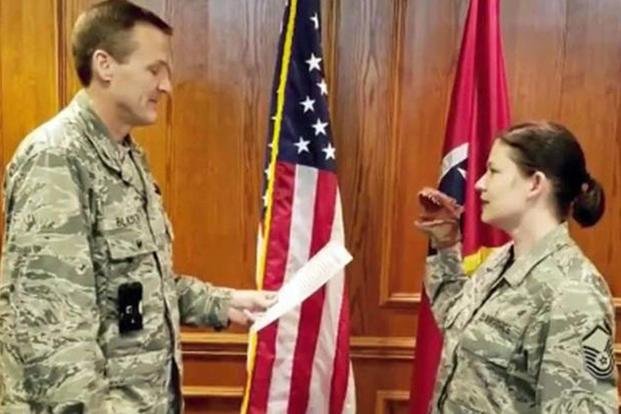 For 800 new Army enlistees, their first enlistment will be something special, given from 250 miles above the Earth's surface.
On Feb. 26, the U.S. Army will air a live broadcast of new recruits taking the Oath of Enlistment from Col. Andrew Morgan, an astronaut aboard the International Space Station.
It's the first time the oath will have been administered by an astronaut in a nationwide broadcast from the ISS.
"Space Center Houston and the U.S. Army have joined together to create a unique experience for youth who will begin their next mission as they pledge their honorable service to the United States," William T. Harris, president and CEO of Space Center Houston, said in a statement. "As these young adults announce their commitment to the country, they will hear directly from Col. Morgan on his experience in the Army, life aboard the ISS and his contributions to positioning the U.S. as a leader in space exploration."
Related: Colonel Aboard Space Station to Enlist 800 Army Recruits
Morgan is a West Point graduate and medical doctor who has served as the battalion surgeon for special operations forces on combat deployments to Iraq, Afghanistan and parts of Africa. As a cadet, he was also a member of the West Point Black Knights Parachute Team, who helped Army win a collegiate national title in competitive skydiving.
He was selected to become an astronaut in 2013 and spent two years in astronaut candidate training. Since then, he has performed numerous spacewalks as a flight engineer for Expeditions 60, 61 and 62.
It's a big win for the Army's effort to highlight the need for soldiers interested in science, technology, engineering and mathematics careers, even as the service has struggled to meet some recruiting goals in recent years.
Army recruiting was a victim of a good economy with a low unemployment rate, according to The New York Times.
The swearing-in is a joint effort between the U.S. Army Recruiting Command and the nonprofit Space Center Houston to garner interest in the service as a potential launchpad for students who might consider a future STEM career.
Viewers can stream the far-out Oath of Enlistment Ceremony at 11:50 a.m. Feb. 26 via NASA TV, DVIDS, Space Center Houston's social media and the Army's Facebook and YouTube pages.
How the new recruits will top their first enlistment ceremony if they reenlist is anyone's guess. (But spare us and skip the dinosaur puppets).
-- Blake Stilwell can be reached at blake.stilwell@military.com.
Want to Learn More About Military Life?
Whether you're thinking of joining the military, looking for post-military careers or keeping up with military life and benefits, Military.com has you covered. Subscribe to Military.com to have military news, updates and resources delivered directly to your inbox.