It's only been three years since Navy veteran and former SEAL Jack Carr published "The Terminal List," his first novel about former SEAL James Reece and his relentless quest for justice.
He's just published "The Devil's Hand," the fourth book in the best-selling series, and production has started on an Amazon television series based on "The Terminal List," with Chris Pratt in the starring role.
Reece is not a classic Hollywood hero. His cause may always be righteous, but his need to hold others responsible usually leads him to use methods that can violate the rules of engagement and usually turn out to be downright terrifying.
Related: EXCERPT: SEAL Goes Rogue for a Hero President in Jack Carr's Latest 'Terminal List' Sequel
In "The Devil's Hand," Reece has a new ally. President Alec Christensen lost his fiancée in the 9/11 attacks. He joined the Army and set himself on a path that led to the nation's highest office. Now Christensen wants to use his power to track down everyone he deems responsible for his own unhappiness and decides that Reece is just the man to carry out that revenge.
At the same time, there's a terrorist plot that's using bioweapons to trick the White House into bombing American cities to prevent the spread of what looks like a disease many times more lethal than COVID-19. Of course, Reece is the only operative who can get to the bottom of the plot and prevent the carnage.
If that sounds like a ton of plot for one novel, it is. The series' second and third novels featured downtime in Africa ("True Believer") and rural Russia ("Savage Son"), but "The Devil's Hand" returns to the pedal-to-the-metal momentum that made "The Terminal List" such a revelation.
Everyone who cares about Reece continues to risk life and limb to stay close to him. Katie Buranek, his journalist girlfriend, survives the carnage this time, but her future with Reece remains to be determined. There's also a brutal portrait of a villainous military contractor named Erik Sawyer, a mercenary who bears more than a passing resemblance to Blackwater/Xe founder Erik Prince. Reece fans will not be surprised by the operative's view of Sawyer's business dealings.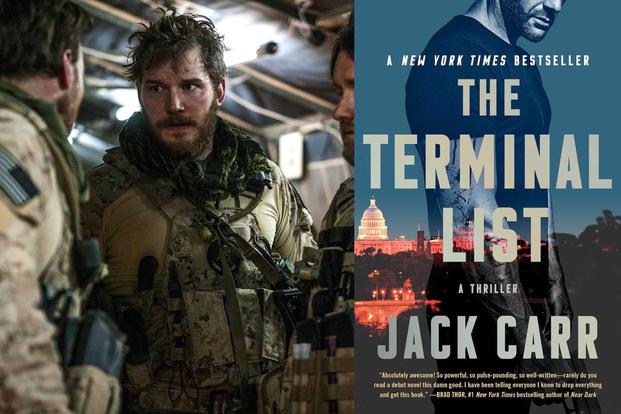 Military.com: You've just spent a week on the set of "The Terminal List." What's it like to see one of your books brought to life on film?
Carr: "It was fantastic. Yeah, I just got off set a couple hours ago; actually, it was a long shoot. So we've been filming at night, and we were working during the last day for this particular episode. They had to get all these shots in a very chaotic scene, a lot of explosions and gunfire and all the rest of it. So it was pretty cool.
"With everybody wanting to be at home and binge-watch or stream, this is definitely the way to tell this story rather than cramming it into an hour and a half. We've got eight episodes, about an hour each. This is 100% the way to do it."
"Chris is the only one I wanted to play my protagonist. I started to type it in December of 2014, and he had only been on 'Parks and Rec' and had a small part in 'Zero Dark 30.' So people would think he was an odd choice, especially back then before he'd done 'Guardians of the Galaxy,' 'Avengers' and 'Jurassic World.' But he's the only person that I wanted, not someone who had already done similar roles. I wanted somebody who maybe could prove a little something to their audience or they could do something different. And Chris is just knocking it out of the park. I gotta tell you this week, he was so impressive. He's just crushing this role."
Military.com: James Reece definitely wants to do what's right, but his relentless pursuit of what he sees as what's right makes him less of a pure hero than some readers might expect. Is that what you're trying to do with this character?
Carr: "There are definitely questions with Reece. You have to question everything that he's done, especially after the first novel, when he doesn't die like he expects and needs to continue to live and figure out his next mission in life. He needs to take a journey of redemption and take some of those old skills and apply them to do something positive. In the case of the second novel, that's taking those skills and turning them into a very important impact in Africa before the government pulls him back in.
"That first novel is all about exploring what happens when someone who essentially abandons what they've devoted their life to and becomes as much a terrorist or insurgents as those he's been fighting."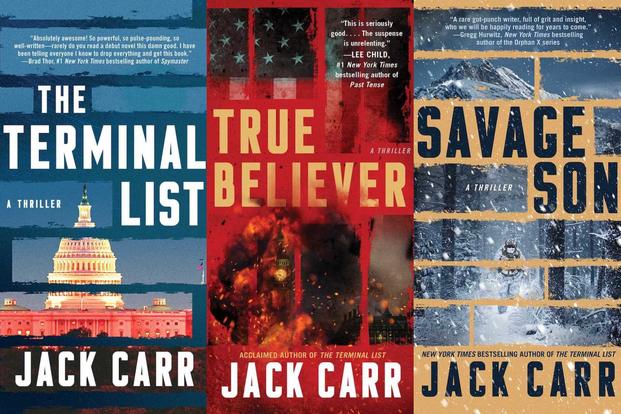 Military.com: Can Reece be the patriot he wants to be when he doesn't feel respect for the people who make up the government? It's a real conflict and one that seems especially on topic these days.
Carr: "Reece [and I] don't let the people who made the strategic level decisions off the hook. They didn't really understand the nature of the conflict in which they're engaged. They were slow to change or slow to adapt, or to even use words that clearly described what was happening, like insurgency. Some of those decisions were made at the tactical level, and they were the same types of decisions that were made at the strategic level. We've got people we've trusted to make those decisions, just like they trust us on the ground to carry them out. They did not put the requisite energy, effort and study into the problem at hand. And that's their, their one and only job. They were well-intentioned, but they fell a little bit short."
Military.com: When reading "The Devil's Hand," there's a real sense that you knew where you were going with this story when you started plotting "The Terminal List." Unlike a lot of other sagas we've seen in recent years (cough, "Game of Thrones," cough), there's not a sense that you don't have command of where your story is going.
Carr: "That's true. Before I started, I wrote down different ideas, one-page executive summaries of stories I wanted to tell. It was very clear to me that 'The Terminal List' was the one to start with, because that was the one that was so primal. I knew I needed to get noticed by a New York publisher and get published so I can continue to write novels."
"I knew I couldn't start with what I explored in 'Savage Son,' the third one. I wanted to write about a man through the dynamic of hunted and hunted before we go on a journey of redemption. That journey ended happening in 'True Believer' before I got to what I wanted to do at the beginning. 'Savage Son' was inspired by 'The Most Dangerous Game' by Richard Connell, which I read back in the sixth grade.
"For this one, I really wanted to put myself in the enemy's shoes and think about what Iran, China, Russia, North Korea and terrorist organizations learn by watching us battle in Iraq and Afghanistan over the last 20 years at war. What lessons are they learning to incorporate into their battle plan?
"As I was writing, things were changing. They were learning from a summer of civil unrest and from a very contentious political season and election cycle. They weren't passively watching these things. They were actively taking notes and applying lessons to future battle plans."
Military.com: This novel offers a theory that connects Iran to the 9/11 attacks and our nation's role in that country's 1953 coup. There are a few ideas here that a leftist historian like Howard Zinn might have enjoyed.
Carr: "I like to have people asking questions depending on their background and experience and the perspective that filters whatever biases into their reading experience. But I like that there might be a question about where the protagonist stands or where the author stands and what the messages they might be imparting through the book's scenarios. Maybe Howard Zinn, or even somebody like Noam Chomsky, might even approve of a couple of things in my books as well."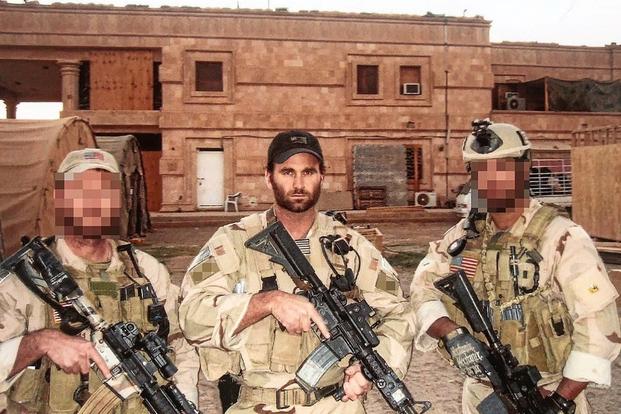 Military.com: You're also writing a lot about how publicity in the never-ending news cycle corners people into positions where they can't adapt or change as circumstances might dictate.
Carr: "It's tough, especially when there's so many ways to get information and there are so many ways to manipulate information. It's the weaponization of information. It used to be that if you wanted to influence the populace and you were a private company, you had to deal with reporters out there who were known to take money to print certain stories. Or maybe you'd have to hire someone to blackmail a reporter to do that. Or you could offer to become a source for that reporter.
"Now you can do a lot of those things without ever leaving the couch. I think people owe it to future generations to take a moment and think things through before they just retweet something from someone else who happens to have a million followers. We could end up using that as a basis to take away freedoms from their children and their grandchildren and from future generations.
"Generations before us devoted their lives to the service of this nation so we can have the opportunities we have today. We owe it to them to realize why we have some of these freedoms. In my books or whether it's a post on social media or anything like that, I try to take time and gather my thoughts before I spout off."
Military.com: The first three James Reece novels are full of redactions required by the DoD before you published. I counted zero in "The Devil's Hand." What's changed?
Carr: "I'm now far enough away from that world where everything in this book is fiction and based on research, probably in the same way journalists do research to prepare for an interview and write an article."
The plot still hasn't resolved itself at the end of "The Devil's Hand," and Reece still has enemies to kill. Carr is deep into writing a fifth novel that should debut next spring around the time we'll likely get a chance to watch the television series of "The Terminal List." Look for things to really blow up for James Reece in 2022.
Keep Up With the Best in Military Entertainment
Whether you're looking for news and entertainment, thinking of joining the military or keeping up with military life and benefits, Military.com has you covered. Subscribe to the Military.com newsletter to have military news, updates and resources delivered straight to your inbox.